La musica migliora la vita. Non prendetela come una verità sacrosanta ma come un semplice dato di fatto, la musica, qualunque sia il genere preferito, ci accompagna nelle giornate belle e in quelle brutte, segna i momenti importanti e molto spesso ci salva la vita. Basta una canzone come dice Brunori Sas. Anche una stupida canzone. Le Serie Tv, quindi, non fanno eccezione.
Se il cinema ci ha insegnato da tempo quanto una colonna sonora non sia affatto un elemento da sottovalutare, ma anzi è essenziale tanto da diventare una protagonista a tutti gli effetti, dello stesso discorso fanno parte le Serie Tv, che fin da Happy Days hanno reso la musica parte integrante della storia che si vuole raccontare. C'è qualcosa di magico e ipnotico nella musica ed in determinate musiche di Serie Tv, perché oggi siamo qui per parlare di questo: anche a distanza di anni ci ritroviamo a canticchiare o battere il tempo a ritmo di sigle mai dimenticate.
Gli anni passano e l'attenzione anziché scemare si fa sempre più forte, con colonne sonore complesse, elaborate che senza bisogno di parole raccontano da sole la storia che abbiamo di fronte. Un esempio su tutti le musiche meravigliose composte da Ramin Djawadi per Westworld e Game of Thrones, attraverso le note possiamo quasi veder prendere forma i personaggi e le loro avventure. Oppure l'immenso Michael Giacchino che ci ha regalato l'inquietante, catartica colonna sonora di Lost, tutto ha inizio da quella famosa intro.
In questo articolo parleremo però nello specifico di quelle sigle che quando partono non riesci davvero a stare fermo. Serie Tv di oggi, per restringere il campo, che ci hanno regalato delle sigle tutte da ballare. 
1) ORANGE IS THE NEW BLACK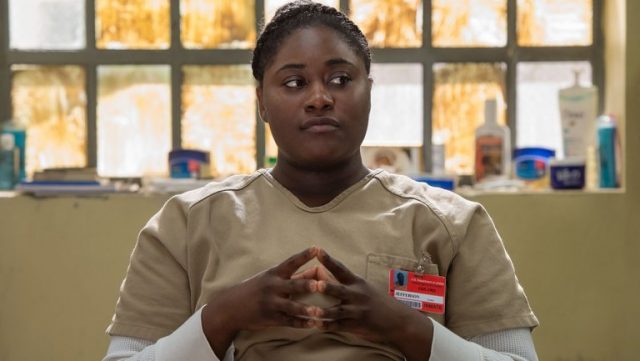 Iniziamo con qualcosa di tosto e cosa c'è di più tosto delle donne del penitenziario di Litchfield? Arrivata alla sua quinta stagione Orange is the New Black ha fatto da subito breccia nei nostri cuori anche grazie a una intro visivamente efficace e pieno di vita.
Sulle note di "You've Got Time" di Regina Spektor, vediamo scorrere occhi, sorrisi ed altri dettagli di vere donne incarcerate. Pace, risate e rimpianto sono le tre emozioni che scorgiamo nei volti delle donne protagoniste dell'opening credits (realizzato dagli stessi creatori di quello di Homeland) e che preannunciano le storie di quelle donne che molto presto incontreremo.
Una sigla a cui è impossibile resistere quindi scatenatevi!