Alcuni finali delle Serie Tv ti colpiscono fin da subito, altri li rivaluti con il tempo; ma ci sono dei casi in cui, nonostante tutto, non puoi non rimanere così colpito da portarli sempre con te.  Facendo fatica, alle volte, a riguardarli, perché ti colpiscono troppo nel profondo con a loro bellezza.
Questi sono i 10 finali delle Serie Tv che per me meritano la definizione di "poesia", pura e semplice.
1. SCRUBS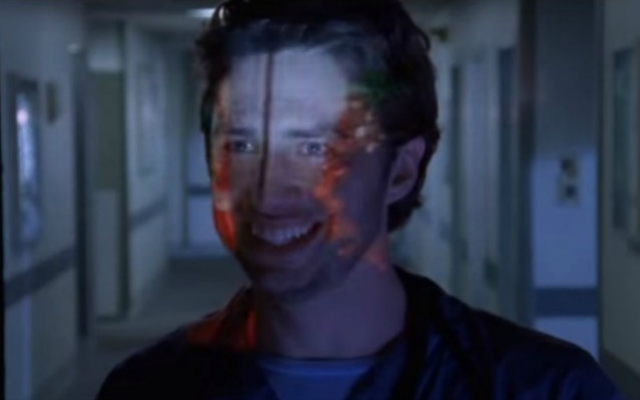 Sarà la canzone The Book of Love, sarà che le fantasie di JD non sono mai state così vivide e reali, sarà che ai personaggi di Scrubs ti affezioni così tanto da augurargli davvero tutto il meglio che c'è.. Io, davanti al finale di Scrubs, piango sempre.
Non è una sensazione triste, quella che ti trasmette: è come l'abbraccio di una persona cara, che ti rassicura e ti dice che andrà tutto bene. Una sensazione bellissima, davvero.
Meritiamo di provarla tutti, al termine del nostro rewatch annuale di questa Serie Tv.
2. PENNY DREADFUL
Nonostante la cancellazione improvvisa di questo gioiellino dark avesse fatto pensare al peggio in termini di conclusione, Penny Dreadful ci ha stupito, regalandoci un finale di una poesia straziante, impregnato di quel decadentismo e simbolismo che ci avevano fatto amare alla follia questa Serie Tv.
La morte di Vanessa, che si arrende al suo destino di infelicità e preferisce la morte al tormento sovrannaturale, gli amici e compagni di lotta che si ritrovano davanti alla sua tomba per condividere insieme l'ultimo saluto alla loro eroina, figlia, compagna e amica prediletta.
Tutto trasuda romanticismo e decadenza in questo finale, che dall'evocazione della fine del mondo arriva a concretizzare la fine tragica di una creatura coraggiosa, baluardo, suo malgrado, della lotta contro le tenebre fuori e dentro di noi.
3. SAN JUNIPERO (BLACK MIRROR)
Un finale che riesce ad essere romantico fino alle lacrime e allo stesso tempo tanto inquietante da far scorrere un brivido lungo la schiena: un finale che solo una Serie Tv geniale e controversa come Black Mirror ci poteva regalare.
Le due anime delle amanti vivranno per sempre in un paradiso anni Ottanta fatto di musica, spiagge, serate a ballare ed eterna giovinezza; i loro corpi invece saranno separati per sempre dalla crudeltà del tempo, che in questo futuro utopico (o distopico? A voi l'ardua sentenza) riesce comunque a venire abbattuto dai progressi della tecnologia.
Un finale ambiguo, che riesce a farci sperare in un paradiso e in una vita eterna e spensierata dopo la morte, ma che allo stesso tempo non riesce a toglierci dalla mente una domanda angosciante: riusciremo ad accettare di non avere mai una fine?
4. TRUE DETECTIVE (PRIMA STAGIONE)
La poesia della luce che vince contro le tenebre, della speranza che non deve mai avere fine. Questo è il finale della prima stagione di True Detective, un gioiello assoluto che riesce a mostrarci come anche un cinico poliziotto piegato dal dolore e senza più uno scopo nella vita riesca a trovare un senso nel suo lavoro e ad alimentare sempre la speranza che il bene possa trionfare.
5. DEXTER
Uno di quei finali che sono stati oggetto di infinite discussioni da parte dei fan, è quello di Dexter. Personalmente, quando l'ho visto, ho trovato che la scena di lui in barca, che si avvia verso il centro della tempesta dopo aver abbandonato il corpo dell'amatissima sorella nell'oceano, fosse assolutamente perfetto.
L'uomo solo contro la natura, che per la prima volta non combatte, ma a cui si abbandona con il coraggio di chi sa quello che ha passato. È stato un po' meno perfetto il vero e proprio finale, con Dexter taglialegna. Però, dopo il necessario periodo di sbollitura, riguardandolo, il senso mi è apparso più chiaro.
L'espressione indecifrabile del protagonista, il suo destino di solitudine e la condanna volontaria ai lavori forzati: l'autopunizione di Dexter per essere sopravvissuto (per quanto incredibile possa essere) alla sua autodistruzione simboleggiata dalla tempesta perfetta è l'unico modo che il nostro serial killer gentiluomo ha trovato per liberarsi di sé stesso.
6. AMERICAN HORROR STORY – ASYLUM
Un finale di una perfezione assoluta che chiude l'unica grande stagione di American Horror Story. La tragedia di Lana, costretta per liberarsi dal male ad estirparlo da sé nel modo più doloroso possibile: uccidere suo figlio, anni dopo avergli tolto il padre e aver indirettamente scatenato una seconda spirale di terrore e morte.
Il flashback che ci riporta all'inizio di tutto, a Briarcliffe, in cui assistiamo ad una sinistra profezia da parte di Suor Jude; e Lana che, ignara di tutto e sicura di sé, sorride e va incontro al suo destino.
Un finale che evoca i più oscuri abissi della filosofia nietzschiana, con questa citazione mai così inflazionata di questi tempi, ma così perfetta per questa Serie Tv da metterci un brivido ogni volta che la sentiamo.
7. TRUE DETECTIVE (SECONDA STAGIONE)
Anche la seconda stagione di True Detective è un gioiello, e dalla campagna sinistra e oscurantista della prima stagione veniamo trasportati nell'afosa e caotica California, per assistere ad un dramma del potere e della giustizia che, come sempre, viene affrontato alla luce del sole e gli accordi si stringono di nascosto.
La morte, epica e onirica, dell'antagonista principale, interpretato magistralmente da Vince Vaugh, riecheggia nella fine del protagonista, interpretato da Colin Farrell. I due muoiono soli, tormentati fino al loro ultimo respiro dalle immagini dei loro cari che non sono riusciti a proteggere e che vivranno senza di loro. Il figlio di Velcoro vivrà con l'onta di avere un padre accusato ingiustamente; la moglie di Semyon si darà alla macchia insieme all'unica sopravvissuta del trio di poliziotti di questa seconda stagione, Bezzerides.
Che, facendo onore al suo nome, Antigone, si batterà per fare in modo che la verità venga a galla e che il credo di speranza di True Detective venga onorato.
8. HANNIBAL
Una Serie Tv che è un inno all'onirismo e all'amore platonico e straziante dei protagonisti, e che si conclude con un disperato ma allo stesso tempo liberatorio salto nel vuoto. Perché niente avrebbe più avuto senso, non dopo aver visto in faccia il vero volto del Male.
Per tenersi al riparo dai venti della morte l'unica salvezza sono le braccia dell'altro, e l'unico sollievo dai fantasmi e dal male del mondo è l'ignoto, quello che c'è oltre il burrone. La speranza di tutti noi fan è che siano sopravvissuti, che siano insieme, e che ci stiano aspettando per aprire un nuovo capitolo della loro storia.
Ma per il momento, questo finale è la cosa migliore che potessimo desiderare per questa Serie Tv: poesia assoluta, un'elegia della morte e dell'amore che per quanto ci strazi e ci tormenti con mille incubi, è l'unica cosa che ci rende completi.
9. SONS OF ANARCHY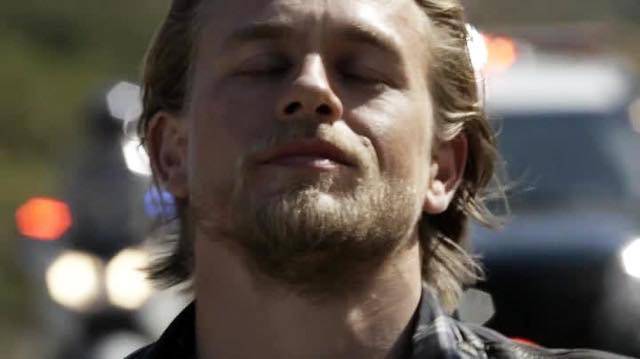 Le metafore e i riferimenti religiosi e filosofici abbondano in questo finale ricco fino a traboccare di emozioni e sensazioni fortissime. La parabola tragica di Jax finisce con l'ultima corsa verso la morte del protagonista, che determina sé stesso fino alla fine, scegliendo di bruciare in fretta per non far spegnere le ultime, poche cose belle della sua vita.
Con il messaggio di tragica libertà che ci regala Sons of Anarchy possiamo banchettare tutti, ed è un boccone amaro quello che il regista ci mostra nell'ultimissima scena: il sangue del principe e re dei SAMCRO si unisce al pane, chiudendo con un'immagine allo stesso tempo macabra ed estremamente lirica una delle Serie Tv più violente, romantiche, dure, profonde di sempre.
10. BREAKING BAD
Del finale di Breaking Bad potremmo parlare per settimane, e non riusciremmo comunque a descrivere appieno le sensazioni che riesce a darci. Come Jax, anche Walter White è un personaggio che sceglie di autodeterminarsi fino alla fine, e che se ne va solo dopo aver messo a posto tutto quel poco che gli rimaneva.
Se ne va in pace, Walter White, pur consapevole di essere odiato dalla sua famiglia, pur sapendo di aver spezzato innumerevoli vite e di averne segnato indelebilmente tante altre, ma con la consapevolezza di aver compiuto la sua missione, in un certo senso.
Quanto può arrivare a costare, dare un senso alla tua vita? Di sicuro Walter White non si è dato una risposta, prima che la vita lo abbandonasse; ma ha capito, e ha accettato, che ne valeva la pena.