Prima di continuare con la lettura vi avvisiamo che l'articolo contiene spoiler su: Orange Is the New Black, This Is Us, Scrubs, The Walking Dead e Sons of Anarchy.
Il coinvolgimento emotivo durante la visione di una serie tv è una componente imprescindibile. Quando ci appassioniamo sul serio a una storia ci troviamo catapultati un una dimensione parallela alla nostra. Per il tempo di un episodio accantoniamo le nostre peripezie quotidiane e tifiamo per i nostri personaggi preferiti. Gioiamo delle loro vittorie e ci rammarichiamo per le loro sconfitte.
In alcune serie tv però, ci sono dei momenti particolarmente dolorosi che inspiegabilmente ci lasciano l'amaro in bocca anche dopo averli visti, a televisore spento. Momenti carichi di malinconia e tristezza che certe volte ci colgono alla sprovvista, come nell'episodio 3×14 di Scrubs di cui andremo a parlare tra poco. Oggi infatti ci concentreremo su i 5 momenti delle serie tv che un pugno allo stomaco era meglio.
Quelle scene talmente strazianti che ci hanno davvero lasciato in uno stato di malinconia e tristezza che si è prolungato per qualche minuto (o qualche ora, in alcuni casi) dopo aver ripreso a occuparci della nostra vita.
1) Cox al funerale di Ben in Scrubs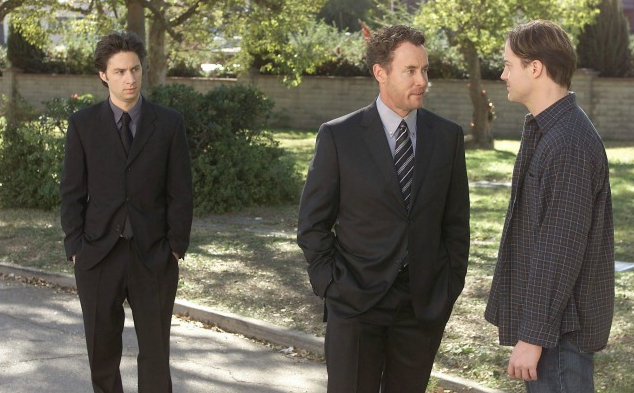 Scrubs è una serie tv unica nel suo genere. È un pendolo che oscilla tra una folle comicità demenziale e una profonda ricerca di un senso alla vita e alla morte. Ma c'è un episodio della terza stagione, il quattordicesimo per la precisione, che è davvero peggio di un pugno allo stomaco. Stiamo parlando dell'episodio in cui muore Ben, il fratello di Jordan, malato da tempo di leucemia.
La componente fortemente drammatica dell'episodio è la reazione di Perry, devastato per la perdita del suo caro amico e cognato, che si rifugia nella più totale negazione, continuando persino a vederlo e a parlare con lui. Il giorno del funerale di Ben (Brendan Fraser) Cox è distaccato ed è convinto che tutti, compreso lui, stiano andando alla festa per il primo compleanno di suo figlio. Solo quando JD lo incalza chiedendogli dove si trovino secondo lui, il sorriso di Cox si spegne.
Il suo viso si trasforma in una maschera di disperazione quando realizza di trovarsi al cimitero per l'ultimo saluto a Ben. Di momenti malinconici in Scrubs ce ne sono tantissimi, ma tra tutti questo è talmente carico di tristezza e dramma che diciamocelo, un pugno allo stomaco è una passeggiata al confronto.