Abbiamo tutti il nostro particolare e personale modo di concepire l' abbigliamento, e uno stile a cui siamo fedeli. Questo perché i vestiti sono tra i modi più diretti con cui comunichiamo la nostra identità agli estranei senza bisogno di parlare.
Bisogna riconoscere che ci sono molti livelli di cura del proprio abbigliamento: da chi studia ogni dettaglio e non lascia nulla al caso a chi la mattina si sveglia e senza accendere la luce "seleziona" dei capi casualmente dall'armadio. Se ci pensate, anche la totale noncuranza per il proprio aspetto denota un certo modo di essere e pensare.
Quindi, se i vestiti comunicano al mondo aspetti della nostra personalità, ne consegue che ciò si applichi anche ai Serie Tv addicted come noi. Dai, ammettetelo, quante volte avete fatto scelte di vestiario basate su un personaggio che amate, per non parlare di tutti i gadget che avete accumulato da varie promozioni di TeeTee e dalle fiere del fumetto. Vi conosco, non credete.
Ma quindi, c'è qualche scienza esatta che permette di individuare un proprio simile? Chiederete voi. Beh, no, ma un occhio critico come il nostro, allenato a ore di streaming e conseguenti congetture, non può lasciarsi sfuggire i dettagli dell'abbigliamento di un addicted che smascherano la sua identità. Ecco un piccolo vademecum, da capo a piedi.
Nella vita di tutti i giorni corriamo da un impegno all'altro, immersi nei nostri pensieri e nelle nostre preoccupazioni – o semplicemente in un ripasso mentale degli episodi precedenti in attesa di guardare la nuova puntata della nostra serie preferita. Eppure, in mezzo a questo caos mentale e fisico, ci sono dei dettagli delle persone in cui ci imbattiamo che catturano l'attenzione e ci fanno individuare un soggetto appartenente alla nostra specie.
Certo, sarebbe bello se vedessimo qualcuno andare in giro con un fez per riconoscerlo immediatamente come fan di Doctor Who, ma sarebbe un po' improbabile che qualcuno si aggirasse con un simile copricapo. O ancora più assurdo: un uomo calvo con gli occhiali da vista ed il pizzetto (e magari anche un borsalino) – ah, no, i sosia di Walter White esistono veramente!
I veri segnali sono più sottili, come quel ragazzo sul treno che indossa una felpa col cappuccio che adombra le sue occhiaie violacee ed il PC in grembo, intento a trafficare chissà cosa – probabilmente sta guardando semplicemente le puntate di Mr. Robot che ha piratato.
Se individui una ragazza che porta fieramente la frangetta, la possibilità che si ispiri a Rachel Berry o Jess Day (tanto più se in abbinato a un grosso paio di occhiali), ma ci sono tanti altre portatrici di frangetta nel mondo seriale; dico ciò con cognizione di causa: questo taglio è davvero un must per tanti personaggi delle Serie Tv, e io sono la prima ad aver abbracciato questa tendenza.
Su questo invece andate sul sicuro: trovate una ragazza con in testa una corona di fiori e siate sicuri di aver trovato una fan di Hannibal.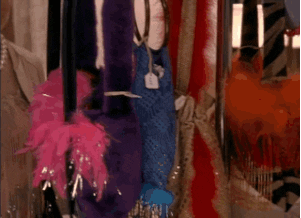 Passando invece all'abbigliamento vero e proprio, beh, per certi versi si tratta di un terreno più solido. L'addicted possiederà nell'armadio una sfilza di magliette dedicate alle Serie Tv che più ama, molte di esse saranno cross-over, per esempio quelle in cui il trono di spade ospita personaggi di altri fandom (e qui possiamo scovare non una ma ben due Serie Tv di cui è fan!); altre magliette saranno delle simpatiche rivisitazioni di citazioni celebri, tipo "I'm the mother of cats".
Un addicted, in materia di soprabiti, è abbastanza affezionato ai cappotti lunghi, perché molto usati nelle serie dai personaggi più badass, e poi aggiungono quel tocco di mistero e figaggine. Pensiamo appunto al Dottore, che in più rigenerazioni indossa un cappotto, o a Sherlock (in quel caso il bavero va rigorosamente alzato), o a Castiel di Supernatural.
L'addicted non si riconosce inoltre solo dai capi singoli di abbigliamento, ma anche dall'attitudine e dal risultato complessivo degli abbinamenti che sceglie:
Il tipico Nick Miller (New Girl) della situazione è quello che sfoggia una maglietta di una serie (possibilmente di Breaking Bed con il faccione di Heisenberg in primo piano) con un paio di jeans che hanno visto la guerra e una camicia a quadri stropicciata;
Se si veste da biker ma non è a cavallo di una Harley-Davidson, probabilmente è solo un fan di Sons of Anarchy;
Se un ragazzo o una ragazza si aggirano tra le aule di scienze politiche o giurisprudenza tutti impomatati e con un'aria poco diplomatica, Frank Underwood è il loro idolo e sognano di guidare il loro Paese. Sicuramente sono anche un po' infimi. Ma se una ragazza indossa questa mise al di fuori di quei contesti, probabilmente il suo idolo è Dana Scully;
Se una ragazza indossa bizzarri e colorati abbinamenti e il famoso chiodo giallo di Zara, è una fashion blogger wannabe o una fan di Kimmy Schmidt;
Se si veste vintage con forti richiami alle forme geometriche in voga negli anni '60, la sua estetica deriva tutta da Mad Men.
Attenti inoltre agli accessori che potrebbero sfuggire all'occhio: le spille, le collane comprate dalle pagine di creazioni su Facebook o RedBubble, i polsini e persino le borse. L'addicted ha sempre un asso nella manica per farsi riconoscere.