# #
Rai. Di tutto, di più. Di tutto fino ad un certo punto, però. Con l'avvento del digitale terrestre, la televisione pubblica ha ampliato notevolmente l'offerta editoriale, mettendo a disposizione degli abbonati un'ampia gamma di nuovi canali. Ce n'è per tutti i gusti. Giusto per fare qualche esempio: l'appassionato di film ha Rai Movie, quello di teatro Rai5, i bambini Rai Gulp e i più anziani o tradizionalisti… la solita Rai dei Don Matteo e dei Magalli. Tutto molto bello (o giù di lì), ma manca qualcosa.
# #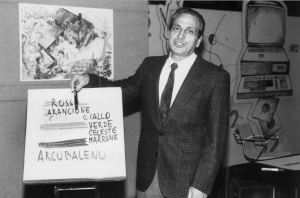 La Rai, nel corso della sua storia, ha ricoperto un ruolo fondamentale nella società italiana: la formazione. Formazione vera. Sopratutto nel corso degli anni Cinquanta e Sessanta, la televisione italiana è stata una scuola importantissima, tassello chiave per la costruzione di uno stato che sognava di diventare nazione dopo un secolo di contraddizioni. E una nazione è realmente tale se c'è una lingua a unirla. Laddove le scuole latitavano o non erano state frequentate, lasciando spazio all'utilizzo diffuso di dialetti lontani più o meno lontani dalla lingua madre, è stata la Rai ad insegnare l'italiano agli italiani. La questione non è da poco.
I cinquantenni di oggi ricordano con nostalgia le lezioni del maestro Manzi nella trasmissione "Non è mai troppo tardi", in onda dal 1960 al 1968. La filosofia del progetto era tanto semplice quanto geniale: insegnare a leggere e a scrivere agli italiani. Obiettivo centrato, se si considera l'affermazione dell'italiano come lingua del popolo, e non solo letteraria o di nicchia.
# #
Oggi quell'esigenza non c'è più, i tempi sono cambiati e la Rai dovrebbe porsi un nuovo obiettivo: insegnare l'inglese, e farlo seriamente. Da questo punto di vista l'Italia è un Paese tremendo e le scuole, seppure si siano evolute abbondantemente in questo senso, non sono ancora all'altezza del fine. La Rai sta lavorando in questo senso, ma senza grande efficacia: non saranno le riproposizioni dei DVD scolastici su Rai Scuola a insegnare l'inglese a bambini, ragazzi e, perché no, adulti.
Una soluzione, tuttavia, c'è sempre, e la chiave è cara ai lettori di questo portale: le serie tv. Le series possono essere maestre di vita in molti sensi, ma in questo caso potrebbero centrare l'obiettivo più difficile: insegnare l'inglese agli italiani. Quale potrebbe essere il mezzo? La proposizione di un canale tematico interamente dedicato a serie tv e film in lingua originale per ogni fascia d'età, ovviamente con relativi sottotitoli in italiano.
I presupposti non mancano: la Rai, come dimostrano le offerte editoriali dei canali generalisti, oltre che di Rai 4 e Rai Movie, ha a disposizione un'enormità di titoli utili per creare un palinsesto d'altissimo livello. Due esempi su tutti: Doctor Who e Game of Thrones, relegati su Rai 4 con adattamenti in italiano di pessimo livello.
Le frequenze costano, ma l'investimento sarebbe giustificato: oggi imparare l'inglese è tanto importante quanto lo era imparare l'italiano negli anni Sessanta. Inoltre si unirebbe l'utile al dilettevole: la maggioranza degli appassionati di serie tv preferisce guardarle in lingua originale, piuttosto che in italiano, e si avrebbero spunti linguistici di ogni genere. Non solo l'inglese "scolastico", spesso poco utile, ma anche le svariate varietà di una delle lingue più parlate al mondo. E non servirebbe neanche un maestro Manzi!
Perché non rischiare? Il ritorno sarebbe ottimo e la Rai si riproporrebbe con decisione nel ruolo di servizio pubblico a tutto tondo con un'idea semplice e relativamente a basso costo.
I dirigenti ci pensino seriamente, perché di Devid di Michelangelo e di shish in the word non se ne può più.
Antonio Casu 
@antoniocasu_