"Occhi del cuore è come il Colosseo: vecchio, decrepito, i piccioni ci defecano sopra, ma lui sta sempre lì e lo guardano tutti".
Non ci state capendo molto, vero? Proviamo a riformulare la frase. "Don Matteo è come il Colosseo: vecchio, decrepito, i critici ci sputano sopra, ma lui sta sempre lì e lo guardano tutti". Chiaro? L'articolo potrebbe concludersi così, ma l'autore non è il dottor Cane di Boris e Don Matteo merita, nostro malgrado, una riflessione più approfondita. Perché è il salotto buonista delle serie tv italiane nonostante sia il tugurio delle banalità, quello con i vecchi divani della nonna che tutti troveranno sempre comodi. Perché porta a casa dai 7 ai 10 milioni di spettatori  a serata da dieci anni e in pochi si domandano realmente quale sia il suo segreto. Perché la Rai è Don Matteo. Perché l'Italia è Don Matteo e, di conseguenza, l'Rai è l'Italia e viceversa.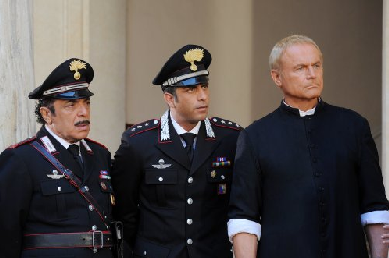 A letto durante Don Matteo – La verità è semplicemente una: saranno sempre poche le persone che ammetteranno con orgoglio di guardare Don Matteo, ma tantissime quelle che lo guardano dallo spioncino. Vincere una serata televisiva può essere un evento fortuito, incollare allo schermo per una decade un popolo senza speranze in astinenza da Lexotan no. Si inizia a vedere la luce in fondo al tunnel: la parola chiave è speranza. Quella che offre un prete di paese che cammina a braccetto con l'incarnazione più stereotipata della giustizia, un carabiniere. Dalla speranza all'illusione il passo è breve. L'Italia di Don Matteo non esiste, perché la realtà non è una favoletta dal lieto fine scontato. Mettiamola così: la realtà è una fiaba dei fratelli Grimm, non una storia per bambini della Disney. La Rai propina delle favole per anziani, centrando perfettamente l'obiettivo prefissato: mantenere uno zoccolo duro di spettatori, senza sogni di gloria né rischi di fallimento, medesime prerogative di chi segue il prete ciclista senza molte pretese. L'obiettivo è dormire serenamente, non andare in là con la fantasia.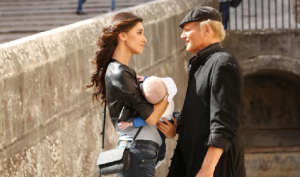 Non siamo mica gli americani – Don Matteo è l'espressione più forte del tradizionalismo italico più becero, lontanissimo dalle realtà seriali di mezzo mondo. Il Bene e il Male, in nome della matrice cattolica del nostro Paese, esistono e si scindono con chirurgica nettezza. L'unica distinzione possibile è la capacità del Male di tramutarsi in Bene dopo una predica del prete, mentre il contrario è un'idea da non prendere in considerazione. Oggi le serie tv sono un'altra cosa: Bene e Male sono sfumature di un'unica vita, intrecciate e mai scisse del tutto. Il realismo concettuale, vestito in modo intrigante dalla finzione scenica, è la via che ci porta ad amare i villains e sentirci spesso più vicini a loro che al personaggio apparentemente più buono e senza macchie. Abbiamo bisogno di riflessioni, più che di sicurezze ferree. Ma questa è solo una parte d'Italia, esiliata dalla Rai verso i lidi di Sky. Nei rari casi in cui si propone un prodotto qualitativamente apprezzabile, i risultati sono mediocri. L'Italia da servizio pubblico ucciderà sempre "Non uccidere", il resto del Paese chissà, ma sarà ancora una maggioranza silenziosa per molti anni.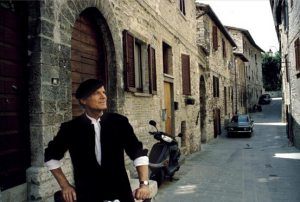 Serie e tv – Perché silenziosa? Perché si può percepire, non rilevare. Non per ora, almeno. Il concetto di serie televisiva rischia di uscire stravolto dalla riflessione. In Italia, i telefilm nascono in tv e crescono sullo streaming. Il popolo di Game of Thrones, piccola nicchia su Rai 4, si trasforma in un esercito di fedelissimi sul web. Ci sono, ma non si vedono, a differenza del fandom attempato di Don Matteo. Probabilmente Don Matteo non è realmente la serie tv più seguita in Italia, ma non si può non affermarlo. Nel suo caso parlano i numeri, negli altri le supposizioni supportate da pochi dati. L'illusione del primato assoluto alimenta ulteriormente le sue fortune. Don Matteo è l'incarnazione della televisione italiana, lontana anni luce dai fasti sbiaditi degli sceneggiati di quarant'anni fa. Eppure funziona, perché basta poco. Fare cultura non è necessario: l'intrattenimento può essere fine a sé, senza essere spunto d'arricchimento. La Rai è una compagnia da subire passivamente, un libro dalle pagine tutte uguali da sfogliare, non da leggere. Paragonare Don Matteo a Breaking Bad è un po' come pensare che Fabio Volo ed Ernest Hemingway facciano lo stesso lavoro.
Roma città eterna, ma il Colosseo è da ristrutturare – Ma torniamo alla frase iniziale: i critici sono dei piccioni che tubano rumorosamente, ma non saranno mai capaci di buttare giù il Colosseo. Sarà il tempo e la lenta evoluzione del nostro Paese a rendere necessaria una ristrutturazione profonda, capace di ridare al monumento la dignità dei tempi che furono. L'Italia di Game of Thrones cresce e avrà una voce. I trentenni di oggi saranno gli anziani di domani, e solo a quel punto Don Matteo morirà. Fino ad allora, tutti continueranno a guardarlo, perché il divano della nonna ha sempre i cuscini caldi. 
Antonio Casu
@antoniocasu_