Dopo aver guardato per 45 minuti il pilot di Lucifer, una naturale conseguenza è stata intonare i versi di "Sympathy for the Devil" dei Rolling Stones, prontamente citati all'interno dell'episodio. Una normale richiesta scaccia via tutte le paure primordiali nei confronti del personaggio che rappresenta meglio di chiunque altro il male nella sua essenza più universale.
"Pleased to meet you", Lucifer, perché ci si diverte parecchio e si può uscire dai soliti cliché.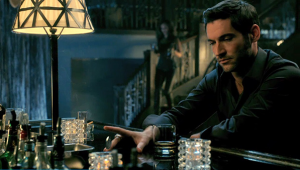 Ma non tutti la pensano così. Il pilot di Lucifer è scomodo e anticonvenzionale, affascinante e divertente, capace di rimettere in discussione, in coerenza con i dettami delle serie tv d'ultima generazione, la polarizzazione netta tra bene e male. Il male è una sfumatura del bene, e viceversa. Il pubblico oggi cerca questo, i cattolici medievalisti no. Lo dimostra l'associazione statunitense "One Milion Moms", protagonista di una crociata indegna contro il prodotto della Fox ispirato a "Lucifer" di Neil Gaiman, spin-off letterario di "Sandman" pubblicato dalla DC Comics.
In un comunicato rilasciato pochi giorni fa, l'associazione etichetta Lucifer come serie "spiritualmente pericolosa. Il nuovo programma mostra Satana come una persona in carne ed ossa amorevole e apprezzabile. Il personaggio Lucifer Morningstar fa sì che il diavolo sembri bello, guidi una bella macchina, riesca ad evitare le multe, sia proprietario di un nightclub a LA e sia irresistibile alle donne". Niente di più vero, ad eccezione della definizione iniziale. Di pericoloso, oggi, c'è solo sbarrare gli occhi di fronte alla natura dell'uomo. Chiudere Lucifer per questo motivo sarebbe un peccato mortale. 
Lo spettatore medio delle serie tv d'ultima generazione è maturo e pronto ad affrontare la sfida più difficile: capire cosa sia il male, destrutturarlo dagli schemi più ancestrali e riportarlo in auge in una veste moderna e adatta ai tempi che viviamo. Tutti siamo in discussione e psicanalizzabili, persino l'angelo caduto per governare il regno degli Inferi.
Non è dato sapere al momento se la Fox avrà raccolto la sfida dello spin-off di "Sandman" e scaverà all'interno del personaggio al punto da diventare un termine di paragone credibile per uno dei cento libri che, secondo il Times, ognuno dovrebbe leggere almeno una volta nella vita, ma una cosa è certa: ammodernare gli schemi classici del police-procedual alla Castle è possibile, e Lucifer non è unicamente un omaggio interessato alle opere di Gaiman.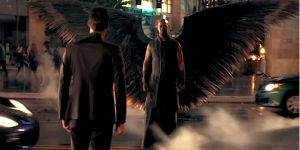 La serie è associabile al fumetto nella filosofia di base: Lucifero non è un personaggio senza coscienza, spinto unicamente da una natura maligna, ma un impiegato di Dio costretto a ricoprire un ruolo indispensabile per mantenere gli equilibri dell'esistenza umana. Il bene e il male sono facce della stessa medaglia: senza l'uno non può esserci l'altro. Anche Lucifero ha delle sfumature ed è stressato e annoiato dal ruolo ingrato. Nella serie si vede un personaggio (interpretato magistralmente dall'inglese Tom Ellis) profondamente umano nella sua crisi di mezza età, sensibile al fascino umano e semplice canale di trasmissione delle tentazioni più recondite che ogni persona ha. La vita è fatta di scelte, non di condizioni prestabilite. Persino per la personificazione del male. 
Il contesto nel quale si muove è una Los Angeles sexy e dai ritmi frenetici. Lucifer è una serie rock incalzata da una colonna sonora pienamente in tema.
Gli unici dubbi sono legati alla rilevanza che verrà data ai casi che dovranno essere risolti all'interno degli episodi (in questo senso, il pilot è stato deludente), allo spazio che verrà dato agli altri personaggi divini, Maze e Amenadiel, e a come si svilupperà il rapporto tra Lucifer e Chloe. La riuscita artistica di Lucifer dipenderà dall'equilibrio tra questi aspetti che gli sceneggiatori sapranno creare. Il rischio di scadere nella sterile banalità è alto, ma il pilot ha creato le aspettative per assistere ad un grande evento seriale. Bacchettoni permettendo. Perché dal Medioevo non si è mai usciti del tutto, negli anni Ottanta come oggi, e il mondo nel quale viviamo ha invece bisogno di provare simpatia per il Diavolo e incontrarlo. In una serie tv, almeno. Oppure in un capolavoro dei Rolling Stones.
Antonio Casu
@antoniocasu_