A volte ci sentiamo un po' tutti ingabbiati, bloccati in un punto, senza possibilità di poter scappar via da noi stessi. Siamo lì, a chiederci cosa ci ha portato a vivere quel momento, così grottesco, così surreale.
E' uno di quegli istanti in cui abbiamo la certezza di non avere più quella libertà che ci spetta. Una libertà così dura da ottenere e così facile da far volare via.
Siamo in prigioni di ghiaccio da cui non possiamo fuggire, è qualcosa di fisico o la nostra mente vuole inesorabilmente farci cadere?!
Ma chi, realmente sa cos'è la libertà, quale porta bisogna attraversare per poterne avere anche solo un po'?!
La prigione è uno dei luoghi, una delle idee, una delle concezioni che prepotentemente ci sbattono davanti la verità, che quasi sicuramente non è quella giusta, ma anzi, può essere tranquillamente etichettata come un parere, un'opinione soggettiva.
Allo stesso tempo è il luogo in cui tutto può essere guadagnato, dove non conta nulla e tutto ha valore, una seconda realtà che dall'esterno sembra quasi non esistere.
Cambiano le personalità, il 'nutrimento', cambiano i rapporti che si creano tra le persone. Si impara ad amare e odiare, ed è proprio questo uno degli aspetti fondamentali per la sopravvivenza.
Siamo di fronte a tre prodotti che stupiscono. Noi stessi viviamo nelle storie dei protagonisti, cambiamo come cambiano loro. Ci innamoriamo e odiamo, siamo le loro ombre.
Prendono così tanto la nostra attenzione che non poche volte abbiamo immaginato di essere chiusi in prigioni come le loro, in prigioni dell'anima che distruggono la mente umana e cambiano tutto, quello in cui crediamo e quello che siamo!
Orange is The New Black, Wentworth e Prison Break creano dimensioni potenti, quotidiane e brutali. Minimi comuni multipli sono appunto le prigioni, luoghi fisici quanto mentali.
E' alquanto impossibile paragonare queste tre serie. Tre capolavori totalmente differenti che hanno trame, protagonisti e scene differenti.
Ognuna di queste tre opere d'arte costruisce storie e interi palazzi fatti di emozioni, sentimenti, sofferenze e piccole gioie che pian piano cominciamo a sentire nostri.
Da Orange is The New Black in una climax ascendente di colori, luci, eventi e dramma, passiamo per Wentworth, fino ad arrivare a Prison Break. Questi ultimi due danno molto più spazio ad un'aggressività a livelli massimi, utilizzata però con obiettivi diversi.
In Wentworth l'arroganza delle situazioni, l'eterogeneità dei comportamenti di tutti i personaggi coinvolti e la violenza che viene sprigionata caratterizza la volontà degli autori di dare, di volta in volta, spazio e valore alle capacità di un singolo individuo. Non a caso nelle prime stagioni siamo testimoni di una strenua lotta tra protagonisti per arrivare ad avere la carica di Top Dog della prigione. Nel continuo delle stagioni questa lotta è sempre presente ma diminuita di intensità.
La violenza è invece il motore che porta Prison Break a progredire. Questa serie anzi, sopravvive e diventa capolavoro attraverso e grazie alla violenta gestione della storyline.
Non c'è pietà né commiserazione, se la morte è l'unica soluzione possibile sarà quello allora il risultato.
Orange is The New Black nella quarta stagione aumenta la suspance ed insieme a questa, introduce anche un pizzico di cinismo che lievita a dismisura nell'ultima puntata.
Fino ad allora l'atmosfera è caratterizzata da cauto ottimismo, comicità e una vena di sana follia. Siamo comunque in prigione, ma il lato violento viene celato e soltanto accennato, almeno nelle prime stagioni. Poi la narrazione cambia, prende una svolta inaspettata che modifica le sorti delle detenute, del personale e della serie stessa.
Il punto forte di OITNB è la descrizione delle storie delle detenute utilizzando l'ironia, raccontando anche quegli eventi che normalmente possono sembrare crudeli come una situazione su cui, in fin dei conti, ci si può anche ridere sopra e sdrammatizzare.
D'altronde quando non hai nulla, anche la più piccola conquista diventa un'impresa.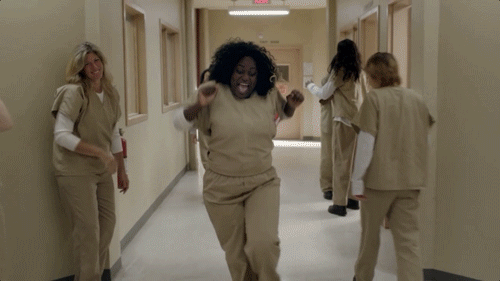 Dalla drammatica comicità di Orange is The New Black passiamo al crudele dramma proposto da Prison Break.
Qui troviamo invece una pacata soddisfazione, per ogni grande impresa, per ogni piano andato a buon fine. Perché semplicemente per ogni cosa andata bene ce ne saranno altre mille che sicuramente andranno male, non un male che ha rimedio, ma una sofferenza che non ha eguali. Si nota nelle espressioni, nelle movenze e nella rassegnazione che prima o poi dimostrano tutti.
Nonostante tutto questo, c'è sempre un barlume di speranza, qualcosa che riesce a far combattere anche per la più piccola motivazione.
Nel dramma nascono però grandi amicizie, veri amori e immense personalità. E' il caso di Michael Scofield, ingegnere strutturale che farà letteralmente di tutto per tirare fuori di prigione il fratello Lincoln. Da qui ha origine quel delirio che è la vita di tutti i personaggi di questa serie al limite della pazzia, o che forse quel limite lo ha già da tempo superato alla grande.
Il rapporto tra i due fratelli è forte ed è la scintilla che dà vita a tutto.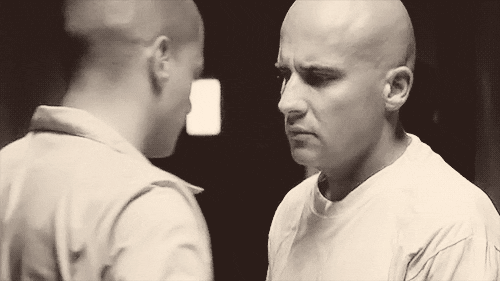 Ma al centro di tutto c'è sempre e comunque il grande piano, l'evasione che porta il nome di Michael. Tutto il resto è secondario, come a voler sorreggere le gesta del protagonista, come a voler fare da sfondo alla sua storia.
Parlando di sfondo non si può ignorare quello che sul suo torace rappresenta la libertà. Il piano di evasione che Michael si tatua sul corpo è qualcosa di geniale e folle allo stesso modo.
Ma le prigioni sono anche quelle femminili.
Pericolose e creative, le detenute che abitano Wentworth sono l'emblema della serie stessa.
In questo luogo le relazioni d'amicizia e d'amore diventano primari, guidano la trama e la costruiscono, creando eventi e la distruzione fisica e mentale che ne consegue.
Tutto ha la sua importanza e tutto si basa sull'unione tra più donne. Ed è questa unione che apre le porte del potere, ma può anche sbarrare la strada per ogni altra cosa.
Giochetti mentali e gesti di dubbia razionalità portano a credere non poche volte che l'amicizia sia solo un'idea, un mezzo sterile per arrivare all'acquisizione del tanto agognato potere.
Ma in realtà è la sola cosa che riesce a far sopravvivere, la sola verità per cui avere ancora speranza.
Ed è grazie alle amicizie e agli amori che i personaggi cambiano, a quel punto c'è qualcosa che ha più importanza di se stessi, di essere il Top Dog. Bisogna salvaguardare un'altra persona, un'altra vita oltre la propria, più della propria.
Le sofferenze, la gioia e le esistenze dei protagonisti sono inevitabilmente legate a questa dimensione.
A dare ancora più intensità ed espressione a questi aspetti umani ci sono gli amori proibiti. Situazioni platoniche proprie delle prigioni e di quello che rappresentano.
Alla fin fine, parlando di prigioni, di ciò che tolgono, di tutto quello che limitano e delle emozioni che abilmente tengono nascoste, non possiamo che lasciare spazio ad una sola affermazione, che riassume tutto, in poche parole…