# #
Se stai leggendo questo articolo su Don Draper, significa che le serie tv sono la tua vita: la puntualità dei dettagli, le sfumature delle immagini, la complessa immediatezza di quel messaggio inviato e in pochi istanti recepito, lasciando però a chi è dall'altra parte dello schermo la responsabilità di capirlo. Libidine.
# #
Le serie sono questo ma c'è molto di più, per scoprirlo occorre analizzarle fino ai tanti piccoli atomi che le compongono, le singole scene. Il compito di questa rubrica sarà per l'appunto quello di calarsi dentro i microcosmi dell'universo più ganzo che ci sia nel tentativo di avvicinare il lettore (che non è altro che l'occupazione part-time dello spettatore) al messaggio di cui sopra: enjoy!
IL CONGEDO DI DON DRAPER
La cornice è una stanza completamente ricoperta di tappeti e tende, per certi versi simile ad alcune del Vittoriale, con la differenza che i grandi finestroni non sono coperti per dar tregua alle cornee di D'Annunzio e ci mostrano la straordinaria costa californiana al suo meglio. Al centro un cerchio di persone:  metà sono hippie, molti dei restanti sono aspiranti tali e poi c'è lui, Don Draper. Perfino adesso che è in difficoltà, vestito come un boscaiolo dell'Arkansas, sporco e clamorosamente depresso è per distacco l'uomo più affascinante della stanza: diavolo di uno yankee!
# #
Sta per dirci addio, un addio soffertissimo e struggente per i milioni di telespettatori che nella meravigliosa lentezza di questa serie hanno sguazzato per sette godutissime stagioni, ma il regista ci mette alla prova ancora una volta e trova il modo perfetto per farglielo dire senza uscire di una virgola dalle caratteristiche del personaggio: in silenzio.
Negli ultimi 10 minuti di Mad Men il suo protagonista non dice una singola parola, a parlare sono le immagini e…uno sfigato stempiato di nome Leonard, col suo maglioncino turchese e la sua postura chiusa, che ci narra di una vita triste, infelice, senza un briciolo di amor proprio.
Si, ok, tutto ciò è molto hippie e altrettanto hipster, ma quando entra in scena Don?!
Leonard va avanti : "A chi importa che io me ne sia andato?", "io non conosco l'amore, passi tutta la vita a pensare di non averlo e che le persone non te ne diano, poi capisci che provano a dartelo e tu non sai cosa sia". Con il linguaggio semplice e genuino della middle class americana, questo impiegatucolo da strapazzo sta descrivendo alla perfezione cosa vuol dire sentirsi soli al mondo, perennemente incompresi. E' pelle d'oca allo stato puro.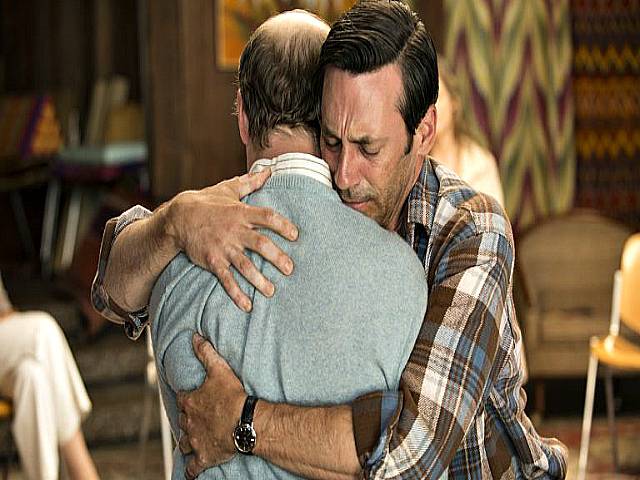 Vediamo Don alzarsi. Perché lo fa? Perché un uomo di successo, geniale e bellissimo si sente coinvolto in un simile monologo? Perché quello non è Draper, quello è Dick, il quale sta ascoltando il racconto della propria vita e ci mostra tutto il dolore celato sotto anni di bugie e stratagemmi partecipando al pianto disperato di Leonard e stritolandolo in uno dei pochi abbracci sinceri della sua vita. Il messaggio è chiaro : non è affatto detto che agli ultimi piani dei grattacieli, dove l'aria è più rarefatta e dove si accede idealmente all'iperuranio della società si stia bene, anzi, è molto più probabile sentirsi esattamente come coloro che lavorano/abitano/vivono 20 piani più in basso, ovvero inadeguati.
Questa non è che la prima parte del predetto addio, si potrebbe definire "fase Whitman", le immagini proseguono e ci mostrano gli epiloghi di personaggi fino a pochi secondi prima tanto amati, dei quali improvvisamente non ci importa più nulla. Non basta la famigliola felice di Pete , non basta il (meritato) successo di Peggy, non basta la (ancor più meritata) malinconia di quell'isterica di Betty, per Dio non bastano neanche le mastodontiche tettone di Joan : vogliamo tutti quanti sapere che ne sarà di Don, accanto a quale squinzia passerà il resto dei suoi giorni e su quale poltrona prestigiosa adagerà le sue regali chiappe!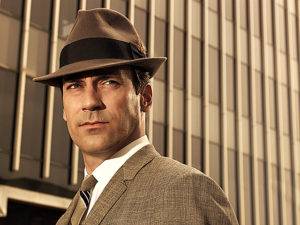 Ancora una volta il regista ci scontenta e al contempo ci premia, offrendoci il congedo perfetto, la "fase Draper". Il contesto è quello del saluto al Sole, qualche frasona filosofica a fare da colonna sonora, un bellissimo prato verde, la costa, una manica di falliti e poi Don: appare rinvigorito e quasi migliorato, la camicia gli sta a pennello, i piedi nudi suggeriscono il ritrovamento della pace interiore perduta, sembra pronto a rimettersi in pista.
"Il nuovo giorno porta nuova speranza, la vita che abbiamo vissuto e quella che abbiamo ancora da vivere. Un giorno nuovo. Idee nuove. Un nuovo me stesso"
Suona il campanello, il sorriso fiorisce insieme al lampo di genio e poi l'ultima scioccante trovata del nostro eroe : "I'd Like to Teach the World to Sing" (se non lo conoscete : googlare, fortissimamente googlare!).
Grazie Don, per tutto quanto.