È un nuovo inizio per John McGinley, il famoso attore di scrubs, che ha dato vita al celebre ed esilarante dottor Percival "Perry" Ulysses Cox, da tutti semplicemente conosciuto come "Dr. Cox"; l'uomo,infatti,  ha un nuovo progetto tra le mani.
L'attore, dopo aver attaccato al chiodo stetoscopio e camice bianco, ha deciso di lottare contro i demoni. Ebbene sì, John McGinley sarà il protagonista di Stan Against Evil, una serie TV dalla trama avvincente e che debutterà il 31 ottobre negli Stati Uniti, a questo seguirà una premiere il 2 novembre.
Si tratta delle vicende di uno scorbutico sceriffo del New England, impegnato più nel giudicare e nel criticare le scelte di vita altrui che nel suo dovere, tant'è che si vede soffiare il titolo da Evie Barnett, dopo aver avuto un comportamento a dir poco inadeguato al funerale della moglie.
La giovane e energica donna gli apre gli occhi sull'esercito di demoni che infestano la piccola cittadina del New Hampshire dove risiedono, così l'acido e scorbutico Stanley "Stan" Miller è costretto, vista la drammatica situazione, a un'alleanza con lei per dare inizio alla lotta.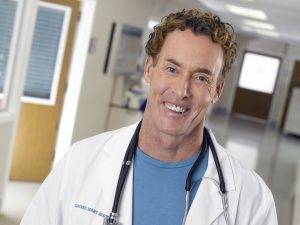 Oltre a John fanno parte del cast di questa nuova comedy dai tratti spaventosi anche Deborah Baker Jr., nei panni di Denise Miller, Janet Varney nel ruolo di Evie Barnett e, tra gli altri, anche Nate Mooney, già conosciuto per i suoi ruoli in Breaking Bad e Push.
John mcginley non è l'unico del cast di Scrubs ad essersi dedicato all'interpretazione di nuovi ruoli; infatti Zach Braff debutterà nella comedy dal titolo -per ora provvisorio- Start up, mentre Judy Reyes ha da poco firmato un ruolo nella dramedy Claws, accanto a Nancy Nash e Carrie Preston. L'ex infermiera aveva già recitato in Jane The Virgin, The Good Wife e Fresh Off the Boat.
A quanto pare sarà un autunno esplosivo per i fan di Scrubs!