# #
Di Inside no. 9 si parla poco, troppo poco, ed è un vero peccato perché un gioiello come questo difficilmente ci ricapiterà tra le mani.
# #
Certo, è una Serie particolare. Non so neanche se la si possa definire una Serie, dal momento che ogni puntata racconta una storia completamente diversa e scollegata sia dalle precedenti che dalle successive, con personaggi anche diversi.
Quindi perché Inside no. 9 viene considerata una Serie? Tra l'altro così acclamata da critica e pubblico (inglese, ovviamente, visto che qui in Italia la conosciamo in pochissimi) da essere stata appena rinnovata per una quarta stagione.
# #
La particolarità di Inside no. 9 è che ogni storia avviene in un ambiente circoscritto che reca il numero 9 fuori (o dentro).
E questo ambiente può essere una casa, il vagone di un treno, lo studio di un professore, una scarpa… Sì, avete letto bene, una scarpa. E credetemi, è uno degli episodi più belli di sempre. Ma ve ne parlerò tra un po'.
La terza stagione – terminata circa un mesetto fa – ci ha regalato altri 6 episodi di altissima qualità, tutti rigorosamente dark comedy, spesso tendenti all'horror o al thriller. Insomma, quello che di solito ci si aspetta da questa Serie e se ancora non l'avete vista, vi prego, fatelo. Ne uscirete più ricchi 'spiritualmente' e più felici, ve lo garantisco.
Comunque, analizziamo un po' i gioiellini che Steve Pemberton e Reece Shearsmith (per chi non li conoscesse, sono gli autori del più celebre Psychoville) ci hanno donato questa volta.
THE DEVIL OF CHRISTMAS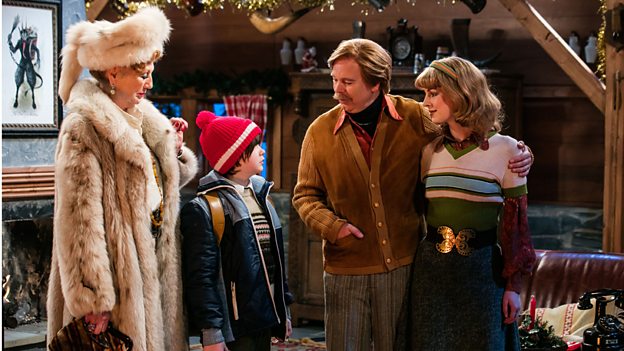 Il primo episodio della terza stagione di Inside no. 9 è andato in onda qualche giorno dopo Natale, quasi come fosse uno speciale. A raccontare la storia un regista, che parla del film dell'orrore a basso costo e molto trash che ha realizzato per Natale. Una di quelle 'commedie' alternative che ci propinano ogni anno, per intenderci.
I suoi continui interventi, ci impediscono di farci prendere completamente dalla storia che stiamo vedendo, eppure anche questo è voluto: il distacco è necessario perché la vera storia raccontata non è quella che stiamo vedendo, ma quella degli attori, per chiudersi poi con un finale abbastanza inaspettato.
Ironica e divertente, questa puntata riesce bene nel suo intento: essere una parodia.