Quante volte abbiamo stretto i denti per paura che le nostre serie tv preferite venissero cancellate e rimanessero in sospeso? Non poter sapere cosa capita ai personaggi che amiamo (od odiamo) di più è stressante. Ma è soprattutto quando si tratta di storie avvincenti o divertenti (come I Griffin) che ci dispiace vederle finire. Eppure, non bisogna rimanere con le mani in mano ad accettare passivamente la cancellazione delle serie tv che ci appassionano!
Moltissime serie televisive sono state salvate in poco tempo grazie all'intervento tempestivo dei loro fan. Questi, con petizioni e altri metodi ingegnosi, sono spesso riusciti ad attirare l'attenzione delle rispettive case di produzione, le quali hanno deciso di dare una seconda chance a molte delle serie tv destinate a una fine prematura. Diverse volte, invece, i diritti sono stati acquistati da altre case di produzione, così alcune storie hanno riacquistato vitalità e (perché no?) anche qualche stagione in più.
Ecco, quindi, alcuni prodotti che come I Griffin sono tornati dopo la cancellazione (di alcuni scommettiamo che non lo sapevate).
1) I Griffin
Immagine dissacrante della tipica famiglia americana, I Griffin sono stati creati nel 1999 e il punto forte dello show fu racchiuso nel folle umorismo dei personaggi principali. Forse non molti sanno che, nel 2003, la sitcom animata venne sospesa. Per fortuna, però, data la trasmissione del programma attraverso altre reti tv, I Griffin raccolsero un ampio consenso, costringendo la Fox a riprenderne la produzione un paio di anni più tardi. Tutto questo non sarebbe stato possibile se non grazie all'intervento di fan affezionati che hanno anche lanciato una petizione online, raccogliendo ben 10.000 firme!
Sarebbe stato un peccato cancellare una serie tv come I Griffin!
2) Lucifer
Lucifer è un esempio perfetto di come si può salvare una serie tv sfruttando al meglio ogni sua potenzialità.
Trasmessa per la prima volta su Fox nel 2016, Lucifer fu cancellata dopo la terza stagione. Netflix, però, non ha sentito ragioni e ha rimesso a nuovo questa serie tv (puntando molto sull'aspetto fisico del suo protagonista). Grazie anche alla campagna #SaveLucifer, i fan hanno contribuito a stuzzicare la curiosità della grande società americana. Netflix ha decisamente reso felice il suo pubblico con la produzione delle successive stagioni di Lucifer, tuttora in onda dopo un salvataggio miracoloso.
3) Sense8
Come si può non parlare di Sense8? Lo scalpore che ha generato la sua cancellazione da parte di Netflix nel 2017 lascia ancora l'amaro in bocca ai fan di tutto il mondo. Nonostante questo, il finale con cui è stato deciso di concludere la serie, per non lasciare nulla in sospeso, è la miglior celebrazione dell'amore che si potesse fare (qui ve ne parliamo in modo più approfondito). È ancora una volta grazie all'intervento dei fan, con le loro proteste e petizioni, che Sense8 ha potuto vedere la fine. Una conclusione meritata? Assolutamente no, ma l'affetto che il pubblico ha dimostrato di provare per i suoi personaggi è stata l'arma più potente che potesse usare.
4) Timeless
Serie tv statunitense fantascientifica, Timeless è stata trasmessa per la prima volta nel 2016 dalla NBC. Cambiare il corso della storia americana attraverso viaggi nel tempo? È quello che il personaggio di Garcia Flynn tenta di fare, ostacolato da Lucy, Rufus e Wyatt. Purtroppo la cancellazione di Timeless è stata annunciata solo dopo la prima stagione. Nonostante la NBC l'abbia rinnovata dopo pochi giorni per una seconda, la serie tv non ha riscosso il successo aspettato. Per questo motivo per concluderne la storia è stato prodotto un film di due ore, andato in onda nel dicembre 2018.
5) The Expanse
Ancora di fantascienza si parla con The Expanse, anche se di argomenti del tutto diversi. Basata sull'omonima serie letteraria scritta da Daniel Abraham e Ty Franck con lo pseudonimo di James S. A. Corey, The Expanse è andata in onda per la prima volta nel 2015. Le prime tre stagioni sono state trasmesse da Syfy, ma il 10 maggio del 2018 il network ne ha annunciato la cancellazione. Se oggi stiamo celebrando The Expanse, tuttora in onda, dobbiamo ringraziare Amazon che ne ha comprato i diritti.
6) Brooklyn Nine-Nine
Vincitrice di due Golden Globe, Brooklyn Nine-Nine ci ha conquistati con il suo umorismo e la sua simpatia, è innegabile! Eppure nel 2018 la Fox ne aveva annunciato la cancellazione dopo la quinta stagione. Per fortuna la NBC, intuendo il potenziale della serie e di attori come Andy Samberg (l'esilarante Jake Peralta), ha acquistato Brooklyn Nine-Nine, rinnovandola per una sesta stagione di 18 episodi (ancora inedita in Italia). Come se non bastasse, questi fortunati poliziotti del 99° distretto ci hanno accompagnati anche per una settima stagione, e siamo ora in attesa dell'ottava e ultima stagione, che non avremmo mai potuto vedere se non fosse stato per NBC.
7) Nashville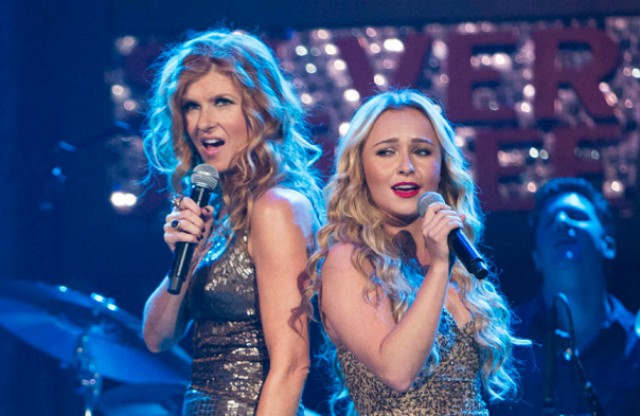 Sullo sfondo della città di Nashville, le due protagoniste dell'omonima serie tv, interpretate da Connie Britton e Hayden Panettiere, si sfidano sulle note della musica country. Per le prime quattro stagioni Nashville sembrava aver avuto successo ma nel 2016 la ABC ne ha annunciato la cancellazione. Tuttavia, la Country Music Television ha trovato nel 2017 un accordo per portare avanti la serie tv, rinnovandola per una sesta e ultima stagione composta da 16 episodi, poi trasmessa il 29 giugno 2019 sul servizio streaming Star Play.
8) The Killing
The Killing, serie tv statunitense di genere poliziesco, ha come protagonisti i due attori Mireille Enos e Joel Kinnaman (conosciuto anche per il suo ruolo da protagonista in Altered Carbon). Dopo le prime due stagioni, incentrate sull'omicidio di una giovane ragazza e sulle indagini della polizia riguardanti questo caso, The Killing fu cancellata. Netflix, Fox Television Studios e la rete televisiva AMC si erano poi divise i costi di produzione per una terza stagione, andata in onda nel 2013. Ma non è finita qui! Poco dopo la serie è stata nuovamente cancellata dalla AMC e acquistata da Netflix che ha poi prodotto il finale. Una storia a dir poco travagliata!
9) Ripper Street
Londra vittoriana e casi da risolvere pochi mesi dopo gli omicidi di Jack lo Squartatore. Ripper Street è questo e molto altro ancora. Eppure, a seguito degli scarsi ascolti ricevuti con la seconda stagione, nel 2013 ne era stata annunciata la cancellazione. Ancora una volta, però, i fan della serie hanno avuto la meglio. Con una raccolta di 40.000 firme (come anche con I Griffin) hanno contribuito alla ripresa della produzione per la terza stagione. Parte del merito va anche all'accordo tra Amazon e BBC che l'hanno trasmessa tramite i loro servizi streaming. Solo un anno dopo, Amazon ha rinnovato Ripper Street per una quarta e quinta (l'ultima) stagione.
10) Veronica Mars
Ultima, ma non meno importante, anche Veronica Mars ha dovuto subire la triste sorte della cancellazione. Nonostante il grande numero degli ascolti delle prime due stagioni e i molti premi che ricevette, la serie venne cancellata nel 2007. I fan, indignati, spedirono più di 10.000 barrette Mars alla produzione di The CW per provare a riportare sullo schermo la loro Kristen Bell. Quest'ultima e il produttore Rob Thomas non si diedero per vinti e riuscirono a trovare un modo per cofinanziare la produzione di un film. Tuttavia, è stato il network Hulu a salvare Veronica Mars, producendo una quarta stagione nel 2019.