La notizia che Grey's Anatomy vedrà uscire un nuovo spin-off nel 2018 è arrivata qualche mese fa. Per ora sappiamo che i protagonisti questa volta saranno i pompieri della caserma di Seattle.
Niente più medici quindi per questo spin-off, ma sempre persone che fanno del loro lavoro una passione.
Grey's Anatomy non è nuova agli spin-off, nel 2007 è uscita Private Practice che è andata in onda per ben 6 stagioni!
Il cast ancora non è formato, per ora c'è solo una certezza, la protagonista non è nuova alle caserme. La donna attorno a cui girerà la storia sarà Jaina Lee Ortiz, alias detective Annalise Villa in Rosewood.
Dopo la (brutta) notizia della cancellazione di Rosewood, Jaina Lee Ortiz ha trovato un "rimpiazzo" niente male per la sua carriera.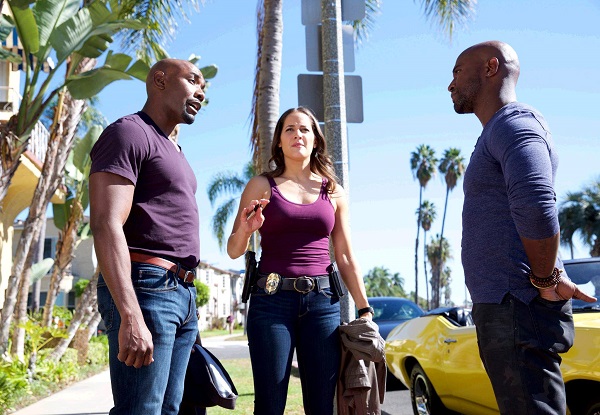 Uno spin-off però non è un vero spin-off se non si fa un approfondimento su uno dei personaggi già noti nella serie principale. Conosceremo il personaggio di Jaina Lee Ortiz in uno degli episodi della prossima stagione di Grey's Anatomy.
La serie uscirà sul piccolo schermo con 10 episodi nella midseason, molto probabilmente dopo la fine di How To Get Away With Murder.
Il presidente della sezione Entertainment della ABC, Channing Dungey, sembra essere veramente soddisfatto di questo nuovo progetto, infatti dichiara:
"Nessuno può intrecciare i pericoli che i vigili del fuoco affrontano ogni giorno con i drammi della loro vita personale, meglio di Shonda Rhimes, e l'impronta di Grey's Anatomy, l'ambientazione di Seattle sono lo sfondo perfetto per questo spin-off emozionante."
Shonda Rhimes, Stacy McKee e Betsy Beers saranno le 3 donne a capo di questo nuovo progetto con i ruoli di sceneggiatrici e produttrici esecutive.
Ci immaginiamo Jaina Lee Ortiz interpretare una donna con le palle, in Rosewood le era venuto bene, in un mondo che oggi è prevalentemente maschile.
Chissà che cosa vorrà raccontarci questa volta Shonda Rhimes, chissà quante nuove emozioni ci farà vivere.
Non resta che aspettare il 2018, nel frattempo ci immergeremo nelle nuove stagioni di Grey's Anatomy, Scandal e How To Get Away With Murder.