Ci siamo, il momento tanto atteso è finalmente arrivato. Domani andrà in onda sulla BBC l'ultimo episodio della nona stagione moderna di "Doctor Who". Una stagione controversa, che ha diviso il fandom sulle valutazioni e riunito tutti in un coro unanime con la 9×11, capolavoro con pochi eguali in 52 anni di storia dello show. Ma non è ancora finita. Manca un ultimo tassello, il più importante. L'episodio di domani segnerà indelebilmente il canon narrativo del Dottore. Siamo alle porte di Gallifrey, e niente sarà più come prima, nel bene e nel male. Difficile, se non impossibile, prevedere ora cosa potrà accadere, ma una cosa è certa: torneranno gli Angeli piangenti.
DAL COLPO D'OCCHIO AL COLPO A SORPRESA – Le immagini dei trailer diffusi dalla BBC, criptici come non mai, lasciano in sospeso una questione di difficile lettura: appaiono gli Angeli, ci saranno e saranno pronti a terrorizzarci ancora una volta. Frutto del genio di Steven Moffat, che li introdusse per la prima volta nel celebre episodio "Blink", gli Angeli non sono mai apparsi nel ciclo di Twelve. Li avevamo visti per l'ultima volta nella puntata "The Angels Take Manhattan", nella quale uscirono di scena Amy e Rory, e poi rivisti, seppure per poco tempo, in "The Time of the Doctor", sempre nella settima stagione. Dopo l'ultima comparsata, il silenzio. Un silenzio inquietante e pieno d'attesa. Gli Angeli piangenti sono i nemici più spaventosi apparsi nel ciclo moderno. Tutti li vogliono, tutti li temono. Torneranno a sorpresa nella puntata di domani, quella più imprevedibile.
A questo punto, un dubbio sorge spontaneo: che diavolo c'entrano gli Angeli piangenti con Gallifrey? Potrebbe trattarsi di un'altra comparsata, ma una teoria, molto diffusa tra i whovians inglesi, offre un'interessante chiave di lettura.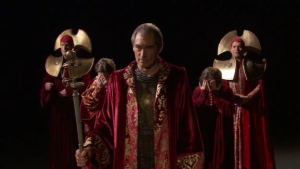 QUELLE PAROLE DI RASSILON… – Per capire di cosa si sta parlando, è necessario fare un piccolo salto all'indietro nel tempo; in questo caso, fortunatamente, non è necessaria una cabina blu. "The End of Time", special di Capodanno 2010: il Decimo Dottore deve fronteggiare la sua nemesi, il Maestro. Non sono soli. Ad un certo punto ricompaiono dalle ombre del passato dei personaggi molto particolari, estremamente significativi nella vita dei due Signori del Tempo: un gruppo di gallifreyani, guidati dal temibile Rassilon, figura leggendaria della storia del pianeta d'origine del Dottore. Prescindendo dagli sviluppi della vicenda che li vede coinvolti, concentriamo la nostra attenzione su una frase pronunciata da Rassilon, riferita ai due antagonisti: "Rimarranno per sempre a memoria della loro vergogna come gli angeli piangenti degli antichi". 
Un'immagine, inoltre, lascia spazio ad ulteriori spunti di discussione: nel momento in cui Rassilon si palesa di fronte al Dottore e al Maestro, notiamo al suo fianco due personaggi sconosciuti. Non conosciamo le loro identità, ma diversi elementi fanno supporre che la donna alla sua destra possa essere la madre del Dottore. La donna e Ten incrociano gli sguardi in un momento carico di pathos, evidenziando un legame ignoto tra i due. Detto questo, sia la donna che l'individuo alla sinistra di Rassilon assumono a più riprese una posa molto particolare, affine a quella degli Angeli piangenti. Le mani coprono gli occhi, quasi ad esprimere un sentimento di vergogna.
Una semplice coincidenza? Non è da escludere, ma non si può escludere neanche un legame con gli Angeli piangenti.
E SE GLI ANGELI PIANGENTI FOSSERO DI GALLIFREY? – Proviamo ad unire i fili. Esiste la possibilità che gli Angeli piangenti siano una specie particolare di Signori del Tempo? Nessuno può escluderlo. Gli Angeli si nutrono di tempo potenziale d'altronde, e la capacità di maneggiare il tempo è alla portata di pochi eletti.
Partendo dal presupposto che sono immortali, la loro condizione potrebbe essere una condanna eterna? La teoria non è confutabile.
Altro fronte: gli Angeli piangenti sono una specie antichissima, tra le prime apparse nell'Universo, se non la prima in assoluto. E se fossero stati loro a dare origine ai Time Lords e non viceversa? Impossibile rispondere ora, ma si può ragionare a riguardo, almeno fino a domani.
Terzo e ultimo spunto: gli Angeli piangenti appaiono sulla Terra sotto forma di statue. Sono fatti di pietra, ma è una condizione momentanea, uno strumento di difesa. Finché qualcuno li guarda, non possono muoversi. Non sono altro che pietra. Spingendoci in là con la fantasia, il meccanismo si potrebbe definire camaleontico: ci si adatta al contesto in cui si è in quel momento. Vi ricorda qualcosa? Potrebbe essere lo stesso meccanismo della Tardis? Se ne potrebbe parlare per ore, senza arrivare ad una soluzione definitiva.
A Moffat la sentenza: l'episodio di domani potrebbe dare molte risposte a riguardo, oppure mostrarceli per pochi secondi. Chissà. Nel dubbio, date uno sguardo attento e approfondito, ma occhio agli Angeli. Osservateli e non guardatevi intorno. Non fatelo! Noi vi abbiamo avvisato.
@antoniocasu_
Un saluto agli amici di Doctor Who " ita ".