Era da qualche mese che se ne parlava e alla fine è successo. Dopo Pixar, Marvel e Lucasfilm la Disney ha acquisito per oltre 52 miliardi di dollari (più quasi 14 di copertura debiti) la 21st Century Fox. Le grandi orecchie del topo più famoso al mondo cadono come una scure nell'universo dell'intrattenimento seriale. Non poteva esserci notizia più destabilizzante in questo finale di 2017. Proprio mentre ci apprestavamo a gustarci un 2018 pieno di novità per alcune delle nostre Serie Tv preferite ecco la bomba.
Ammettiamolo, le prime reazioni sono state nel solco dello sconforto. Chiunque avendo ben in mente le proprie Serie preferite ha avuto un brivido lungo tutta la schiena. Io, ad esempio, pensavo a:
la nuova stagione di Legion
la stagione conclusiva di The Americans o Homelend

Il prosieguo di Fargo
I futuri episodi di American Horror Story e American Crime Story
Il seguito di Vikings
Solo per citarne alcune. Ma da dove nasce tutta questa nostra paura? Ed è realmente giustificata?
Il mondo della Walt Disney Company è da sempre votato a un intrattenimento di stampo familiare, adatto cioè a tutta la famiglia. In quest'ottica molti dei prodotti che rientrano nelle produzioni coinvolte dall'accordo con la Fox hanno invece un taglio completamente diverso. Sono un terreno nuovo sul quale, il timore dei più, è che vi sia una sorta di stemperamento della tensione narrativa e soprattutto un ammorbidimento dei contenuti (vedi un possibile esempio nel nostro articolo: come sarebbe stato Games of Thrones se fosse stato prodotto dalla Disney).
Quali sono gli elementi con cui sostenere queste nostre paure? Probabilmente il fatto principale è che la Disney è vista come il simbolo dell'omologazione dell'intrattenimento e l'emblema di uno stile di imperialismo americano applicato alla cultura di massa. Bisogna però tenere a mente alcuni fattori determinanti:
il processo di inserimento della 21st Century Fox nella Disney, operativamente, avrà tempi lunghi
le produzioni in corso e in uscita nel 2018 difficilmente vedranno significative modifiche
non abbiamo elementi reali per valutare le posizioni su nuove produzioni Disney-Fox
è possibile valutare quanto fatto da Disney a livello cinematografico dopo l'acquisizione di Pixar, Marvel e Lucasfilm
Per quanto riguarda i primi due punti possiamo restare abbastanza tranquilli sull'immediato futuro. Il 2018 non sarà l'Annus Horribilis che molti già vanno minacciando. Cambi di proprietà a livelli così alti e grandi richiedono tempi lunghi e processi burocratici interni particolarmente complessi. Questo ci garantirà una sorta di continuità con il presente, almeno in prima battuta. L'eventuale rischio potrebbe palesarsi solo in caso si decidesse di non rinnovare alcune Serie delle quali ancora non si sa molto per nuove stagioni (penso ad esempio a Fargo o Taboo).
Banco di prova invece saranno le nuove produzioni. Quei progetti in uscita nella seconda metà del 2018 e soprattutto nel 2019 su cui potremmo vedere il nuovo corso della Disney. Per capire quanto pesante potrebbe essere la mano del topo dalle grandi orecchie possiamo solo affidarci a quanto già visto nel mondo del cinema. Il terreno è minato. Semplificando però ai minimi termini la questione possiamo dire che:
Dopo l'acquisizione delle Pixar (2006) sono stati comunque prodotti lavori eccellenti come Up o Inside Out
A seguito dell'acquisizione della Marvel (2010) il successo di pubblico è rimasto notevole e alcuni prodotti come Guardiani della Galassia e Doctor Strange sono comunque di pregevole fattura
Dopo l'acquisizione della Lucasfilm (2012) non è stato fatto peggio di quanto avesse fatto nei primi anni 2000 lo stesso George Lucas ed è uscito nelle sale un ottimo prodotto come Rogue One
Possiamo quindi stare tranquilli? Non del tutto. Tutti i titoli e situazioni appena presentati sono ben lontani dalla tipologia di prodotto che finirà nella grande pancia (che pare essere senza fondo) di Topolino. Non possiamo mettere sullo stesso piano la cifra drammaturgica (narrativa e contenutistica) di molte Serie come Fargo, Vikings, Legion ecc con l'attuale produzione Disney.
Ammesso e non concesso che la Disney abbia mostrato di saper fare film di successo, ma osare sul piano culturale alzando l'asticella nel mondo delle Serie Tv? Come potrebbero reagire autori che hanno in questi anni osato addentrarsi in terreni complessi e affascinanti? Penso a Steven Knight (Peaky Blinders e Taboo), Kurt Sutter (Sons of Anarchy) o i fratelli Coen (Fargo) e con loro tutto quel sottobosco autoriale che gravita proprio attorno all'universo di Fargo e in generale al cinema autoriale indipendente americano, quando dovranno mettersi dietro la scrivania o la macchina da presa. Quali criticità potranno sorgere quando a livello creativo si dovranno sedere al tavolo con l'establishment della Disney?
L'unico appiglio che abbiamo per provare a rispondere ci viene da uno degli ultimi personaggi Marvel finito nel tritacarne delle Disney (e di prossima uscita nel suo sequel): Deadpool.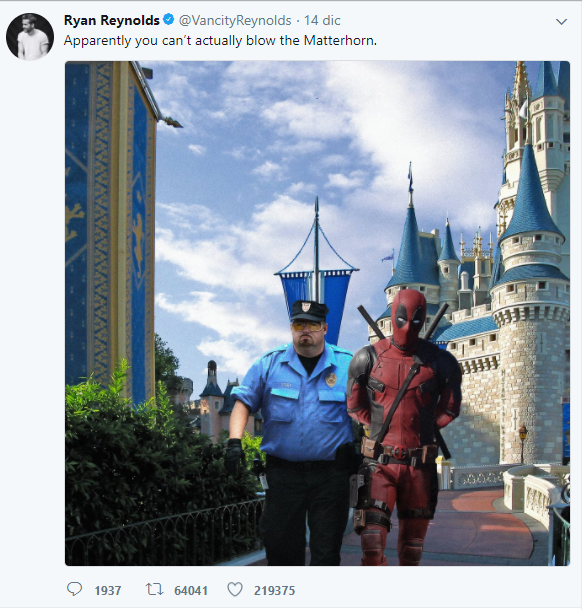 Qui infatti ci troviamo di fronte a un prodotto che gli Americani definiscono R-rated, dedicato cioè a un pubblico adulto (maggiore di 17 anni). Le paure del pubblico e degli appassionati di questo volgarissimo ma divertentissimo antieroe interpretato da Ryan Reynolds erano enormi; legate sia alla produzione del sequel che alla possibile volontà di riduzione del rated da parte della Disney. A tranquillizzare tutti però è intervenuto direttamente il CEO della Walt Disney Company Bob Iger, il quale in una recente intervista ha dichiarato:
"[Deadpool] chiaramente è stato fatto e sarà fatto dalla Marvel, ma pensiamo che ci possa essere un'opportunità per un marchio Marvel-R [R-rated] per prodotti come Deadpool. Fino a che lasceremo che il pubblico sappia cosa sta per succedere, pensiamo di poterlo gestire bene"
Non abbiamo la sfera di cristallo, tanto cara proprio all'universo Disney, quindi possiamo solo affidarci alla speranza che il successo di pubblico e critica che le attuali Serie Tv stanno generando, oltre la qualità dei prodotti della concorrenza, spinga la Disney a osare in un terreno per loro inesplorato. Che si possa continuare ad avere coraggio e sperimentazione da chi, proprio un secolo fa, fece di queste due caratteristiche le basi del proprio successo.