# #
Sapete, avevo un po' di timore prima di guardare Dead of Summer. L'horror è un genere che non ho mai amato particolarmente, ho sempre pensato fossero film dalla trama spesso inconsistente, imperniati solo su effetti speciali, Plot Twist Shock, scene inquietanti e di – conseguenza – classiche inquadrature ansiogene.
# #
Tutte queste mie dissertazioni, che sono un'ottima perifrasi per dire delicatamente quanto io sia fifone, sono state spazzate via dalla visione di questa Serie Tv, che ha ribaltato nell'arco di pochi minuti tutte le convinzioni radicate in anni e anni di orgogliosa strizza, riassunte nel sunto "Tutta forma e niente contenuto".
Dead of Summer ha un contenuto interessante, ma la forma è proprio 'na poracciata…
# #
La serie in sé è gradevole, ma raggiunge lo stesso livello di paura del video del Pulcino Pio. Anzi, forse la parte del trattore che lo investe è un filo più angosciante.
CHIUDIAMO UN OCCHIO (O DUE)
Il concept alla base della trama è abbastanza abusato, ma su questo si può anche chiudere un occhio o due. Un gruppo di ragazzi si ritrova per partire alla volta di Camp Stillwater, il classico campeggio all'americana con bungalow di legno e laghetto di ordinanza, chiuso da diversi anni a causa di un macabro evento.
Nulla di nuovo, appunto, ma se qualcuno di voi ha visto dei vaghi riferimenti a Venerdì 13 (quel vecchio film horror dove un gruppo di ragazzi si ritrova per partire alla volta del Camp Crystal Lake, il classico campeggio all'americana con bungalow di legno e laghetto di ordinanza, chiuso da diversi anni a causa di un macabro evento) o agli altri grandi classici del genere, cambierà sicuramente idea una volta conosciuto il nome della titolare del piacevole luogo di villeggiatura.
Deb CARPENTER.
Ah.
Bene, mancano 3 giorni alla riapertura del campeggio, e la vecchia banda è pronta per partire a rimetterlo a lustro prima dell'apertura.
Tre giorni prima.
Cinque diciottenni.
Un campeggio intero.
Che poi una cosa non mi è limpidissima: se questi sono diciottenni, significa che 5 anni prima erano dei semplici tredicenni, ma da quello che dicono lasciano intendere che già allora erano gli animatori/tuttofare della struttura. O siamo di fronte a un palese caso di sfruttamento minorile, oppure la sceneggiatura è stata scritta in Svizzera, valle di Emmental per la precisione.
Fa niente, chiudiamo anche il terzo occhio, con buona pace dei Chakra e andiamo avanti.
Anzi, entriamo nel merito che c'è da divertirsi.
LA TRAMA DI DEAD OF SUMMER
La serie si apre con un flashback, riportandoci al 1871 e mostrandoci un gruppo armato che, con uno stile simile alla SWAT, fa irruzione in un capanno assaltando un pericoloso anziano che suona il piano. Da notare come 4 o 5 energumeni debbano mettere tutta la propria forza per staccare dai tasti le mani del vegliardo, che nel frattempo non sbaglia nemmeno una nota. Davvero, non ci sono più gli uomini di una volta.
La scena si conclude con l'inquadratura di un lago, dove galleggiano diversi corpi senza vita.
Ridendo e scherzando torniamo ai giorni nostri, o per meglio dire al 1989, anno in cui è ambientata la storia, che gli autori identificano come una sorta di 2017 senza iPhone.
I protagonisti vestono come al giorno d'oggi, parlano come i giovani di adesso e uno di loro ha anche una telecamera digitale di un genere che non credo esistesse ancora all'epoca.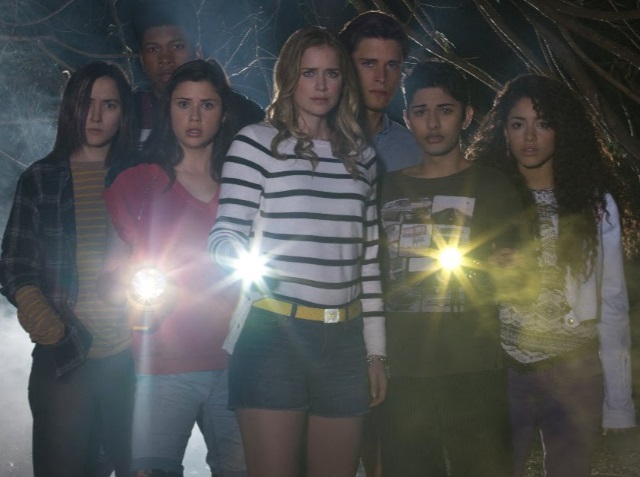 Diciamo che dopo 10 minuti di pilot è già chiaro a tutta la produzione che anche quest'anno l' Emmy Award per i costumi si vincerà l'anno prossimo.
Ma conosciamo meglio i nostri amici, pronti a partire per il campo Stillwater:
Amy è "La Sfigata". Pare evidente fin da subito come non faccia parte del gruppo di amici storici. Si è unita alla combriccola dietro insistenza di una sua amica. Lei non voleva venire, ma l'altra ha insistito. Poi l'altra è morta e lei è venuta lo stesso.
Di Amy capiamo immediatamente come sia brava a fare nuove conoscenze. La prima volta che apre bocca è per correggere un'altra ragazza sul nome corretto del parco dove ha residenza l'orso Yogi; con l'amica di cui sopra – compagna di esperimenti di scienze a scuola – esordisce dicendo entusiasta: "Andiamo a prendere dell'h20! Sai, significa acqua (occhiolino)…".
Molto, molto popolare.
Joel è "Lo Stalker". Passa tutto il suo tempo con la videocamera in mano (ehi amico, tu saresti lì per LA-VO-RA-RE). Filma le goliardate, i tuffi nel lago e i cambi d'abito della signora Carpenter. Il suo nome completo è Joel Goodson, ma non c'entra niente con l'omonimo interpretato da Tom Cruise in Risky Business. Lui è più alto.

Carolina è "Questa muore, sicuro". Strana, mezza sociopatica, scrive insulti a se stessa sui muri col pennarello. La persona giusta a cui affidare torme di ragazzini in campeggio.
Blair è "Supergay (cit)". Parla solo degli uomini con cui è andato, con cui sta andando, con cui andrebbe e con cui andrà. In quanto omosessuale è ossessionato dal sesso (ndr, spero che Jovanotti non legga mai questa frase ad alta voce). In tal senso, per rendere il suo personaggio credibile e del tutto scevro da stereotipi di sorta gli autori hanno chiesto un parere a Mario Adinolfi.
Jessica è "La zozzona". Rispetto a 5 anni prima è totalmente cambiata, visto che gli amici e il suo ragazzo dell'epoca non la riconoscono affatto. Lo Stalker si innamora di lei al primo sguardo, lei altrettanto in fretta odia la Sfigata in quanto unica altra ragazza attraente – e quindi potenzialmente cuccabile – nel raggio di 100 Km intorno al campeggio.
Alex è "Ciuffo ingellato". È la quota Quarterback che non può mai mancare in una Serie Tv americana. Bello, elegante, piacione che sa di piacere. Tony, la vocina che sta nel mio dito e che commenta con me le Serie Tv ha un'intuizione: "Stai a vedere, stai. Tempo 3 puntate e questo prova a cacciare un limone alla Sfigata"
Ci mette 27 minuti e 32 secondi, istante più o istante meno.
Drew è "Andrea". Nel senso che in realtà è una femmina. Ci si incasina un po', dato che di norma Drew è femminile (di norma intendo che ho sentito nominare la Barrymore) e per noi Andrea è prevalentemente maschile, ma ci si fa l'abitudine.
Una volta arrivati a Camp Stillwater, i ragazzacci di Dead of Summer incontrano la signora Carpenter e il giardiniere mezzo pazzo (non vi affezionate), salutato dalla ciurmaglia con un allegro: "Ah, ma non sei ancora morto?!" ('spetta un attimo).
FACCIAMO LA CONOSCENZA DI AMY
Amy si integra subito.
I ragazzi sono attorno al fuoco a raccontarsi storie di paura e la fiamma si sta spegnendo? Va lei a prendere la legna, un paio di miglia nel bosco lontano dagli altri. Salta la corrente? Va lei a riattivarla in uno scantinato buio, umido e popolato da strane creature.
Sta lavorando in un prato? Trova un cervo morto.
La lanciano amichevolmente nel lago? Pesca il cadavere del giardiniere.
Si spaventa spesso. Troppo. Decisamente troppo. È fastidiosa. Chiudiamo il quarto occhio? Chiudiamo.
Dead of Summer funziona meglio come thriller che come horror. Facciamo la conoscenza di Garrett, agente di Polizia ed ex di Jessica, sul quale Tony assicura la cotta da parte di Amy.
G: "Sai, io ci venivo gratis qui da piccolo, perché ero figlio dello Sceriffo"
A: "AAAAAAAAAAAAARGH"
G: "Non preoccuparti, è solo un ramo spostato dal vento"
A: "Oh. Sai, con le tue belle parole (?!?) mi stai facendo piacere questo posto"
Bravo Tony.
Nei tre giorni del pilot, comunque, è stato trovato un cervo ammazzato in circostanze misteriose, il giardiniere è passato a miglior vita, la sua baracca è stata data alle fiamme dolosamente e l'elettricità è saltata ripetutamente, ma IL CAMPEGGIO È PRONTO A RIAPRIRE LO STESSO.
Via col quinto occhio.
Dead of Summer fa ridere, davvero molto ridere per quanto è assurdo in certe cose, però confesso che al di là delle poracciate anche la trama fa venire voglia di andare avanti, se non altro per scoprire cosa si cela dietro ai delitti, o per prenderlo in giro.
Per chi come me non ha nervi saldissimi per un po' di sano horror no problem, perché di paura ce n'è davvero poca.
State tranquilli, non vi farà tenere gli occhi chiusi.
Almeno, non dal terrore.