The Dark Tower, saga fantasy nata dalla penna di Stephen King, non avrà come unica destinazione il grande schermo, infatti, secondo quanto detto da Entertainment Weekly ci sarà anche una serie TV. Ebbene sì, il film che potremo apprezzare al cinema il prossimo febbraio fa parte di un progetto molto più grande, ideato dallo studio di produzione Media Rights Capital (MCR) e che include uno spin-off televisivo.
Lo show di cui stiamo parlando sarà l'adattamento televisivo del quarto libro della saga, intitolato Wizard and Glass, pubblicato in Italia con il titolo La sfera del buio; storia incentrata su avvenimenti accaduti prima di quelli narrati nel film.
Non si conosce con certezza il numero di episodi di questa intrigante serie, ma MCR ha dichiarato che saranno circa dieci e, visto che lo studio collabora già con Netflix per House Of Cards, si pensa che sarà proprio questo network a distribuire lo show, sebbene nulla sia stato confermato.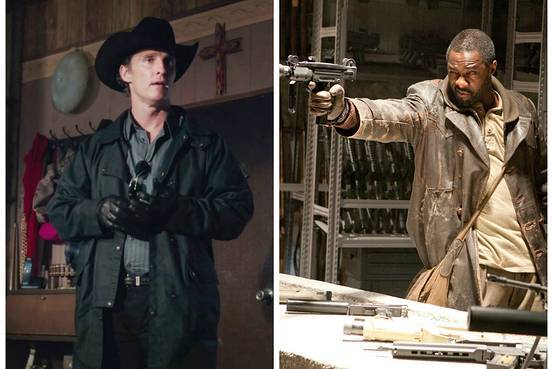 La trama ruota attorno a un giovane Roland Deschain che si trova in esilio a Mejis e qui intreccia una storia amorosa con Susan Delgado, i veri intenditori sapranno che si tratta del prequel di The Dark Tower e pare che sarà ancora Idris Elba, che già veste i panni del protagonista sul grande schermo, a interpretare Roland nello spin-off, magari con un piccolo effetto speciale per apparire più giovane. Tuttavia un altro dei candidati per questo ruolo sarebbe Tom Taylor, interprete di Jake Chambers.
La serie nascerà anche grazie alla collaborazione del regista e del co-sceneggiatore del film, rispettivamente Nikolaj Arcel e Anders Thomas Jensen, mentre per quanto riguarda lo showrunner non si conosce ancora il nome.
Se questo grande progetto avrà successo niente impedirà ai produttori di distribuire un nuovo ciclo di episodi con le storie narrate da Robin Furth nei fumetti di The Dark Tower e persino coinvolgere L'uomo in Nero, personaggio che comparirà sulla pellicola cinematografica e avrà il volto di nientemeno che Matthew McConaughey.