Il doppiaggio. Argomento di tante battaglie combattute ogni giorno a colpi di tastiera. Meglio le serie tv e i film in lingua originale o doppiati? Una battaglia sanguinaria, per lo stesso motivo per cui ogni battaglia del web è così violenta: pochi sanno rispettare opinioni diverse. Di vero c'è che entrambe le visioni hanno i loro pregi e i loro difetti. Prendiamo Breaking Bad. Stefano de Sando è stato un ottimo Walter White, ma "Say my name" e "I'm the one who knocks" suonano meglio col vocione grave di Bryan Cranston. Oppure The Big Bang Theory, un esempio tra le tante sitcom. Guardarla in inglese permette di non perdersi nessuna sfumatura delle gag tra i nerd più famosi della Tv, perché nell'adattamento italiano troppe battute sono sacrificate o modificate, ma è vero anche che Leonardo Graziano (voce di Sheldon) ha fatto un lavoro superbo. È un piacere godersi Sheldon Cooper che parla italiano.
Oggi parliamo proprio del doppiaggio o meglio di attori (tra cui proprio il già citato Bryan Cranston) che sono anche degli ottimi doppiatori. Eccone sei.
Francesco Pannofino e Gigi Proietti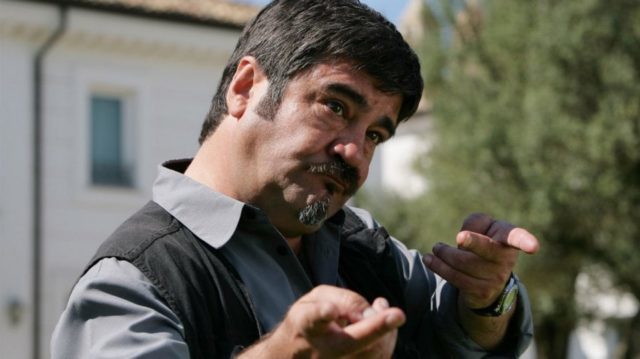 Parto da due elementi nostrani, perle attoriali e voci incredibili. Il primo è Francesco Pannofino, conosciuto prima come doppiatore e solo dopo come attore. Pannofino ha prestato la voce a una sfilza di pezzi da novanta hollywoodiani: George Clooney, Denzel Washington, Kurt Russell, Antonio Banderas, Daniel Day-Lewis, Mickey Rourke, Tom Hanks ed è diventato un'icona interpretando il regista René Ferretti nella parodistica serie Boris (opera davvero geniale di cui però spesso ci si scorda). Per quanto questa sua interpretazione sia davvero un capolavoro (come tutta la serie del resto), sarebbe incompleto non parlare della serie Rai Nero Wolfe, in cui Pannofino ha prestato il volto al celebre investigatore, trasferitosi in esilio volontario a Roma. Da citare anche il suo recente progetto. Sto parlando delle miniserie parodistica Romolo + Giuly: La guerra mondiale italiana, in cui interpreta il Governatore lombardo Pederzoli.
Il secondo italiano che vorrei citare è Gigi Proietti, mostro sacro del cinema, del teatro e della commedia italiana, un attore che ha letteralmente scritto la storia. Se citassimo i suoi ruoli cinematografici e teatrali non finiremmo più, quindi limitiamoci a ricordare un personaggio iconico del piccolo schermo: il maresciallo Rocca. Proietti lo ha interpretato per nove anni, dal 1996 al 2005. Successo di pubblico (una media di dieci milioni di spettatori e in continua replica) e serie blasonata dalla critica. Come Pannofino, anche Gigi Proietti ha regalato la sua voce a grandi attori come Bob De Niro, Ian McKellen, Marlon Brando, Dustin Hoffman, Paul Newman e tanti altri. È stato anche il Genio nel Classico Disney Aladdin, raccogliendo il difficile testimone di Robin Williams (la voce originale) e facendo un altrettanto ottimo lavoro.
Una curiosità: sapevate che Proietti ha dato la voce a Sylvester Stallone nel primo Rocky? L'urlo famosissimo (Adrianaaaaaa) è suo e non di Ferruccio Amendola, che ha doppiato Stallone dal secondo film della saga.