Il set del piccolo schermo non rappresenta sempre un luogo sicuro per gli attori e la questione non riguarda soltanto le serie ricche d'azione come Gotham, ma anche le comedy come Friends.
Certi incidenti sono imprevedibili e possono capitare per diverse ragioni. In alcuni casi può entrare in gioco un eccessivo coinvolgimento emotivo da parte degli attori, ma la causa degli infortuni può dipendere anche da interpreti speciali. Gli animali, infatti, rientrano tra i membri del cast di vari show e, nonostante si tratti spesso di esemplari addestrati, la loro presenza rappresenta comunque un fattore di rischio per le star.
Ecco i 10 attori che si sono infortunati sul set di serie tv come Friends, Prison Break e The Vampire Diaries.
1) KJ Apa – Riverdale
KJ Apa ha subito un infortunio sul set di Riverdale mentre girava una scena in cui ha perso la sensibilità alle mani a causa del contatto prolungato con il ghiaccio. Dopo questo incidente l'attore ha riportato una frattura alla mano e ha descritto così l'accaduto:
Era un giorno di riprese fico, ti dirò. Non stavo realmente colpendo il ghiaccio, ma mi sono fatto prendere un po' troppo dall'entusiasmo. Stavo colpendo un tappetino di schiuma posizionato sul ghiaccio. Era freddo, quindi non l'ho percepito. Dopo 20 minuti mi sono accorto di essermi rotto la mano. Non l'avevo detto a nessuno. Immagino che questo sia quello che succede quando prendi a pugni un orso in pieno muso.
2) Mariska Hargitay – Law & Order
Mariska Hargitay è rimasta coinvolta in un incidente per la prima volta quando aveva solamente tre anni. Stava viaggiando in auto con la famiglia vicino a New Orleans e si era addormentata sul sedile posteriore. All'improvviso la macchina si è schiantata e la madre della bambina è morta sul colpo, mentre Mariska ha riportato soltanto una ferita alla testa.
Molti anni dopo, durante il lavoro sul set di Law & Order – Unità vittime speciali l'attrice è caduta mentre girava una scena d'azione e si è ferita a un polmone. All'inizio la lesione sembrava quasi insignificante ma, dopo mesi di sofferenza, Mariska ha scoperto che ormai il suo polmone era giunto quasi al collasso.
3) Dominic Purcell – Prison Break
Nel 2016 Dominic Purcell ha avuto un gravissimo infortunio sul set marocchino di Prison Break. L'incidente gli ha causato una ferita alla testa e la frattura del setto nasale. L'attore stava girando una scena in cui correva all'interno del carcere e, improvvisamente, una barra di ferro è caduta sulla sua testa. Il protagonista della serie ha raccontato i dettagli dell'accaduto in un'intervista riportata su Deadline Hollywood.
Dominic è stato soccorso immediatamente dal suo stuntman ed è stato portato verso l'ospedale disponibile più vicino. Tuttavia le condizioni della struttura e del personale non erano convincenti e l'attore è stato trasferito in elicottero in una clinica di Casablanca. Dopo numerosi punti di sutura e diverse medicazioni, Dominic si è ripreso in fretta e ha continuato a lavorare sul set di Prison Break senza problemi.
4) Piper Perabo – Covert Affairs
Il lavoro che Piper Perabo ha svolto sul set di Covert Affairs (una delle 10 serie di spionaggio più intriganti) le ha permesso di vincere un Gracie Award e di ottenere una nomination ai Golden Globe. Ma lo show ideato da Matt Corman e Chris Ord è stato anche la causa di un infortunio che l'attrice ha subito nel 2010.
Durante le riprese del finale della seconda stagione, Piper Perabo si è fratturata una gamba in seguito a una brutta caduta, che le ha causato anche alcune lesioni al ginocchio. Per fortuna si è trattato delle ultime scene di Covert Affairs 2 e l'attrice ha avuto la possibilità di riposare e guarire in tempo per le riprese del capitolo successivo.
5) Matt LeBlanc – Friends
Abbandoniamo per un attimo gli show d'azione e parliamo di una comedy.
L'incidente in cui è rimasto coinvolto Matt LeBlanc durante l'episodio 3×02 (Minuti contati) di Friends riguarda una discussione tra Joey e Chandler (in questo articolo abbiamo raccolto i momenti più iconici della loro amicizia). Nella puntata in questione i due protagonisti litigano perché entrambi vogliono sedersi sulla stessa poltrona e, durante uno dei tentativi di conquista, il personaggio interpretato da Matt LeBlanc corre oltre il tavolino da caffè e atterra a testa in giù. Questa scena è stata girata di fronte a un pubblico, che ha pensato si trattasse di una gag prevista dal copione. Gli spettatori di Friends, ignari dell'infortunio di Matt, hanno riso e hanno trovato la scena molto divertente, ma in fase di montaggio i creatori hanno preferito inserire uno dei take precedenti.
6) Marco Bocci – Squadra antimafia
Dopo l'infortunio di Matt LeBlanc sul set di Friends, torniamo a parlare di serie in cui le scene d'azione sono molto presenti.
Marco Bocci è stato vittima di due incidenti sul set della sesta stagione di Squadra antimafia. Il primo infortunio si è verificato in seguito a un forte vento, mentre l'attore stava girando una scena in acqua. A causa della corrente, il mare ha cominciato a ingrossarsi e le onde sono diventate molto difficili da gestire. Per fortuna Bocci è riuscito a cavarsela ma, poco tempo dopo, ha subito un infortunio durante una scena diversa.
Il secondo incidente di cui è stato vittima Marco Bocci riguarda la scena di un'esplosione. L'interprete ha effettuato un salto in maniera errata e ha sbattuto violentemente la schiena. In seguito alla caduta il protagonista di Squadra antimafia si è sottoposto ad alcune sedute di fisioterapia ed è tornato sul set.
7) Terence Hill – Un passo dal cielo
Continuiamo la lista con un'altra serie italiana, ma in questo caso la responsabilità dell'incidente non è da attribuire a un attore e neanche a un agente atmosferico.
Durante le riprese della terza stagione di Un passo dal cielo, Terence Hill era impegnato in una scena a cavallo. Era previsto che una persona uscisse da una grotta indossando un abito rosso e, probabilmente, è stato proprio questo a far imbizzarrire il quadrupede. L'animale ha reagito bruscamente e ha colpito Terence Hill a una gamba. L'attore ha continuato a girare anche le scene seguenti e non ha dato peso all'accaduto. Successivamente, grazie ad alcuni controlli, l'interprete ha scoperto di avere un osso incrinato ed è stato costretto a riposare per qualche giorno prima di poter tornare sul set.
8) Ian Somerhalder – The Vampire Diaries
Durante le riprese della quarta stagione di The Vampire Diaries, Ian Somerhalder e Nathaniel Buzolic erano impegnati in una scena di lotta quando, improvvisamente, qualcosa è andato storto. L'interprete di Kol Mikaelson ha perso il controllo e ha raccontato l'accaduto così:
Stavamo girando una scena di combattimento e qualcosa non ha funzionato. Per alcuni minuti ho pensato che la mia carriera fosse finita lì e che sarei stato inseguito dai fan di The Vampire Diaries per tutta la vita.
L'attore non ha fornito i dettagli sull'accaduto, ma si intuisce chiaramente che la questione si è risolta senza gravi conseguenze per Ian Somerhalder.
9) Benjamin McKenzie – Gotham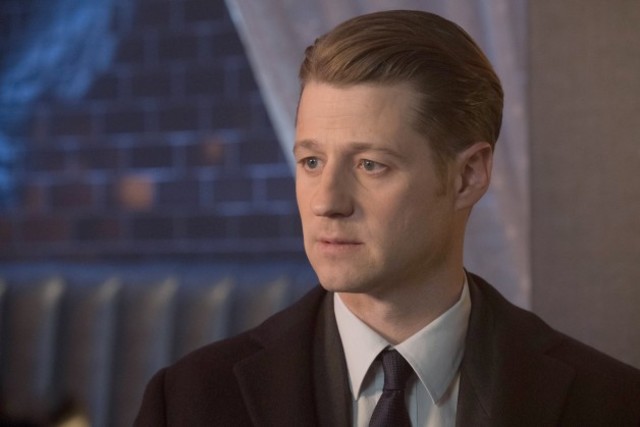 Il nono posto di questa lista è dedicato a un altro infortunio sul set causato da una scena di lotta.
Nel 2014 Ben McKenzie ha compiuto 36 anni e, proprio il giorno del suo compleanno, è stato vittima di un incidente sul set. Il protagonista di Gotham ha rifiutato l'uso di una controfigura e ha girato una scena pericolosa senza l'aiuto di uno stuntman. Durante le riprese il volto di Jim Gordon ha sbattuto la testa contro un muro e ha riportato una profonda ferita alla fronte.
Buon compleanno a me. Scena di combattimento finita male. Non sbattete la testa contro i pilastri di cemento, bambini. Dott. Sherman del New York-Presbyterian, sei un salvatore di carriere. Grazie per avermi ricucito così bene.
10) Kristin Chenoweth – Glee/The Good Wife
Kristin Chenoweth è stata vittima di numerosi incidenti durante la sua carriera di attrice, alcuni dei quali sono avvenuti in teatro. Nel 2011 la star statunitense è caduta da una scala di cemento durante le riprese di un episodio di Glee, ma l'incidente che le ha procurato maggiori danni è stato sul set di un'altra serie.
Nel 2012 Kristin era appena entrata a far parte del cast di The Good Wife e, durante una delle prime scene, un faro è caduto dall'impalcatura e ha colpito l'attrice. L'artista ha riportato due fratture (una cranica e una nasale) e danni a una costola e a una vertebra. In seguito all'infortunio, Kristin ha deciso di abbandonare la serie ma, dopo un po' di tempo, ha cambiato idea.