Cosa intendiamo quando parliamo di personaggi femminili maschiacci? Sono ragazze non molto femminili e graziose, ma che in compenso sono delle vere dure! Qualche decennio fa c'era una ferrea divisione tra il mondo delle ragazze e quello dei ragazzi. I bambini potevano correre e giocare in libertà, mentre le bambine erano costretta a comportarsi "in un certo modo", ad usare un linguaggio appropriato, a fare attenzione a non sporcarsi. Non tutte le bambine sono nate però per essere femminili ed i giochi dei maschi del resto sono decisamente più divertenti! Per questo molte ragazze hanno cominciato a comportarsi come i loro coetanei maschi e sono state definite dei maschiacci. Suona quasi come un insulto, ma non lo è affatto! I maschiacci sono forti (spesso delle vere badass), indipendenti, sono brave negli sport, sanno giocare ai videogiochi, vestono comode ed hanno molti amici maschi. Cosa c'è di brutto in questo? Nulla!
Anche nelle serie tv ci sono moltissimi personaggi femminili che proprio per il loro essere dei veri maschiacci sono molto amati dal grande pubblico!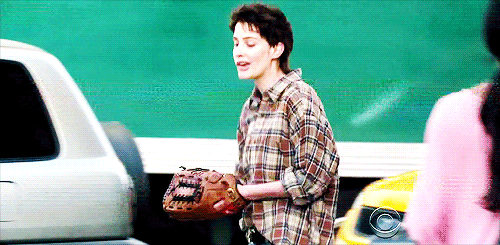 Tra i tantissimi personaggi femminili maschiaccio che popolano le nostre serie tv abbiamo scelto le dodici donne più forti, badass e sexy! 
1 Jessica Jones 
Jessica Jones non è molto femminile: già il suo modo di vestire denuncia il suo essere un vero e proprio maschiaccio. Jessica è un'ex eroina che ha provato a salvare il mondo, ma si è resa conto che non era quella la strada che faceva per lei. Colpita da un disturbo post-traumatico, ha deciso di aprire un'agenzia investigativa per trovare i coniugi infedeli. E' una ragazza con un carattere difficile: vulnerabile, ma forte, devastata, ma coraggiosa. Tende ad allontanare tutti quelli a cui tiene con il suo sguardo truce ed il suo caratteraccio. Non sarà proprio una vera ragazza, ma ciò non toglie che sia una grande donna! In realtà questo non è il primo ruolo da maschiaccio di Krysten Ritter: già in Breaking Bad infatti aveva interpretato Jane, un'ex tossicodipendente che ricomincia a drogarsi a causa della sua vicinanza con Jesse.
2 Penny – The Big Bang Theory
Nessuno potrebbe sospettare che la bellissima bionda stretta in un abito succinto in realtà sia meno femminile di quanto appaia. Penny in realtà all'interno è un vero maschiaccio! E' disordinata, talvolta sciatta, ama gli sports, sa pescare ed è decisamente più forte di Leonard! Ricordate quando dei ladri le entrarono in casa e lei si mostrò pronta a colpirli con una mazza da baseball, se fossero tornati? Oppure quando ha costretto un haker a ridare a Sheldon  tutto quello che gli aveva rubato su World of Warcraft? Ecco: Penny non è proprio una donna che aspetta di essere salvata da un uomo! E' per questo che quando i ragazzi hanno bisogno di un uomo corrono a bussare alla porta.