La notizia più sconvolgente della settimana, in ambito seriale, è la cancellazione di Sense8 da parte di Netflix. L'annuncio è stato accolto in malo modo dai fan della Serie Tv, soprattutto in virtù del cliffhangerone con cui si era chiusa la seconda stagione. Sono già attivi i primi movimenti in rete con l'obiettivo di far cambiare idea al colosso dello streaming: alcuni ortodossi, come l'hashtag #RenewSense8 o la petizione su Change.org, altri meno.
È lapalissiano che, con questo episodio, viene a crollare la visione di Netflix, concepita come l'oasi delle Serie Tv. Da sempre i fan invocano proprio la piattaforma on-demand nella speranza di salvare gli show preferiti dalla cancellazione. La troncatura di Sense8, che segue quelle di Marco Polo e The Get Down soltanto negli ultimi cinque mesi, rappresenta un duro colpo in tal senso.
Eppure la questione è molto più complessa di quel che sembra.
Parto da un presupposto: io adoro Sense8. Ho amato il concetto di connessione psichica, emotiva e, soprattutto, globale che emerge dalle storie degli otto protagonisti. Siamo diversi, per razza, orientamento sessuale, status sociale eppure siamo indissolubilmente legati. Diciamolo chiaramente, chiunque di noi, dopo aver visto la Serie Tv, vorrebbe essere un sensate e abbracciare tutto quello che ne implica.
Ho amato, allo stesso modo, la rappresentazione dell'amore che danno le sorelle Wachowski all'interno della Serie (ne abbiamo parlato in questo articolo). L'amore visto come un'esplosione di forme e colori, in una visione poetica e estremamente tenera. Anche nelle orge non c'è nulla di sessuale in senso stretto, bensì di artistico. In tal senso parliamo di una Serie Tv raffinata e assolutamente sui generis.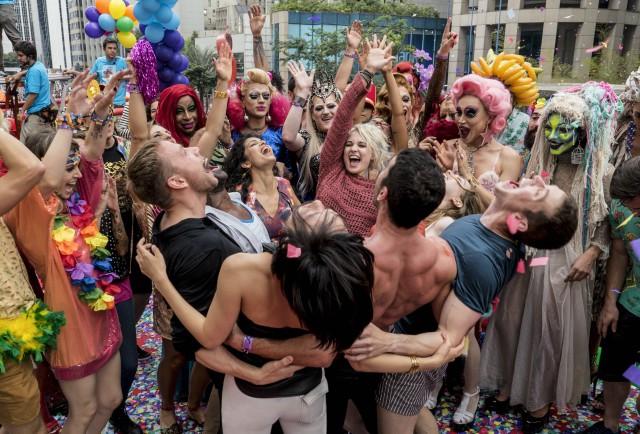 Ciò nonostante, va ammesso che Sense8 implica un esborso economico fuori dal comune.
Netflix un po' va capito. Un prodotto del genere richiede un impiego di risorse che raramente si concilia con le logiche di un prodotto televisivo. Il concetto di connessione globale, meravigliosamente espresso sul piccolo schermo, si scontra con la dura realtà delle location e con tutto ciò che ne deriva. Per girare a Londra è stato bloccato il Parlamento, in Korea sono stati occupati 40 isolati. La sola seconda stagione ha coinvolto 16 città differenti in tutti i continenti.
Tradotto in termini numerici, tra prima e seconda stagione sono stati raddoppiati i costi di produzione, che hanno raggiunto una media di 9 milioni a episodio nell'ultima annata. Se questo non rende l'idea basti pensare che la sesta stagione di Game of Thrones è costata mediamente 10 milioni a puntata. È pur vero che il primato, tra gli originali Netflix, spetta a The Crown (13 milioni) ma lì parliamo anche di un target, e quindi un ritorno economico, completamente diversi.
A tutto questo va aggiunta un'altra variabile non di poco conto: le sorelle Wachowski. Lana e Lilly non sono certo note per la loro parsimonia. Anzi, la loro creatività esige notevoli risorse economiche. Basti pensare che, in occasione del primo Matrix, le due hanno speso l'intero budget, 10 milioni, per girare soltanto i primi 10 minuti di film, convincendo la Warner Bros a investirne altri 50.
Poi c'è un'altra questione: il cambio di strategia di Netflix.
Netflix sta crescendo. Notevolmente. Per comprendere quel che ne comporta dovremmo avere almeno le basi del management d'impresa. Tuttavia, da un mero punto di vista empirico, ciò che accade in questi casi è un cambio di rotta. Una strategia differente e, di conseguenza, una tipologia d'investimento differente. In effetti è proprio quello che traspare dalle dichiarazioni del CEO. Reed Hastings:
La nostra percentuale di successi ormai è troppo alta. Finora abbiamo cancellato pochissimi show. Io mi preoccupo di alzare l'asticella dei contenuti, dobbiamo rischiare di più, tentare cose folli. Dovremmo avere un tasso di cancellazioni più alto. Ci sono Serie Tv vincenti come 13 Reasons Why. Ci ha sorpreso. È una grande serie tv, ma non avevamo capito dove ci avrebbe condotto
Il primo passo in tale direzione è rappresentato dall'avvio della produzione di The Witcher. La Serie Tv, tratta dalla famosissima saga di videogiochi, diventerà il primo original di genere fantasy. Emerge in maniera chiara, dunque, la volontà di andarsi a scontrare con le major mondiali ed è inevitabile il raffronto con Game of Thrones. Notoriamente, inoltre, le produzioni fantasy richiedono un budget elevatissimo.
Ciò non toglie che l'aver troncato Sense8 senza un vero finale non è una mossa brillante.
Questo rappresenta il vero neo di tutta la vicenda. Sense8 può essere considerata la produzione più innovativa tra gli originali Netflix. Per la precisione, rappresenta la sesta produzione originale, in ordine di tempo. Se la piattaforma ha conosciuto questa diffusione globale, dunque, è anche merito di Sense8. Un trattamento così barbaro nei confronti della Serie Tv non si addice allo spirito del colosso dello streaming. In sostanza, si fa fatica a crederci.
Proprio per questo non è escluso che Sense8 possa conoscere un prosieguo della sua storia. Magari attraverso un film conclusivo, una sorta di episodio speciale come quello a cavallo delle due stagioni. Senza dubbio il fatto che le trattative per il rinnovo si siano protratte per giorni – tanto che la cancellazione è stata vista come un fulmine a ciel sereno – fa capire che si è trattato di una decisione sofferta. Non è escluso nemmeno che sia già in programma qualcosa e l'annuncio della cancellazione sia una mera strategia di marketing.
Da parte loro, i fan hanno tutto il diritto di provare a far cambiare idea a Netflix, entro i limiti.
La petizione può essere un passo giusto, anche doveroso da compiere. Difficile che Netflix lo consideri in toto ma, intanto, è punto di partenza. Lo stesso vale per l'hashtag che, però, può essere utile soprattutto in ottica viralità. Dopotutto il più grande vantaggio portato da Netflix è che gli episodi restano lì, a disposizione di tutti, in qualunque momento. Chissà che il gran caos mediatico non possa spingere altri utenti a vederla. E a innamorarsene. Così verrebbe meno la piaga degli ascolti bassi, il risvolto della medaglia rispetto ai costi eccessivi.
Sicuramente la soluzione non può e non deve essere quella avvenuta in Italia, dove è in atto il tentativo di boicottare la fan page italiana di Netflix. Da un po' di giorni, infatti, i post di Netflix Italia vengono presi d'assalto anche quando non sono pertinenti. Oltre che un atteggiamento antipatico e poco rispettoso nei confronti degli altri utenti, è fuori luogo anche nei confronti della stessa pagina. A maggior ragione se si considera che Sense8 è una produzione USA e dunque il contesto italiano non è la sede ideale per azioni di questo tipo.