Attenzione: evitate la lettura se non volete imbattervi in spoiler sulla 1×09 e la 1×10 di The Young Pope.
Un finale perfetto. Talmente perfetto da lasciarci con un dubbio atroce: The Young Pope ha bisogno di una seconda stagione? Paolo Sorrentino è già al lavoro e ha tutte le carte in regola per smentirci come Sam Esmail ha fatto con il secondo atto di Mr. Robot, ma il dubbio resta. Perché The Young Pope, laddove Crisis in Six Scenes ha fallito miseramente, si è dimostrato essere l'ibrido ideale tra un film a puntate e una serie tv intesa nel senso più moderno che si possa dare alla definizione. Ogni finestra aperta nei primi episodi si è chiusa perfettamente nelle ultime due. Lenny Belardo, dopo aver ucciso Pio XIII, è diventato un incredibile Papa mostrando un'evoluzione culminata con l'omelia di Venezia. La nascita, la morte e la rinascita del protagonista di questa splendida follia non lasciano spazio per approfondire oltre. Apparentemente, almeno. Paolo Sorrentino è un genio, e noi non possiamo far altro che offrirgli in dote un credito illimitato.
Se si mette in conto una seconda stagione ormai certa, le considerazioni su The Young Pope devono essere parziali. Lo sguardo che gettiamo sulla 1×09 e la 1×10 ha una doppia valenza: comprendere il messaggio che Sorrentino ci ha voluto dare e intuire, se possibile, da dove ripartirà questo capolavoro. Proviamoci, ne vale la pena.
Il punto d'arrivo di The Young Pope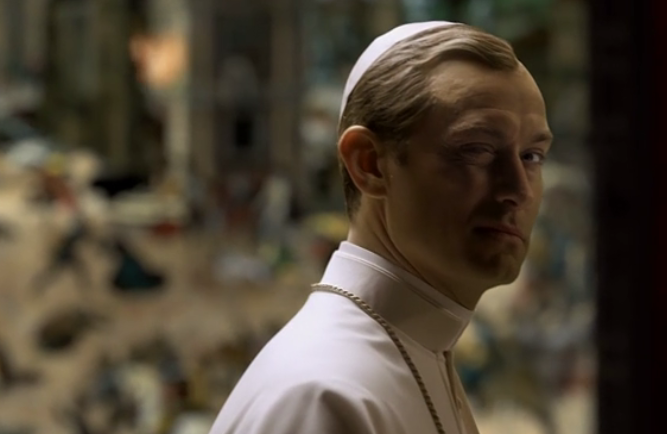 Pio XIII ha fatto un miracolo degno del più sensibile degli uomini: ha regalato agli atei un'idea di Dio che prescinde dal credere. Una forma istintiva e allo stesso tempo profonda. Dio, secondo Lenny, non è altro che il disegno di un bambino. Non è una ricerca, ma uno sguardo lucido attraverso il quale dipingiamo il mondo che ci circonda. Alzare gli occhi al cielo non serve, se c'è un universo da scoprire quando vediamo qualcuno sorridere di fianco a noi.
The Young Pope, a prescindere dalla dimensione mistica che il personaggio interpretato da Jude Law ha assunto, è l'unico messaggio ateo capace di sposarsi con il credo cattolico. Dio è amore, secondo Lenny. Un messaggio banale, ma una cerchia di Papi hanno dimostrato come spesso le idee più semplici descrivano le verità più grandi. Negli ultimi due episodi della prima stagione, l'amore è stato il protagonista assoluto. Una sintesi ideale dei personaggi coinvolti nella storia, dallo stesso Lenny a Voiello, da Gutierrez a Esther fino ad arrivare a suor Mary e Spencer. Una sintesi culminata nell'omelia di Venezia, un inno alla laicità intonato da un uomo santo sia per natura che per lavoro. Una contraddizione, ancora una volta. Ma una rappresentazione coerente del pensiero di un pontefice che ora ha le idee chiare.
Lenny, l'orfano che ha avuto paura d'amare per una vita, può mostrare il suo volto al mondo. Può urlare, finalmente. Può sorridere, per un momento. Fino a rendersi conto di essere ancora solo. Perché una platea lo abbraccia ma i suoi genitori, le figure più importanti, ricostruiscono un muro di ghiaccio attraverso un semplice sguardo, la solitudine permane come condizione esistenziale. Un bug, un virus che condanna gli uomini speciali, le guide che possono trascinare un mondo e rendersi conto allo stesso tempo di non avere nessuno al proprio fianco. Alla speranza del nuovo Pio XIII si contrappone la disillusione di Lenny, ancora una volta disarmato.
Il nuovo punto di partenza di The Young Pope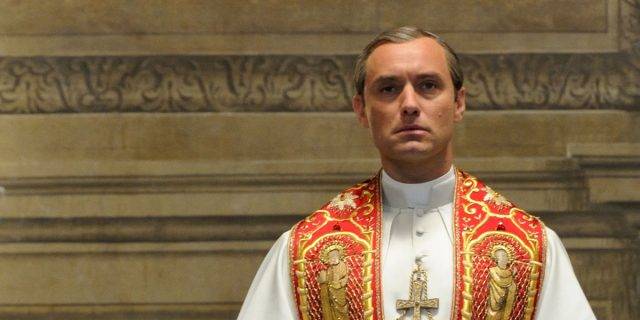 La seconda stagione di The Young Pope dovrà ripartire da qui. Lenny, accettato dal mondo cattolico, guarderà verso il futuro o continuerà a voltarsi? Probabilmente entrambe. In equilibrio tra un'ingombrante dimensione mistica e la crisi esistenziale perenne di un uomo tormentato dal tarlo del dubbio, The Young Pope rivestirà probabilmente i panni di una House of Cardinals, accantonati nella 1×09 e la 1×10, continuando a raccontare la storia di un uomo pazzesco.
Sarà una sfida difficile, perché al The End è sempre difficile dare un seguito, ma Paolo Sorrentino è stato capace di far amare un Papa agli atei e regalare loro un'idea sostenibile di Dio. Partendo da un presupposto del genere, pronosticare un nuovo capolavoro non è poi così difficile. Dobbiamo dargli fiducia, anche perché arriverà il giorno in cui scopriremo che fine ha fatto Tonino Pettola. Fino ad allora, puntiamo sull'Alaska: da quando c'è il giovane papa, gli aerei con quella destinazione sono sempre in orario.
Antonio Casu