L'1×06 e l'1×07 sono probabilmente gli episodi meno brillanti e dinamici (finora) della prima stagione di The Punisher. Non per questo però sono meno godibili. Per quanto amiamo la violenza e l'azione di Frank Castle, è giusto che adesso ci si fermi un po' e si analizzi quello che fino a ora è successo ma soprattutto cosa da qui in avanti succederà.
Adesso i sogni sono diversi. Frank vede la cena del ringraziamento e insieme alla sua famiglia c'è anche quella di David, come a significare che Lieberman, sua moglie e i due figli fanno parte della sua famiglia. Ma ormai si sa, e il protagonista lo ha ripetuto spesso: chi ha a che fare con lui finisce male, nella realtà come nel sogno. Sono ormai passati 7 episodi (qui la recensione del 1×02 e 1×03) ma la paura di Castle si presenta a noi costantemente, che sia nella realtà o nei sogni. Ora per The Punisher è tempo di riprendersi dalla dura battaglia appena superata, per poi organizzare un piano e uccidere i colpevoli.
In queste due puntate Frank si defila un po', per permettere alle altre storie, e in particolare ai suoi antagonisti, di venire fuori e diventare parte integrante. Lewis Wilson e William Rawlins, due personaggi distinti e separati che daranno sicuramente fastidio al nostro supereroe.
Se di Rawlins ne abbiamo già parlato perché si è già capito che sarà uno degli antagonisti della prima stagione, Lewis stava passando quasi inosservato. Sembrava un qualunque reduce di guerra, pieno di problemi, che odiava il mondo e non trovava più il suo posto. Ma c'è un evento che probabilmente ha scatenato la sua ira. Billy Russo, uno dei migliori amici di Frank, lo caccia dalla sua agenzia privata, la ANVIL, perché instabile psicologicamente. È in questo frangente che al ragazzo scocca una scintilla, pensa che tutto il mondo è contro di lui, così prova a reagire.
Ma va di male in peggio, ammazza un compagno ed esce completamente fuori di testa, prova a spararsi ma non ci riesce. Sul finale della 1×07 lo vediamo preparare una specie di bomba, cosa ha in serbo il ragazzo?
Ma non sono gli unici protagonisti di questi episodi. Madani e Russo iniziano a fare "conoscenza". L'agente vuole sfruttare Billy per arrivare a Castle, ma senza ferirlo, perché ciò che prova per lui è comunque reale. È così che il migliore amico di Frank, viene a conoscenza che il supereroe è vivo.
Che uomo Billy Russo, bello, intelligente e leale. Peccato che sul finale della 1×06 ci dobbiamo rimangiare tutto. Quello che sembrava un tentativo di salvare il suo amico, si dimostra essere invece una trappola. Trappola alla quale, senza rendersene conto, Frank Castle non casca. Russo e Rawlins da sempre in combutta, dai tempi di Ahmad Zubair. In effetti Russo ha accennato a Curtis di aver già deluso Frank. Forse ce lo saremmo dovuti aspettare.
L'episodio sette infatti è quello che consacra Billy Russo. Fare il doppio gioco con Madani e eseguire gli ordini di Rawlins, niente di più spregevole per il ragazzo dal bel faccino. Non si fa alcuno scrupolo, è questo che fa più rabbia, nemmeno per l'uccisione di Bennet. È un assassino a sangue freddo e prima o poi Frank lo smaschererà.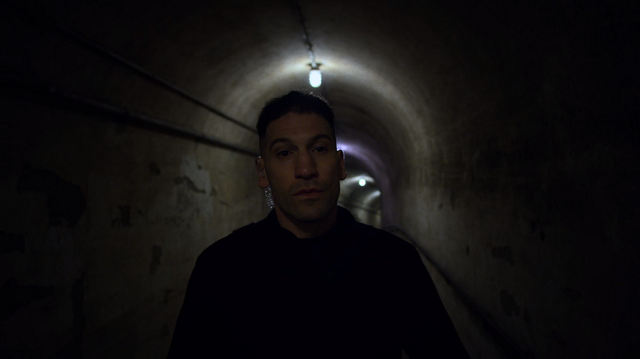 The Punisher infatti in questo episodio torna all'azione. Grazie al piano di Lieberman riesce a scovare il fantomatico Orange, così i due si dirigono verso il luogo stabilito. È qui, prima dei titoli di coda, che Castle scopre l'identità del suo nemico. William Rawlins, colui che ha mandato a un suicidio già scritto i suoi compagni. C'era da aspettarselo Frank, così come un vetro a prova di proiettile. Per ora Orange è salvo, ma siamo sicuri che The Punisher avrà la sua vendetta.
Sono due, anzi tre, i nemici del supereroe con il teschio. A Rawlins e Wilson infatti bisogna aggiungere Russo, il peggiore di tutti, colui che Frank considerava un amico, e del quale si fida ancora.
Questi episodi più miti ci stanno sicuramente preparando per la guerra che verrà. Perché di una cosa siamo certi, quando si parla di Frank Castle, quando si parla di The Punisher, ci sarà sempre di mezzo la guerra.