Ed è proprio quando non ci speri più che succede. Signore e signori è con gioia che vi annuncio che The Big Bang Theory ha partorito… una bella puntata!
Sì, sì, non ci credo nemmeno io che finalmente sto scrivendo una recensione positiva per The Big Bang Theory. Che sia per questo che in molte regioni d'Italia sta nevicando? Probabile.
Scherzi a parte, questa 11×10 si è rivelata essere non solo una puntata interessante, ma persino divertente. Era dalla 11×01 che non ridevo così.
Ma procediamo con ordine. La puntata segue due storyline principali, come del resto è consuetudine per The Big Bang Theory. La prima storyline vede Amy e Sheldon dividersi i compiti dell'organizzazione del matrimonio, la seconda il "divorzio" tra Howard e Raj.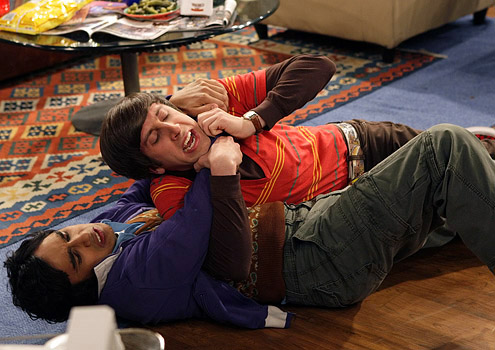 E già, i due "amici" più uniti del gruppo hanno deciso di interrompere la loro amicizia. O meglio Raj ha mandato al diavolo Howard. Perché l'hanno convinto che Howard, con le sue continue critiche e prese in giro, in qualche modo lo blocchino, gli impediscano di maturare, di raggiungere i suoi obiettivi, di costruire il suo futuro.
Il padre di Raj, addirittura, paragona il rapporto "tossico" che Raj ha con Howard a quello che lui aveva con l'ex moglie (cioè, con la madre di Raj). Questo perché, ovviamente, non può mancare il queerbaiting in The Big Bang Theory, mascherato da presa in giro alle ship gay create spesso dalla fantasia delle fangirl, ma ancora più spesso da una manovra di marketing degli autori delle Serie Tv.
Ma, queerbaiting a parte, è comunque divertente e interessante vedere nuove dinamiche, in un The Big Bang Theory che ormai procede sempre più stancamente verso la sua ormai – si spera! – inevitabile stagione finale.
Anche perché la lite tra Howard e Raj non ha – come ci si aspettava – una risoluzione a fine puntata. Probabilmente, infatti, Chuck Lorre vuole portare avanti la cosa per un po', cercando di restituirci quel pathos e quella dinamicità che la Serie ha perso da tempo.
Anzi, Raj sembra cavarsela benissimo senza Howard. Ottiene il posto di lavoro che tanto desiderava al planetario e addirittura viene abbordato da una ragazza molto attraente. Ed è proprio qui che, per un momento, rivediamo il solito Raj, insicuro ed esitante. Tanto che capiamo che no, non è Howard il suo problema. Il problema è Raj stesso.
Howard, dal canto suo, all'inizio considera stupida la decisione di Raj, ma poi si convince che l'amico ha ragione. Molto bella – e anche commuovente – la scena al planetario, quando Raj ha appena finito di commentare quello che tutti hanno visto. A sentirlo c'è anche tutto il gruppo, a parte Howard. Lo vediamo poi, in disparte, camuffato: c'era, ma era invisibile agli occhi degli altri. Solo Leonard lo vede e cerca di smuoverlo, ma Howard non riesce ad andare a parlare con Raj.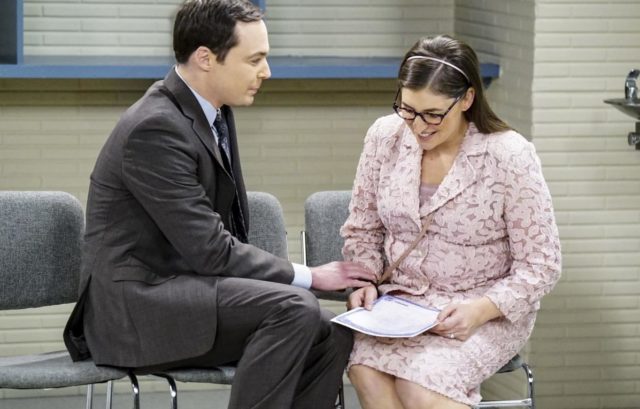 L'altra storyline, invece, è più leggera. Amy e Sheldon hanno deciso di affidare al caso la scelta della divisone dei compiti per l'organizzazione del matrimonio. All'inizio sembra filare tutto liscio, ma ben presto tutto inizia ad andare a rotoli perché vogliono entrambi cose molto diverse. Ad esempio, Amy vuole la carrozza stile ragazza del West e Sheldon vuole gli alieni. Insomma, non proprio un matrimonio tradizionale, diciamo.
Iniziano a scambiarsi i compiti, ma finiscono solo per litigare sempre di più. Tanto da decidere di rinunciare all'organizzazione e di andarsi a sposare in comune il giorno dopo. Ma, mentre sono lì, Sheldon ha dei ripensamenti: nonostante all'inizio non volesse il primo ballo, adesso capisce che vuole ballare con Amy al loro matrimonio, che vuole, insomma, una vera festa. Perché è quello che Amy vuole davvero e lui vuole renderla felice.
Insomma, lo sapevamo già che Sheldon e Amy sono la coppia meglio assortita in The Big Bang Theory. Ed è sempre bello quando lo dimostrano.
Leggi anche: The Big Bang Theory 11×09 – Maledetta nostalgia