Paige Jennings aveva già visto sua madre con il sangue sulle mani in passato. Ma questa settimana The Americans ha raggiunto un nuovo livello di drammaticità. Vediamo infatti una Paige inorridita dopo aver visto la faccia di sua madre ricoperta con il sangue del colonnello americano che aveva appena ucciso. Sarà davvero difficile da spiegare per Elizabeth. Questa la scena conclusiva del secondo episodio dell'ultima stagione di The Americans (diretta da Matthew Rhys nel doppio ruolo di attore e regista) intitolato "Tchaikovsky".  Ma questa scena arriva al termine di un'ora di forsennata attività da parte di Elizabeth che funge da trampolino verso la conclusione della Serie.
Dopo il desolante finale della settimana scorsa, quando Elizabeth ha respinto con rabbia la preoccupazione di Philip e ha marciato al piano di sopra da sola, questa settimana si è aperta con il suo ritorno giù per le scale. Ancora silenziosa e con aria di sfida, fumando una sigaretta mattutina. Philip le aveva fatto un riferimento indelicato e tatticamente errato al fatto che puzzava sempre di sigarette. In "Tchaikovsky", possiamo vedere Elizabeth che esegue così tante diverse operazioni contemporaneamente che ci si può chiedere come riesca a ricordare chi lei stessa sia.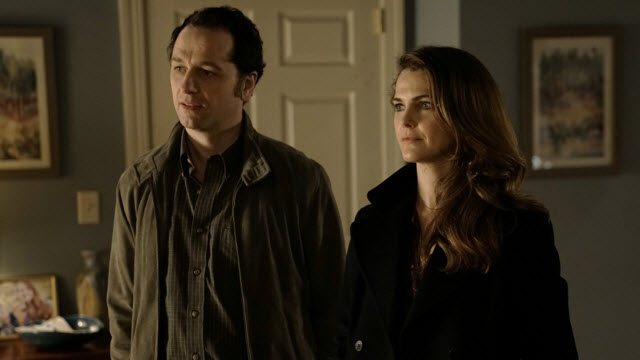 La settimana scorsa abbiamo appreso che Elizabeth Jennings ha portato avanti il suo lavoro come spia negli ultimi tre anni, senza alcun aiuto da parte di Philip. Giusto nel finale della quinta stagione proprio lei aveva detto a Tuan che il lavoro che fanno è troppo difficile da fare da soli. In "Dead Hand", abbiamo avuto solo un assaggio di quanto ciò l'abbia consumata. "Tchaikovsky" non ha la propulsione di novità che abbiamo avuto in "Dead Hand", ma continua a portare avanti il tema della stagione: la spaccatura coniugale tra i Jennings. Spaccatura che si manifesta perfettamente nei diversi approcci alle rispettive professioni. E' piuttosto interessante il fatto che a questo punto della stagione, il "personaggio" che più sembri in pericolo sia il loro matrimonio.
Questi sono i due aspetti più interessanti di questo nuovo episodio di The Americans: il futuro di Paige ed il futuro dei Jennings.
Ovviamente c'è tanta altra carne al fuoco. Il colonnello, ad esempio. Lyle Rennhull lo ritroviamo dalla prima stagione, l'ultimo episodio era infatti intitolato proprio "The Colonel". All'epoca incontrò Philip per dirgli che il sistema di difesa missilistico americano, lo "Star Wars" era un sogno irrealizzabile. Un incontro che ha dato il via a una sequenza di eventi fondamentali per il proseguo della trama di The Americans. Rennhull (interpretato ancora da Victor Slezak) non è stato il personaggio più ammirevole della Serie. Nella seconda stagione ha ucciso l'informatore Sanford Prince per proteggersi, ma questa volta ha deciso di rimanere fedele ai suoi principi, dichiarando che tutto ciò che ha sempre voluto fare è stato evitare la guerra. E che non avrebbe venduto il suo Paese ora.
Quindi, risulta essere un idealista, proprio come Elizabeth. Quando però si sono incontrati nel parco in Virginia, ha tirato fuori una pistola. Lei si è gettata in ginocchio e ha giocato la carta del "sono una madre". Fingendo, ovviamente, di implorare per la sua vita. Uno stratagemma, null'altro, prima dell'affondo. Lo affronta, lottano per la pistola e poi lentamente, forzatamente lo costringe a metterla sotto il mento e preme il grilletto. Fermiamoci qui per il momento.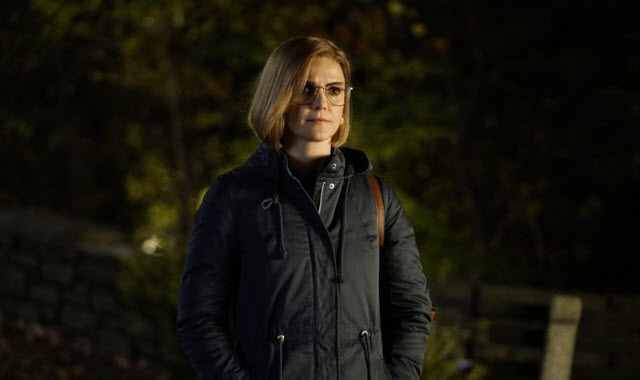 Nel frattempo durante il resto dell'episodio, Philip, ha avuto ulteriori battute d'arresto nella sua nuova esistenza capitalista. Il suo impiegato Stavos (Anthony Arkin) ha perso uno dei preziosi clienti dell'agenzia di viaggi. Quando Philip racconta la storia a Henry, suo figlio lo rimprovera delicatamente, ma con fermezza. Insomma l'Henry di origine americana pare avere migliori istinti di business rispetto al padre "neo borghese".
La breve apparizione di Henry, per telefono dal New Hampshire, è stata comunque uno dei momenti più commoventi della serata.
 Questo episodio ha davvero dimostrato quanto sia diventato ampio il divario tra Philip ed Elizabeth, non solo come coppia ma come genitori. Ormai la spaccatura che si è formata nel clan dei Jennings ha preso i contorni di una cortina di ferro tra i generi. La situazione di Henry è macroscopicamente diversa da ciò che Elizabeth e Paige stanno attraversando in questo episodio. E' quasi triste vedere che Henry, ormai inserito nel College a cui ambiva dalla scorsa stagione, sia apparentemente isolato dalle donne della sua famiglia. Così come Philip.
Philip è almeno consapevole delle forze contrarie che stanno spaccando la famiglia Jennings. Anzi, per certi versi, è stato causa determinante questa divisione. Henry però è ancora ignaro della spaccatura invisibile che si fa strada attraverso la sua famiglia. E forse è proprio per questo che Philip raggiunge il figlio, un bastione della normalità molto lontano, letteralmente, dalle conversazioni stridenti che sta avendo con Elizabeth riguardo al suo lavoro e "all'errore" di Paige. Si può dire che ormai, con l'avvicinarsi della conclusione della Serie, il ruolo di Henry negli affari di famiglia sia ormai marginale. La sua presenza al College lo ha più o meno declassato al ruolo di guest-star, sia nella sua famiglia che nella Serie.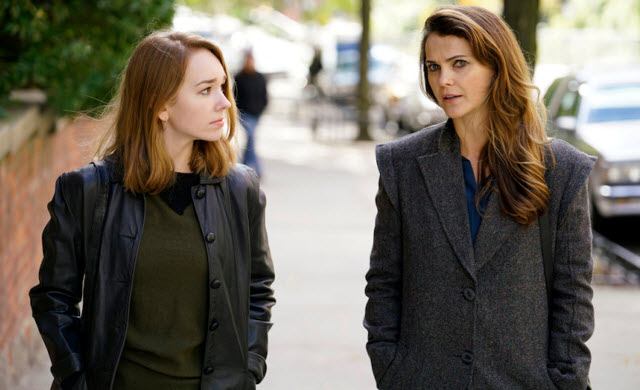 Torniamo al momento topico. La pistola sotto il mento del Colonnello. Lo sparo.
Paige inizia a correre dal suo posto nel parcheggio in aiuto di sua madre. Ma qui siamo in The Americans: non c'è abbraccio o pianto. L'emozione è tutta racchiusa nel momento in cui i loro occhi si incrociano, mentre Elizabeth urla a Paige di tornare alla macchina. Paige, il buon soldato, esita solo un istante prima di voltarsi e tornare indietro senza una parola. Poi i titoli di coda. La ricaduta di tutto ciò è rimandata alla prossima settimana.
Questa scena è The Americans in poche parole. E' più importante il tuo compito o la tua famiglia? Paige dovrebbe fermarsi e non avvicinarsi o dovrebbe correre in aiuto perché preoccupata per la vita di sua madre? I nodi sono più contorti che mai.