Attenzione: evitate la lettura se non volete imbattervi in spoiler sulla 4×03 di Sherlock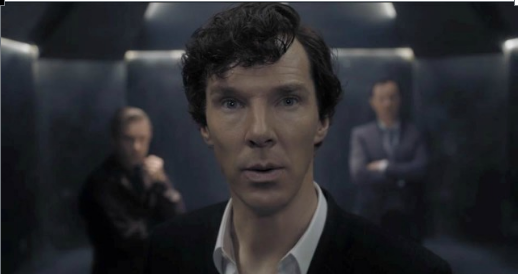 È finita, forse per sempre. Sherlock ci ha salutato con un episodio straordinario, emozionante al punto da distogliere l'attenzione sui tanti buchi di trama che hanno condizionato l'ultimo atto di una stagione particolare, e con un finale chiuso che getta più di un'ombra sulla possibile continuazione della serie. Ne parleremo più approfonditamente nei prossimi giorni e avremo presto una risposta certa, ma ora c'è un problema finale da analizzare e un fiume di emozioni da rivivere: sono tante, troppe da racchiudere in un solo articolo, ma non possiamo non fare un tentativo.
La deriva di un genio e l'innocenza di una bambina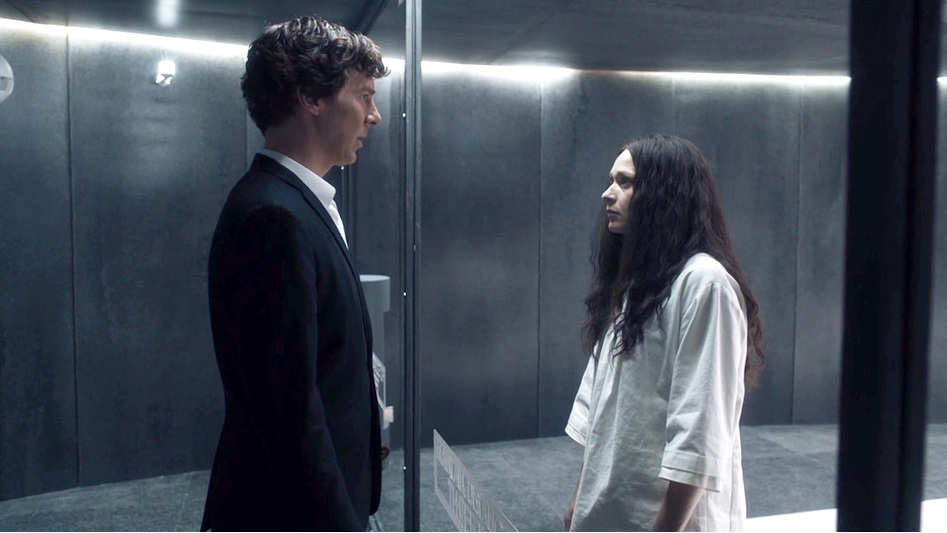 La causa e la conseguenza, la deriva e il riscatto. Eurus Holmes e la piccola Eurus. The Final Problem è un cerchio chiuso, nel quale il caso più complesso nella storia di Sherlock si è risolto con la più semplice delle soluzioni. In conseguenza di ciò, è indispensabile partire da lei, una donna capace di districare una psiche labirintica grazie al raggiungimento dell'obiettivo più banale: cercare affetto e comprensione, senza cinica pietà.
Eurus Holmes è una donna dai mille volti: ogni travestimento è una maschera che prima cela la paura per poi mostrarla con brutalità attraverso l'innocenza di una bambina. Eurus cercava disperatamente un atterraggio morbido e le attenzioni che ogni essere umano desidera. Quelle che non ha trovato nell'imperturbabile Mycroft, nonostante sia molto più umano di quanto si possa pensare. Quelle che ha trovato in Sherlock, cresciuto grazie alle lezioni di vita di John e al superamento della prova più difficile: affrontare il proprio passato per regalarsi un futuro sereno. The Final Problem, in fondo, si potrebbe riassumere così, senza fronzoli né analisi approfondite, ma spesso sono le storie più semplici a offrirci gli spunti di riflessione maggiormente interessanti, e questo episodio ne è il manifesto.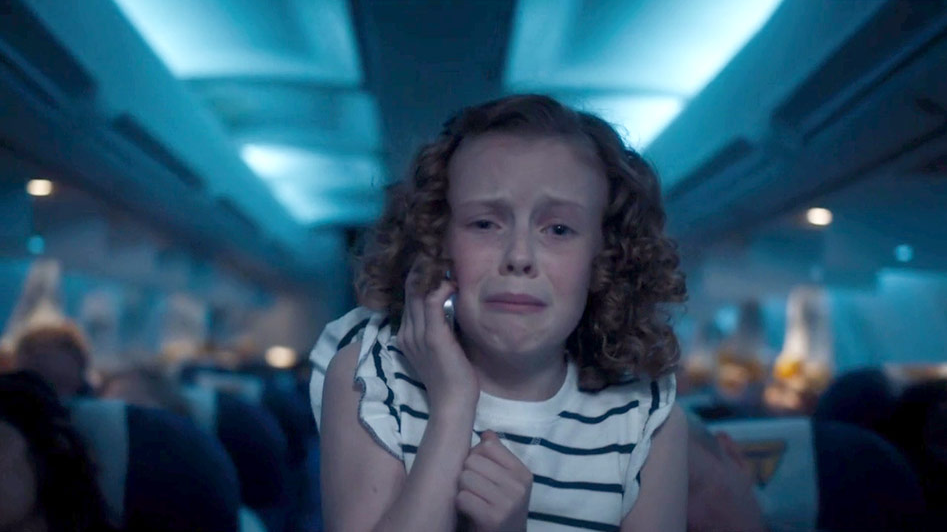 Eurus è una gigante in un mondo che non riesce a contenerla. Lo stereotipo del genio solitario si è ripresentato nell'ennesima rappresentazione, offrendo una exit strategy semplice ed efficace: l'amore è l'unico sentimento in grado di proporre una nuova via a chi sa e capisce tutto, ad eccezione della straordinarietà dell'essere umani. Solo così si può sorprendere Euros e dare un senso ad una vita vissuta alla deriva su un aereo che procedeva disperatamente col pilota automatico. Solo così si può comunicare con lei, una bambina che per troppi anni non ha saputo come giocare con i suoi fratelli attraverso un sogno. Tutto il resto è una naturale conseguenza: dall'omicidio del povero Viktor Trevor al contatto con Moriarty, capace di comprenderla senza riuscire tuttavia ad interagire con lei fino in fondo, ogni azione rientra in un piano folle di scoperta di una vita che rappresenta una grande occasione solo se si è capaci di ascoltare il cuore, mettendo da parte l'immane banalità delle dinamiche esistenziali private di un basilare valore illusorio.
Eurus, a differenza di Mycroft e del primo Sherlock, non si accontenta di imporre la propria superiorità intellettiva, perché non si illude di ritenerla preziosa. Vuole andare oltre, e ci riesce grazie alla forza propulsiva di un abbraccio che ricongiunge la bambina alla donna e la sorella ad un fratello maggiore che ha saputo insegnarle qualcosa laddove nessuno era mai riuscito. Eurus, ora, può chiudere gli occhi e sorridere, ritrovandosi con i piedi per terra dopo esser scesa dall'aereo che l'aveva tenuta in ostaggio per una vita. Può parlare con Sherlock, grazie alla musica: esprimere delle emozioni attraverso l'arte è l'unico mezzo possibile per chi ha una sensibilità fuori dal comune. Eurus ha trovato le note di Sherlock perché sono le uniche interessanti, alla faccia dell'universalità di Bach.
Sherlock ha scelto John e ha vinto l'ultima battaglia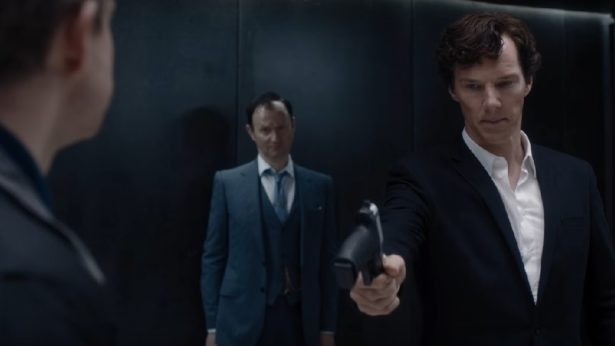 Per forza di cose, The Final Problem è anche l'ultimo segmento che ha chiuso il cerchio di Sherlock. Ora sappiamo davvero chi abbiamo avuto di fronte per sette anni meravigliosi e abbiamo capito dove era iniziato tutto. La sovrascrittura è l'unica alternativa possibile alla rimozione emotiva messa in atto da Mycroft e alla deriva di Eurus. I tre Holmes sono figli dello stesso peccato originale e sono arrivati allo stesso traguardo attraverso percorsi differenti: Mycroft non ha mai dimenticato, Eurus ha ricordato continuamente e Sherlock è rimasto a metà strada.
A differenza degli altri due, il nostro protagonista ha preso la strada più lunga. John è stato il bivio fondamentale, una boccata d'umanità che l'ha allontanato dall'idea di infallibilità al punto da riavvicinarlo alla sua essenza originaria: un genio non è un personaggio capace di sventare tre attentati terroristici grazie ad un'ora di navigazione su Twitter, ma un esempio di straordinarietà in grado di adattarsi alla normalità degli uomini. L'avevano capito tutti, tranne lui: per Greg è stato un brav'uomo fin dal primo momento, per John l'amico di una vita, per Molly un amore impossibile e per Mrs. Hudson un figlio acquisito, nonostante tutto. Per Sherlock, Sherlock Holmes era una leggenda intangibile, un po' come per i puristi legati con ortodossia ai dettami di Conan Doyle. Per Sherlock, ora, Sherlock Holmes è un bambino fuori dal comune, finalmente maturo.
Sherlock ha scelto John come avrebbe scelto ognuno di noi, umili umani. L'ha fatto senza pensarci due volte, ascoltando il cuore e l'istinto come avrebbe fatto chiunque. Ha dato un senso profondo ad un finale dalle mille sfumature, rendendolo straordinario a prescindere dai buchi di trama (John è uscito da un pozzo nonostante fosse incatenato) ed alcune scelte stilistiche discutibili (la deriva bondiana nella scena dell'esplosione a Baker Street). Se questo sarà realmente un series finale e non solo un season finale (tutto lascia intendere che sarà così, alla faccia delle dichiarazioni di facciata), sarà la conclusione più giusta: la testa ha lasciato spazio al cuore e la fallibilità delle emozioni ha vinto sulla lucida razionalità di un cinico punto finale senza compromessi. Si poteva chiedere di più? Probabilmente sì, ma ora non conta. Quel che più ci interessa in questo momento è che Sherlock è finito, almeno per due anni. Forse per sempre. Comunque andrà, non ci sarà mai un vero addio: è questo, in fondo, l'unico segreto di una leggenda.
Antonio Casu 
Un saluto agli amici di Sherlock (BBC) Italia, Sherlock Italy e Sherlock – Italia.  
LEGGI ANCHE: