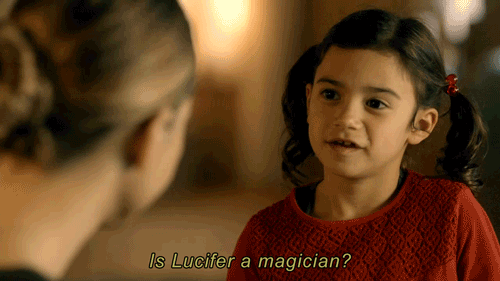 No, è un Satana qualunque. O meglio, lo era.
Lucifer non capisce più chi sia, è in balia del libero arbitrio e pende sempre l'ago della bilancia verso il bene. Come è ormai chiaro, non c'è alcun Dio ad incarnare la controparte del Male più assoluto, ma c'è una donna, e il risultato finale potrebbe essere ancora più esplosivo. Chloe ha preso le misure e riesce a controbattere con sempre più forza ai deliri d'onnipotenza del Lucifer affascinato. Non capisce ancora chi sia, ma si fa spazio dentro di lei la consapevolezza che l'uomo venuto da lontano possa essere realmente chi dice di essere. No, non è un mago, ma il re dei Tentatori, a sua volta tentato dal fascino indiscreto del Bene. Un fascino insostenibile, per uno come lui, ma in questo momento molto più forte della propensione verso il Male, incarnato dalla conturbante Maze.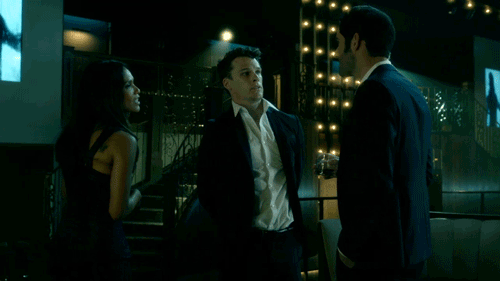 Sugli sviluppi della trama di stagione non c'è molto altro da dire, e da molti punti di vista è una buona notizia. Il motivo è semplice: The Would-Be Prince of Darkness è stato il primo episodio con un intrigo crime degno di questo nome. Un omicidio dalla risoluzione finalmente non banale, sviluppato con la solita ironia ed una buona dose di misteri. La Los Angeles di angeli e demoni ha lasciato spazio alle turbe sessuali del povero Ty, coinvolto suo malgrado in un gioco più grande di lui. La sua fortuna è stata quella di incontrare sulla propria strada un Tentatore con un senso della giustizia più spiccato di quanto abbiano fatto pensare migliaia di anni di mitologia cristiana. Lucifer, in fondo, non è altro che il braccio destro del "padre", costretto a fare il lavoro sporco. Del Male assoluto non c'è più traccia, anche se tutto il resto è…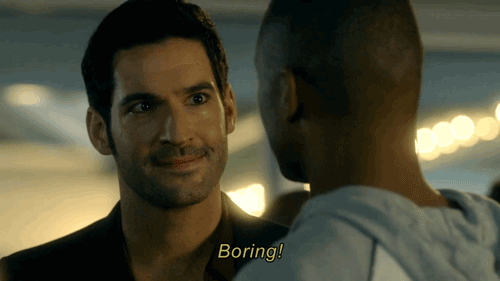 … noia.
Il caso è risolto – manco a dirlo – dalla coppia Chloe-Lucifer, sempre più affiatata e ricca di misteri. Le ultime sequenze, nelle quali il Tentatore scaraventa contro una vetrata l'agente di Ty, scuotono notevolmente la bella detective, costretta a fare i conti con la vera natura dell'improbabile aiutante. Lei continua a non capire lui esattamente quanto lui non capisce lei, ma la chimica tra i due è sempre più forte e potrebbe portarli in qualunque direzione.
C'è chi li vorrebbe vedere insieme (la figlia di Chloe), chi li detesta (Maze) e chi mina le sicurezze di lui con la lucidità dello spettatore medio (la psicoterapeuta). Linda non è altro che l'altoparlante del pubblico a casa, con l'unica differenza di una buona dose settimanale di su e giù. Illuminante una sua considerazione sulla città di Los Angeles: "Nella città degli angeli si può scegliere chi essere, ci si può lasciare alle spalle il passato e ripartire da zero, si possono seguire i propri sogni senza essere giudicati da nessuno e si possono trovare nuovi obiettivi da perseguire". Lucifer non annuisce, ma è consapevole di quanto l'affermazione sia vera. Slegato da vincoli esistenziali non più eterni, può reinventarsi in qualunque forma, a patto di pagare le conseguenze di ogni scelta. Altro non è che il libero arbitrio, ma è necessario prendere le misure.
In ultima battuta, è necessaria una considerazione sulla centralità delle personaggi femminili in Lucifer, già rimarcata poco fa. In Lucifer non è Satana il maschio alfa. Gli unici maschi alfa sono… le donne.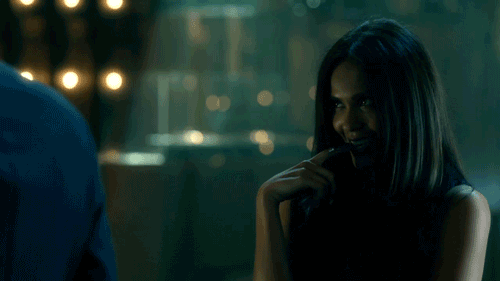 Come volevasi dimostrare.
@antoniocasu_