# #
L'atmosfera continua a farsi elettrizzante in Chilling Adventures of Sabrina. Dopo il processo cui è stata sottoposta la protagonista, non poteva che subentrare un periodo di tregua per la famiglia Spellman.
# #
Sabrina decide così di accettare il suo fato e andare all'Accademia delle Arti Occulte. È infatti l'obiettivo di evocare il Signore Oscuro, e così bandirlo, a spingerla a frequentare la scuola, imparando quanto più possibile. Ma è più facile a dirsi che a farsi, e la nostra protagonista lo scopre bene nel corso della puntata.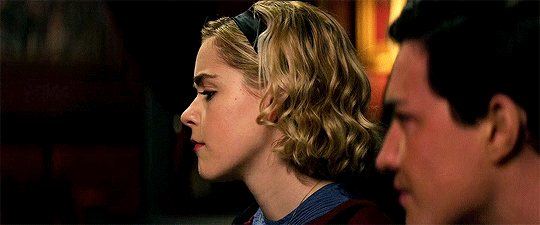 # #
La 1×04 si è rivelata parecchio interessante. Finalmente la storia inizia ad assumere una piega più stuzzicante, presentando un'elaborazione degli eventi più approfondita.
Sabrina frequenta così la scuola, cominciando a essere assillata e bullizzata dal trio delle Weird Sisters sin dalla prima notte. Le tre sorelle infatti costringono la giovane Spellman a patire il tormento, il lungo percorso verso la morte sofferto da molte streghe secoli prima.
Tali sofferenze rappresentano il complesso e tortuoso cammino per divenire una strega forte e potente. Una specie di prassi volta a rendere i novizi più coraggiosi e determinati a sopportare la qualsiasi cosa, pur di rendere onore alla propria natura. Inoltre, queste torture costituiscono il modo migliore per eliminare le fasce più deboli presenti in Accademia.
La prima prova da superare costringe la protagonista a sopportare una notte insonne, vittima della paura e della tortura psicologica da parte di alcuni spiriti. Rinchiusa in uno stanzino completamente al buio, Sabrina riesce a superare la notte, non senza fatica ovviamente.
In suo aiuto accorre infatti Salem che, finalmente, ritorna sulla a far capolino in Chilling Adventures of Sabrina (ammettiamolo: stiamo adorando questo micetto eroico). Il famiglio riesce a confortare la strega, che supera  così la prima prova sotto lo sguardo odioso e vendicativo del trio.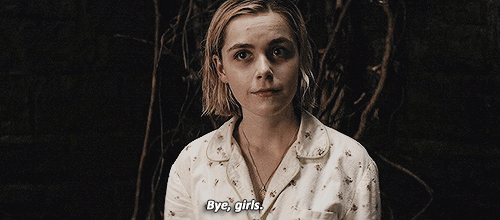 Neanche la situazione scolastica della giovane strega è delle migliori, nonostante dimostri immediatamente di che stoffa sia fatta durante la sua prima lezione.
Insoddisfatta degli insegnamenti e dei corsi a lei assegnati, Sabrina si rivela ancora una volta determinata a perseguire i propri scopri. Riuscirà infatti a stipulare un patto con il preside dell'Accademia, Padre Blackwood.
Quest'ultimo le concederà l'opportunità di frequentare le lezioni di demonologia ed evocazione, a patto che riesca a risolvere un rompicapo: il cosiddetto "Schema di Acheronte". Tale strumento si scoprirà essere stato ideato dal padre di Sabrina, rivelando un legame ancor più profondo tra i due.
È infatti palese che la giovane ragazza soffra parecchio la mancanza dei genitori. Probabilmente la sensazione di essere tradita dal suo stesso padre è di ostacolo a delle emozioni più profonde nei suoi confronti. Non si può infatti non notare lo sguardo fiero e colmo di ammirazione negli occhi della ragazza, una volta scoperta l'origine di tale rompicapo.
I problemi non si concludono qui, perché anche la notte seguente la Spellman sarà costretta a patire l'ennesima prova. La supera e le si palesa un bambino, Quentin, che rivela una verità sconcertante e terribile.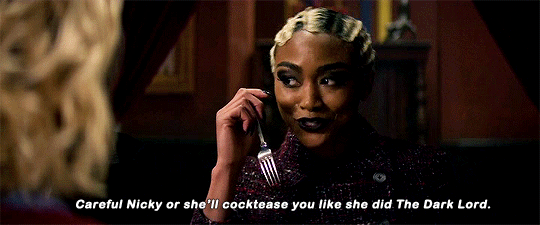 Nel giardino di quella scuola sono infatti seppelliti tutti i ragazzi e i bambini che non sono sopravvissuti al tormento di altre streghe. Sarà questo a spingere Sabrina a contattare le sue zie, Hilda e Zelda, che si precipiteranno in soccorso della nipote.
Dopo l'inutile tentativo di far ragionare Padre Blackwood, spiegandogli la difficile situazione della nipote, le zie decidono di agire autonomamente.
In questo episodio di Chilling Adventures of Sabrina, zia Hilda ha finalmente avuto l'attenzione che meritava. Vittima del tormento da parte di sua sorella da ragazzina, è disposta ad aiutare quelle piccole e docili anime. È così che scatena i sensi di colpa nel cuore glaciale (ma non troppo) della zia più austera, Zelda.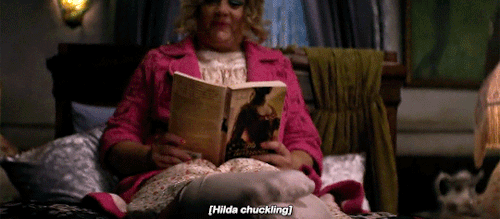 Assistiamo all'evolversi di un rapporto complesso, come quello di tutti i fratelli ovviamente. Ma c'è complicità questa volta: una comprensione e un'empatia che vanno al di là della semplice compassione.
Le sorelle dimostrano di essere unite e di avere bisogno l'una dell'altra. Nonostante i difetti, nonostante il tempo.
Grazie al loro intervento, le anime si "vendicheranno" dei tormenti subiti, aiutando Sabrina nella terza e ultima prova che altrimenti avrebbe fallito. Terrorizzando il trio delle Weird Sisters, simulando un'impiccagione sin troppo reale, la strega riesce a convincere le tre sorelle a lasciarla in pace.
Ancora una volta Chilling Adventures of Sabrina trasmette l'ennesimo messaggio positivo, ovvero che il bullismo non può mai essere tollerato. Questa tematica piuttosto delicata viene trattata benissimo, mostrando la crudeltà di tali comportamenti.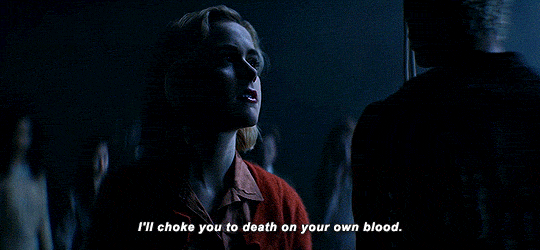 Durante questo episodio, Sabrina non è stata l'unica ad affrontare delle vicende complicate.
Per la prima volta infatti Ambrose riesce a ingannare i suoi arresti domiciliari, allontanandosi spiritualmente da casa Spellman. Pur di presentarsi all'appuntamento con il ragazzo conosciuto nella 1×02, Luke utilizza una tecnica azzardata, pericolosa, ma probabilmente per lui necessaria.
Sappiamo ancora poco di Ambrose, ma con il suo carisma, i suoi consigli e la sua vicinanza a Sabrina ci ha già conquistati tutti.
Persino gli amici di Sabrina affrontano qualcosa di inaspettato e terrificante.
Durante l'assenza della protagonista, Susie, Rosalind e Harvey si riuniscono per il weekend a casa di Susie. Qui affronteranno lo zio di quest'ultima che, a quanto pare, si è "ammalato" lavorando nelle miniere del padre di Harvey. Dopo aver visto "qualcosa" laggiù, Susie rivela all'amica che l'uomo non è mai più stato lo stesso.
Devo ammettere che il dialogo tra Harvey e Jesse, lo zio di Susie apparentemente posseduto, e sfociato improvvisamente in uno scontro mi ha colpita. Lo scarejump ha funzionato alla grande, perché credo di aver perso 6 mesi di vita.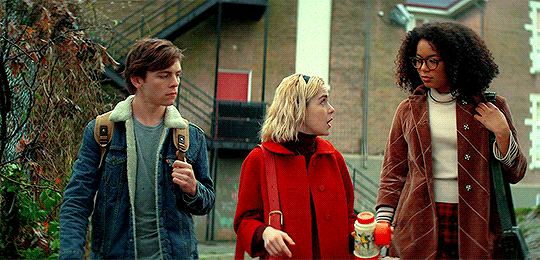 Finalmente i pezzi del puzzle iniziano a combaciare tra loro. A quanto pare, Harvey non è stato allora l'unico a vedere il Signor Oscuro in "persona" nelle miniere.
La frase detta dallo zio Jesse – "Vi divorerà l'anima" – riferita ovviamente al Signore Oscuro, fa raggelare il sangue nelle vene: pensandoci su, il modo migliore per colpire Sabrina sarebbe ferendo i suoi amici. Che sia questo il gioco sporco a cui sta giocando il "Dark Lord"?
Una cosa è certa: il mondo dei mortali continua ad avvicinarsi sempre di più a quello oscuro della magia.
In questo episodio di Chilling Adventures of Sabrina conosciamo anche un nuovo personaggio che sembra avere un certo legame con protagonista: Nick Scratch. Dalla sua apparizione notiamo sin da subito uno strano interesse per Edward Spellman: che possa avvicinarsi a Sabrina per scopi egoistici?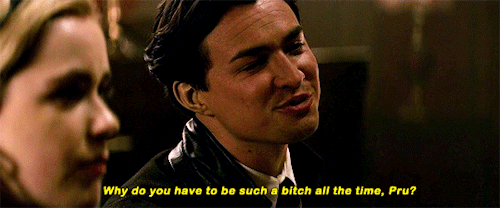 Con un gesto gentile, Nicholas Scratch ci confonde, impedendoci di inquadrare bene il suo personaggio. Il ragazzo decide infatti di donare a Sabrina gli appunti del padre, nei quali erano raccolte delle teorie riguardanti lo Schema di Acheronte.
Durante la conclusione dell'episodio scopriamo anche che il Sommo era consapevole del tormento subito da Sabrina. Era infatti lui il mandante di tali torture. Rimprovera la debolezza delle Weird Sisters, confermando per l'ennesima volta la sua crudeltà e il suo odio verso la giovane Spellman.
Il Signore Oscuro vuole che Sabrina studi all'Accademia.

Ma non ha detto che non debba soffrire.
Pare che la protagonista non riesca ad avere un minuto di pace in questo show. In ogni caso, quello che ci piace più di ogni cosa di Sabrina è proprio la sua adattabilità alle situazioni complesse e il suo ottimismo.
Capace di risolvere ogni problema e di superare qualsiasi difficoltà, diventa così un personaggio esemplare.
Grazie agli appunti donati da Nicholas, Sabrina riuscirà infine a risolvere il rompicapo seguendo le istruzioni velate ed enigmatiche scritte da Edward Spellman. Ma tale successo è seguito da un'improvvisa apparizione: l'evocazione di una creatura mostruosa, le cui intenzioni sembrano tutt'altro che positive…
Salem, dove sei stavolta?!