Ciao, sono Alessandro Borghese. Benvenuti a questa puntata speciale di 4 Ristoranti: il mio viaggio nei Coffee House. Un solo concorrente in sfida e quattro categorie da votare: lochescion, menù, serrvizio e conto. Ma non basta. Con il mio voto posso confermare o ribbaltare il risultato. Il primo e unico concorrente di oggi è il The Brew di Pretty Little Liars.
Durante questo viaggio ho assistito a diverse sfide. Alcune più belle delle altre, lo devo ammettere. Ci sono posti che mi sono rimasti nel cuore, mentre altri avrei preferito non vederli. Grazie a quest'avventura ho avuto l'occasione di esplorare diverse città, soprattutto negli Stati Uniti. Ma forse la cosa che ho preferito più di tutte è stata esplorare i diversi Coffee House. È per questo che di ritorno dall'ultima avventura a Riverdale, sulla strada per tornare a New York, mi sono fermato nella ridente cittadina di Rosewood.
Il paesino è stato teatro di diversi scandali nel corso degli ultimi anni. Dalla scomparsa di una ragazza, all'omicidio di un'altra. Di certo non ci si annoia qui.
Prima di proseguire in macchina verso la mia destinazione, ho deciso di fermarmi un attimo per recuperare le energie e prendere un caffè. Il primo posto che ho trovato è stato il The Brew, una Coffee House, che quando ha cambiato gestione è stato trasformato in un Cafè letterario.
Ad accogliermi c'è colui che l'ha trasformato: Ezra Fitz.
Che inizi la sfida!
1) Location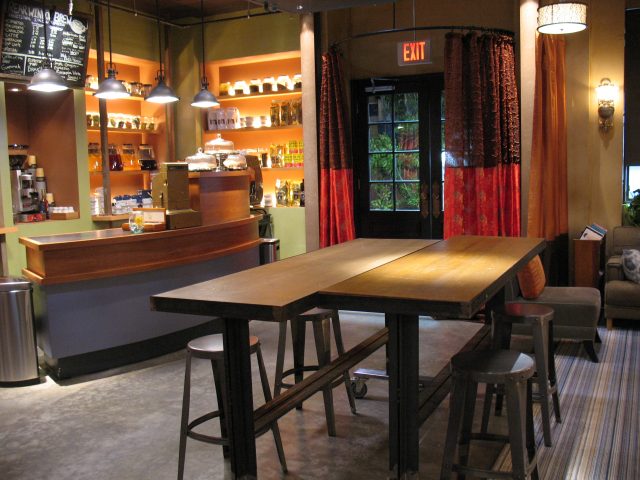 Il The Brew di Pretty Little Liars è situato al 29365 Ewart Avenue, Rosewood. Il paesino non è molto grande, quindi la zona del centro è quella principale frequentata dai residenti. Bel posto, gli abitanti però dicono che succedono cose strane. Ad esempio la chiesa è stata luogo di un delitto. Ma ho preferito non sapere altro. L'interno del locale è spazioso, con divanetti comodi su cui sedersi a bere un caffè e leggere un libro. Ottimo luogo d'incontro degli studenti del liceo.
Voto: 8