# #
Fox e Major League Baseball portano sul piccolo schermo Pitch, una storia fuori dai canoni del baseball.
# #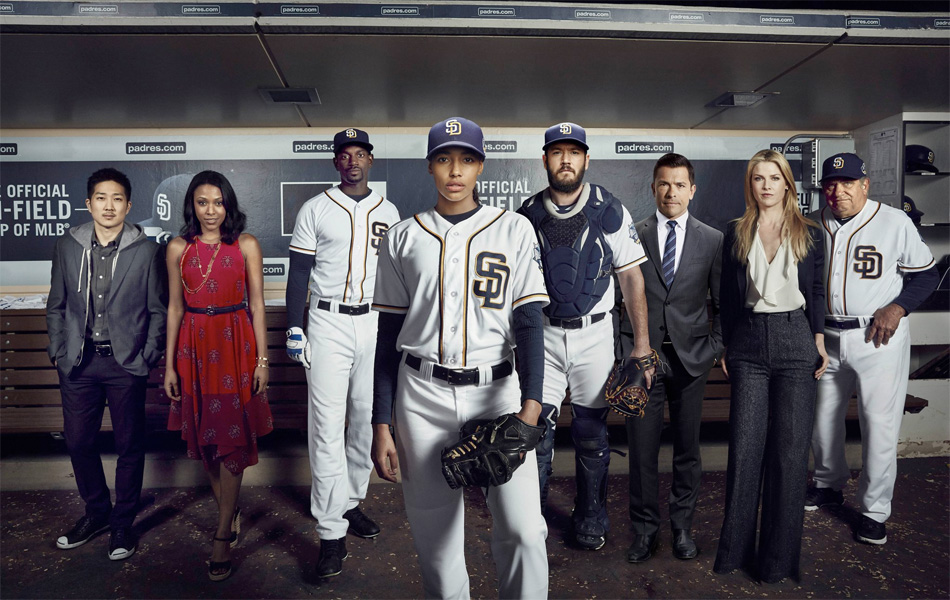 Il 22 settembre 2016 andava in onda su Fox la prima stagione, di 10 episodi, di Pitch, prima Serie Tv supportata dalla MBL, la principale lega professionistica di baseball nordamericana. La storia è fuori dai soliti schemi sportivi, presentandosi come "A true story on the verge of happening". 
# #
Il creatore è niente meno che Dan Fogelman, che abbiamo già visto in opera con Galavant e con il nuovo family drama di NBC This is Us, di cui si parla meglio in questo articolo.
Pitch aveva creato grandi aspettative nel magico mondo telefilmico; destava curiosità la scelta di un tema tanto attuale quanto controverso: l'esperienza di una donna all'interno di un mondo sportivo quasi esclusivamente maschile, con tutte le conseguenze che ne derivano.
Forte e piena di talento, la lanciatrice Ginny Baker (Kyle BunBurry) diventa famosa quando ottiene un ingaggio dai San Diego Padres. Cos diventa la prima donna a giocare nel campionato professionistico di baseball. Adesso però Ginny deve dimostrare il proprio valore ai compagni di squadra, primo fra tutti l'affascinante capitano e ricevitore Mike Lawson (Mark-Paul Gosselaar). Mentre i riflettori dei media si fanno incandescenti, Ginny affronta la difficile prova di scardinare uno dei più antichi ed esclusivi sistemi per soli uomini del Paese, con l'aiuto del suo vecchio amico e collega Blip (Mo McRae) e della sua agente e confidente Amelia (Ali Larter).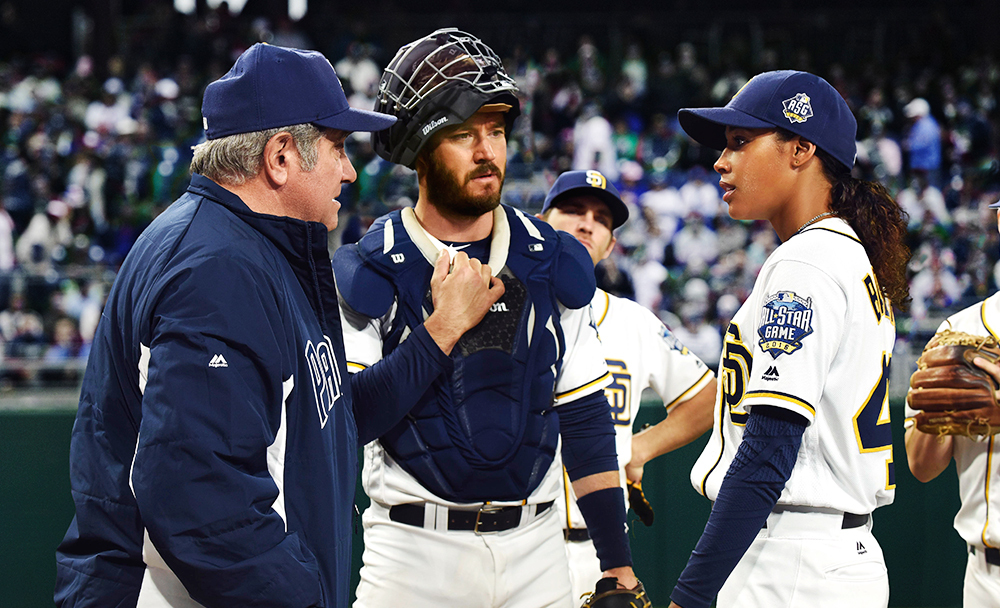 Ginny è un personaggio nato e cresciuto con pane e baseball dal padre (Michael Beach: volto noto agli amanti di Sons Of Anarchy e recentemente di The 100) e che, dopo anni di allenamento e gavetta, riesce ad entrare nella "serie A" del baseball. Questo debutto genera dei forti sentimenti in Ginny e delle alte aspettative in chi la circonda, in primis la sua squadra, portandola così ad accumulare peso sulle spalle impedendole di essere lucida, e non solo. La ragazza sa di essere ora un punto di riferimento per tutte le bambine che, guardando le sue partite, si identificheranno in lei.
Il pilot è discreto ma va dritto al punto: si presenta come un bel film da 40 minuti che ti lascia la voglia di vederne ancora. Il tema non è facile, la sfumatura femminista c'è, ma non è troppo marcata, è trattata con eleganza e un sapiente tocco, grazie alla bravura del regista Paris Barclay (di nuovo Sons of Anarchy). Il cast è buono e funziona bene intorno alla protagonista; qualche plot twist coinvolge e non guasta alla trama. L'unico problema, forse, sono forse le aspettative alte e il rischio di finire troppo sul "già visto e rivisto".
Altri punti di forza sono i dettagli sparpagliati qui e lì negli episodi. Ad esempio vediamo i biglietti d'auguri per Ginny di Hillary Clinton e Ellen Degeneres, carichi di significati sportivi e non solo.
Insomma, Pitch è una Serie ben studiata e leggera, ha una colonna sonora orecchiabile e dei dialoghi soddisfacenti. I personaggi sono estremamente realistici, il budget investito si vede nei particolari e negli sponsor (la Nike!). Non avrei mai scommesso sul successo di questa Serie eppure ora, dopo questi primi episodi, non posso fare a meno che chiedere di più. Un ultimo consiglio: non fermatevi al pilot! A molti potrà non piacere ma fidatevi, sarebbe come "giudicare un libro dalla sua copertina".