# #
Negli ultimi anni ci sono state numerose serie che ci hanno sorpreso e divertito, con personaggi interessanti e sempre nuovi. Parks and Recreation spicca tra tutte. La serie americana, trasmessa dall'emittente NBC dal 2009 al 2015 infatti, accompagnata da altri show simili quali The Office e Community, riprende situazioni e ambienti apparentemente grigi e noiosi, come in questo caso un dipartimento del comune, per trasformarli in qualcosa di completamente nuovo. Parks and Rec diventa così uno show del "nuovo millennio" che porta una ventata di aria fresca in tutti i sensi. Ma cosa rende Parks and Recreation così interessante alla visione?
# #
Il filone narrativo principale parla di Leslie Knope, una giovane impiegata del comune di Pawnee, nello stato dell'Indiana, che tenta attraverso il suo piccolo dipartimento delle Aree Verdi di rendere migliore la sua città. Come nelle migliori serie, a questo si intrecciano molti altri episodi e le avventure di ogni personaggio, che acquistano così una propria personalità e consapevolezza. La naturalezza  e la spontaneità del dialogo dei personaggi, arricchiti da riferimenti attuali, si pongono a volte così al limite dell'assurdo da diventare conseguentemente comici, senza per questo però cadere nel ridicolo o nel volgare.
# #
Anche il resto dell'ufficio non è da meno per la caratterizzazione e originalità. Abbiamo Tom, dipendente arrivista che cerca in ogni modo di far più soldi possibile e che ravviva quotidianamente l'ufficio con battute sarcastiche e pungenti, Ann Perkins, infermiera e aiutante a tempo perso di Leslie, che vede nella sua amicizia con la bionda dipendente pubblica uno dei suoi legami più forti dopo la rottura con Andy, e tanti altri più o meno stabili personaggi che diventano una necessaria compagnia per i dipendenti dei parchi pubblici.
Leslie e il suo fidato manipolo di impiegati del dipartimento sono un ulteriore ragione del perché lo show acquista ancora più valore. L'ufficio di Leslie si trasforma con il trascorrere delle puntate in un tesoro infinito di "tipi umani" che non scadono però nell'ovvietà. Partendo da Leslie stessa, una vera e propria paladina della giustizia, che tiene vicino a sé gli amici e ancora di più la foto di Hillary Clinton nel suo ufficio, che crede nella bontà della gente e che investe tutto il suo tempo per rendere migliore la sua città. Leslie, per quanto possa apparirlo, però non è solamente questo: riesce infatti con il tempo a crescere e a costruirsi una propria vita, equilibrata anche dalla scoperta del suo vero amore. Come in ogni serie tv che si rispetti il "buono" deve essere sempre equilibrato da un "cattivo" che si confronti e si scontri con quest'ultimo e che renda il tutto un pò meno utopico. Da questo punto di vista Ron Swanson, burbero,scortese e cupo, un anarchico che odia il sistema nonostante ci lavori, è  il personaggio designato, che crea una divertente ed evidente contrapposizione con il carattere sempre positivo della protagonista dando vita a momenti esileranti.
Anche una delle "power couple" della serie riveste il ruolo di "unione di contrapposti", un ossimoro di due personaggi apparentemente incompatibili e che per questo ancora più apprezzabili. Per utilizzare una metafora particolarmente spiccia è come se un gatto e un cane si innamorassero e si sposassero.  Andy e April sono sicuramente una delle coppie più divertenti delle serie tv, tanto di buon cuore e ingenuo l'uno, quanto sarcastica e apparentemente insensibile l'altra- da diventare infatti la segretaria di Ron.  Ma sono proprio queste caratteristiche che impreziosiscono la loro storia, che sicuramente non annoia né loro né noi.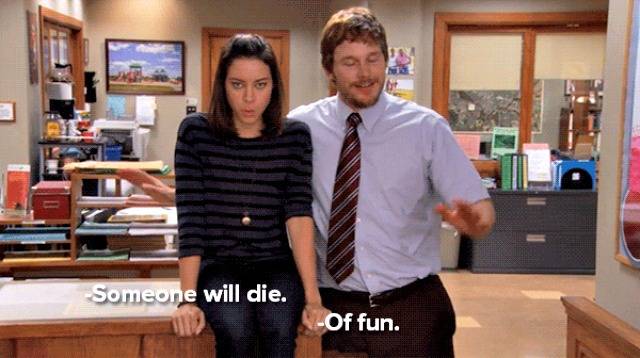 L'amore infatti diventa fonte di divertimento e di gag esilaranti, che fanno anche di argomenti come il divorzio o di due fidanzati che si lasciano, un argomento semplice e non necessariamente tragico, mostrandoci anche come nelle situazioni più difficili si possa trovare un'alternativa. Le storie d'amore infatti sono spesso tutto ciò che si vorrebbe, affettuosi, amorevoli e teneri, a volte fin troppo ingenui, trattandosi pur sempre di una comedy show.
Parks and Recreation è insomma il simbolo della comicità più semplice ma più efficace che ha conquistato un numero complessivo di 7 stagioni e una serie di Awards, compreso un Golden Globe per l'attrice che intepreta Leslie, Amy Poehler. Nonostante infatti il pubblico avesse voluto che lo show non finisse mai, si è interrotto dopo anni di prolifica produzione, lasciandoci però una serie di puntate da vedere– per chi non lo avesse fatto- e rivedere– per chi avesse già avuto il piacere- ancora.