Dopo l'ultimo episodio e i rumors a proposito di una proposta di matrimonio, come, COME non aspettare con ansia la puntata? Soprattutto avendo visto Pretty Little Liars di tendenza su Twitter senza poterci cliccare sopra. Una condanna. Perciò, sì, EVVIVA, ho ritrovato la mia voglia di vedere Pretty Little Liars che era sepolta insieme a Rollins.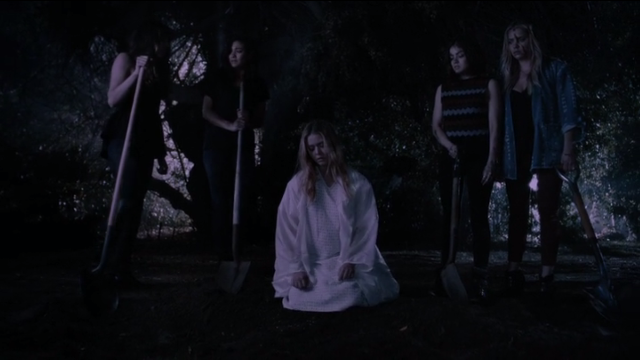 Dal riassunto sembra di essere precipitati ancora in Beautiful ma noi non perdiamo le speranze. Speriamo che RE MARLENE ci dia qualcosa per cui non dormire la notte, per cui sobbalzare all'ingresso del gatto e augurare la morte a chiunque ci mandi messaggi.
Cosa è successo in questa puntata? Essenzialmente non molto, a parte qualche scoperta sconvolgente che noi già sospettavamo, una proposta di matrimonio e il ritorno di molte vecchie conoscenze.
Ma entriamo nel dettaglio:
ALISON è uscita dall'ospedale e, oltre ad essere ritornata la stronza che era all'inizio della serie (la stronzaggine non muore mai) ha deciso di prendere come coinquilina la gemella dark di sua madre che, per inciso, è anche la mamma della sua acerrima nemica/nuova amica/sorella e ha tentato di rovinarle la vita.
So' scelte … Come si dice tieni vicino gli amici e ancora di più i nemici?
Ma la donna è talmente pentita delle sue malefatte che scambia la nipote per un prete e confessa tutto ciò che ha fatto esibendo una vera e propria espressione da cucciolo spaventato …
EMILY si da alla pazza gioia ed esce con comesichiama (Sabrina, si lo so come si chiama), passano la serata a parlare ma Em si ricorda improvvisamente di avere un esame. Anche io così, per i miei esami, come se l'ansia non mi annodasse lo stomaco per tutta la settimana prima.
How To Get Away With College, prossimamente su questi schermi.
Ma non è finita qui:
A.D. ha deciso di darsi alla carriera accademica, ed è anche piuttosto brava. Avrà hackerato il sistema oppure si è presentata/o personalmente all'esame?
Em e Aria decidono di fare le trasgressive e inviano un messaggio ad un numero sconosciuto che li trolla sapientemente dando l'appuntamento:
SPENCER, invece, è alla ricerca del fidanzato smarrito e va a chiedere aiuto al suo ex. Il senso della dignità dove lo hai lasciato Spence? In ascensore con Marco?
A proposito imbarazzo nell'aria, la ragazza si imbatte proprio nel tipo che si è sapientemente limonata la sera dell'omicidio. E che si dà il caso essere il detective a capo del suo ex fidanzato che segue le indagini della scomparsa dell'uomo che lei e le sue amichette hanno ucciso. Per intenderci, questo qui:
E ci tengo a ricordarvi la risposta che Spencer gli ha dato …
Come abbiamo già accennato sopra, ALISON è tornata la stronzetta di sempre e noi abbiamo una gran voglia di elencare le sue gesta:
– Combatte con Jenna per il titolo di miglior stronzetta dell'anno ma ha un crollo nervoso e si fa sfuggire per caso l'unica cosa di nuovo che avevano scoperto: il team Archer&Jenna.
A voi, HOW TO FIGHT LIKE A BITCH …
JENNA MARSHALL 1
ALISON DILAURENTIS 0
– Fa la prima donna con chiunque, si dispera perché l'ex marito le ha prosciugato i conti in banca, si lamenta del crollo di nervi di Hanna quando lei fino a due giorni prima stava come me prima di un esame e pretende che Aria dia buca al suo fidanzato che sta per chiederle di sposarla?
Il team ARIA&EMILY va al solito posto per una ricognizione, abbatte un letto a muro, trova una testa di plastica e tanti poster del detective Wilden sul muro. Nonché il vero nome di Rollins scritto su un libro di Shakespeare.
Ma rivediamo un secondo la reazione di Aria alla testa saltellante …
E quella di Em …


E ancora quella di Aria … dai, ne vale la pena!
E poi i poster di Wilden in camera di Rollins…
TOBY, che da sensata persona, sta facendo quello che deve fare, scopre il team a curiosare sulla scena e noi scopriamo di essere state le uniche ad imparare qualcosa dalle esperienze passate delle Liars. Tipo mettere dei guanti prima di toccare in giro?
Quasi quasi potrei regalare loro il DVD di CSI, magari serve no?
Ma non pensiamo a queste cose inutili, PIUTTOSTO: LOOK WHO'S BACK
Pensavate parlassi di Sarah Harvey che ha trovato in Jenna la sua nuova amica del cuore, vero? No, parlo di Noel che si è presentato in tutta la sua figaggine.
E io così …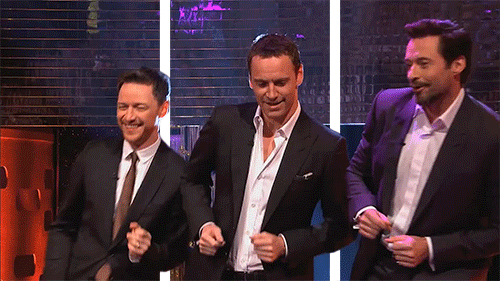 Comunque, Noel, tesoro, "Did you miss me" solo se sei Moriarty …
Ecco …
E ora, SO che aspettavate questo momento dall'inizio delle pagelle di Pretty Little Liars : LA PROPOSTA.
Ci sono state speculazioni lunghe una settimana su chi avrebbe fatto la proposta a chi:
Spence a Caleb? Caleb a Spence? Caleb ad Hanna? Ezra ad Aria?
I vincitori del Totoproposta sono stati proprio gli Ezria. Ma vediamo nel dettaglio.
Ezra spoilera la scaletta di quello che sta per succedere e poi parte con forse uno dei discorsi più strappalacrime dell'intera serie (e non per la disperazione) che ora vi godrete con tutti questi screenshot e con tutte le mie reazioni.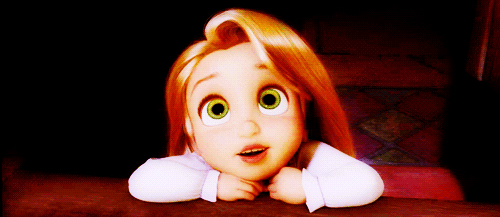 E niente, qui mia mamma mi ha chiamato per pranzo …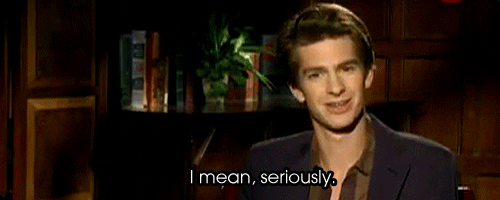 Ma ho prontamente risposto "ARRIVOOOOOOO" e riavviato …
E non sono cattiva a far finire gli screen qui, è RE MARLENE la cattiva che ha fatto finire l'episodio proprio prima che Aria potesse dire di sì. Perché dira di sì, MI AUGURO, o le spacco la faccina e la uso come batacchio per le campane di Rosewood.
Ma lasciamo i commenti alle …
CONSIDERAZIONI A CASO
#1 MI CASA ES TU CASA
A Rosewood il mercato immobiliare sembra essere entrato in crisi profonda. Nessuno degli abitanti compra più delle abitazioni, preferendo alloggiare nelle case delle amiche. Hanna sta da Lucas, Em sta da Hanna che sta da Lucas. Arya sta da Ezra, Spencer sta nel fienile e Caleb stava da Spencer ma ora sta da Toby che sta in una roulotte con la sua fidanzata che sta in una roulotte con il suo fidanzato nell'attesa che lui finisca la loro casa da sposini.
#2 ALISON ha il numero della polizia di Rosewood salvato sul telefono.
Basta, fa già ridere così.
#3 GHOSTBUSTERS
PLL sembra essersi trasformato in un tributo a Ghostbusters: La ex morta di Ezra lo chiama sul telefono e un vivo Rollins è stato quasi avvistato in macchina. Quello che posso dire è che, sicuramente, c'è qualche stronzetto che si diverte a trollare tutte fingendosi Rollins e che prima o poi ricatterà le Liars perché sa che hanno ucciso bad Rollins. Insomma: #solograne in casa PLL
Soprattutto perché se Nicole è VIVA e torna per DISTRUGGERE la coppia che si è appena dichiarata amore eterno io LA AMMAZZO per la seconda volta.
E che diamine di foto ha Ezra per le chiamate in entrata della usa EX?
#4 LA PROPOSTA
Non so cosa mi aspettassi, ma sicuramente gli Ezria erano la coppia più plausibile dato che, secondo me, neppure RE MARLENE ha deciso se è #TeamSpaleb o #TeamHaleb. Una proposta da parte di Caleb sarebbe stata troppo precoce: insomma, sembra appena uscito dall'adolescenza, lasciatelo crescere un po' quel ragazzo. Ezra invece sembra già quasi un nonno a confronto, e già il fatto che si sia alzato dal divano per fare la proposta ad Aria è una gran cosa.
È stato bello come hanno deciso di farlo, anche se le candele erano moooolto inquietanti. Ezra ci ha fatto sognare per la prima volta da molto tempo e ora capiamo perché tutti quei commenti inutili, si è risparmiato per il discorsone. MA, detto tra noi, Aria non sembrava molto per la quale. A me sembrava più una faccia impanicata da "oddio e mo' che gli rispondo?" per questo si è presa ben due settimane per pensarci. DUE.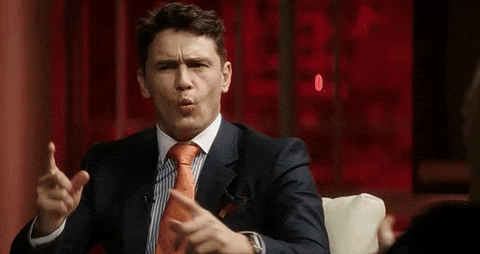 #5 POKEMON GO: neppure le Liars sono immuni al fascino di Pokemon Go che io non riesco a scaricare perché ho un cellulare che assomiglia al prepagato di Rollins …
Passiamo ora alle VOTAZIONI in questo episodio piatto e nella norma …
Ezra "Will you marry me" Fitz: 8, quel poco che ha fatto lo ha fatto molto bene!
Arya " … " Montgomery: 7. Insomma, a parte l'esitazione lunga due settimane ha fatto un buon lavoro.
Spencer "Finding Caleb" Hastings: 5
Emily "Relationships goal" Fields: 7
Toby "Wan Kenobi" Cavanough: 8. È l'unico sano di mente qui?
Caleb "Chi l'ha visto" Rivers: 1. Appunto, chi l'ha visto?
Hanna "Burn out" Marin: 4. Nulla, non ha fatto nulla se non rifiutarsi di seguire Jenna. Che è nulla, infatti.
E infine i PREMI SPECIALI:
Premio "Miglior citazione": Spencer
Che dico, sei seria? La mia reazione era un misto tra "Oddeo dimmi che non l'ha detto davvero?" e "I WANT SPOBY BAAAACK" 
Ma comunque, NO.
Premio "Miglior facepalm": Toby
Premio "Peggior scusa dell'anno": Mary Drake
Premio "Best Happy Riturn": Noel
Che dico, no non ti stavamo aspettando ma io mica mi lamento eh …
Premio "BFF": Sarah e Jenna
Ma a noi resta una domanda, come sempre: chi cazzo chiama Ezra dal telefono della sua Ex?
SPAZIO PROMO 7×06
Prendiamoci del tempo per commentare e speculare sul promo della 7×06, appena appena uscito.
Cosa abbiamo capito?
Rollins si fa vedere di nuovo in giro, ma sarà davvero lui? Certo che no, era morto!
Cioè, più di così?
Qualcuno cerca di uccidere Ali.
Il corpo di Rollins sparisce dal nascondiglio nel bosco.
Aria si prende del tempo per pensare alla risposta da dare ad Ezra e sembra essere propensa per il no perché non vuole trascinarlo nei suoi casini. Della serie … ormai …
Ma non perdete le speranze, abbiamo ben DUE SETTIMANE per speculare sulla prossima puntata perché RE MARLENE ci ha donato una pausa pluri settimanale. Come non amarla?
ALLA PROSSIMA PUNTATA DI PRETTY LITTLE LIARS!