# #
La tremenda morte di Poussey ha rappresentato uno snodo fondamentale nell'economia di Orange Is The New Black. Non solo perchè la Serie Tv ha così riacquistato un po' di brio dopo l'eccessiva piattezza della terza stagione, recuperata solo in parte nella quarta; ma soprattutto perchè, anche dal punto di vista narrativo, si è trattato di un crocevia determinante nell'ottica della quinta stagione, uscita il 9 giugno scorso su Netflix.
# #
La dipartita di uno dei personaggi più amabili della Serie ha avuto un impatto incredibile sulle detenute, diventando il pretesto per la rivolta che ne è scaturita, sfociata nel potentissimo cliffhanger del season finale scorso. Cadono le differenze di razza, etnia, religione. Non esiste più lo spanish harlem o il black corner. Litchfield è unita contro un nemico comune: le istituzioni.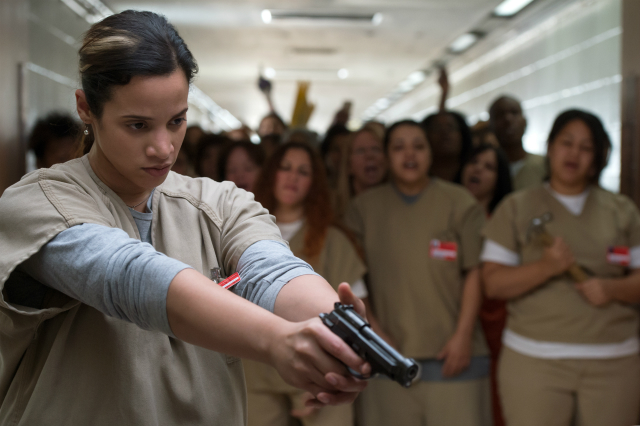 # #
La quinta stagione riparte proprio da lì e riesce, magistralmente, a portare avanti il discorso della rivolta in maniera coerente e senza troppe forzature. Il merito è del maggior spazio dedicato ad alcuni personaggi secondari rivelatisi delle vere sorprese, come Frieda, e di una trama principale ricca di sfumature e simbologia. La rivolta, infatti, prende la forma di una utopia col retrogusto amaro della beffa.
Nello specifico si assiste alla più totale sovversione dell'ordine costituito. Le guardie, in balia del marasma reazionario, diventano i prigionieri, e, viceversa, le detenute si impadroniscono del carcere. In questo modo le forze dell'ordine – e il termine appare quanto mai ironico rapportato alle vicende di Orange Is The New Black – si trovano a vivere il disagio della reclusione.
E, trattandosi di Orange Is The New Black, il disagio assume contorni talvolta realistici, talvolta grotteschi.
Non è una novità, infatti, che la Serie, tratta da un'esperienza realmente accaduta, si proponga di mettere in evidenza le controversie di un carcere femminile. In special modo OITNB punta a ridurre le differenze tra guardie e criminali.  Questo intento viene raggiunto con la verosimiglianza, attraverso scene dal grande impatto emotivo, oppure con l'iperbole e, in tal senso, è emblematico il divertentissimo Litchfield's Got Talent.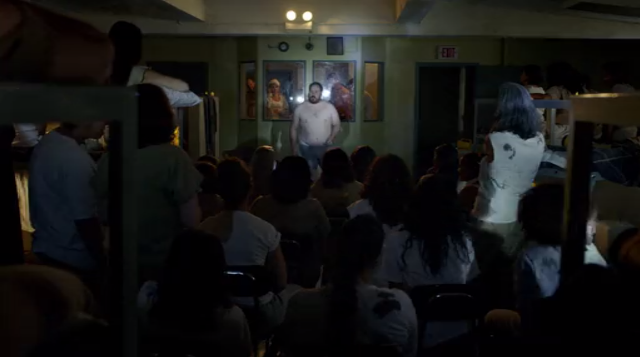 La legge del taglione a cui sono sottoposti i poliziotti del MCC è chiaramente una provocazione paradossale. Della stessa natura può essere considerata la volontà del governo di trattare la rivolta con il dovuto rispetto. Eppure tanto basta per dare alle detenute la sensazione di avere il potere e, a noi spettatori, l'illusione che un carcere più dignitoso sia realmente possibile. Si vengono, dunque, a creare tutti i presupposti per il contesto utopico accennato poc'anzi.
Come ogni  utopia che si rispetti, anche inquadrare un background tecnologico assume una certa rilevanza. Nel caso delle detenute – ad accentuare ulteriormente il distacco con il mondo esterno – il futuro è la scoperta del mobile. Incredibile se pensiamo all'importanza dello smartphone nelle nostre vite. Il non plus ultra di questo aspetto diviene l'apertura del canale Youtube da parte di Flaca e Maritza.
Da queste basi, per tredici episodi, si sviluppano le trattative per trasformare Litchfield in un posto migliore in cui espiare le proprio colpe. Si susseguono capovolgimenti di fronte, ora per l'influenza dell'opinione pubblica, ora per ciò che accade all'interno del carcere. Ma gli autori sono bravissimi nel far trasparire fino all'ultimo la possibilità che qualcosa realmente cambi.
Il che rende ancor più traumatico la presa d'atto dell'utopia. E la "colpa" è tutta delle detenute.
L'amara verità, emersa in maniera prepotente nel season finale, è l'impossibilità strutturale, per le detenute, di fare fronte comune. Come dimostra l'uso ricorrente dei flashback, ogni donna ha una propria storia che va ad aggiungersi alla loro vita tra le mura di Litchfiled: per Maria è più importante veder crescere sua figlia che il senso della rivolta; Gloria fa quello che ogni genitore farebbe coi propri figli; per Taystee è fondamentale vendicare la persona più vicina al concetto di famiglia che abbia mai conosciuto.
Il loro atteggiamento spegne ogni desiderio di cambiamento e il brusco ritorno sulla terra si palesa sotto forma di un'irruzione e un trasferimento in massima sicurezza. È colpa loro, se di colpa si può parlare. Ma più in particolare è il segno che il popolo carcerario non può ragionare e vivere come una comunità, in luogo di un radicale individualismo. Il prigioniero è, dunque, principalmente, un anarchico.
Ciò che ci resta è la speranza e, in tal senso, la bellissima immagine a chiusura di questa stagione, risulta ancor più potente di quella della scorsa annata. Una minoranza pronta a credere nel cambiamento ancora c'è. È multietnica, abbraccia tutti gli orientamenti sessuali ed è soprattutto unita. Per il momento resta un'utopia, dunque una via non percorribile, ma domani chissà. Arrivederci al 2018, Orange Is The New Black.