La capacità di raccontare è sicuramente una fra le discriminanti che più influiscono sulla qualità di una Serie Tv. Fortunatamente Orange Is The New Black, la serie creata sulle memorie di Piper Kerman, non ha mai corso questo rischio. La serie ha il grandissimo pregio di saper raccontare con estrema naturalezza il passato e il presente delle sue protagoniste. Ed è attraverso le inquiline del Litchfield che Orange Is The New Black riesce a raccontare l'America in diverse sfaccettature.
1) La comunità LGBTQ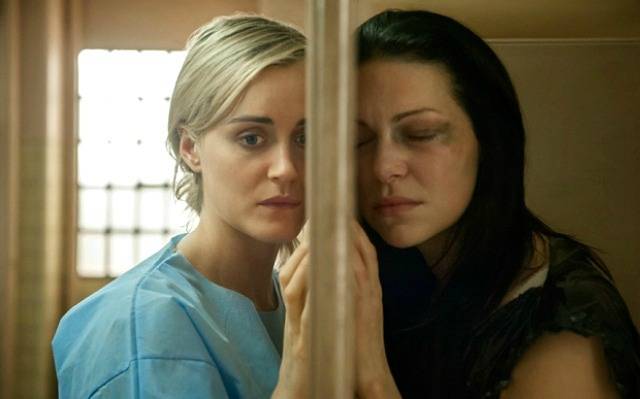 Se c'è una Serie Tv che non sfrutta il meccanismo del queer baiting (se non sapete cos'è, ve lo spieghiamo qui), è sicuramente Orange Is The New Black. Quando durante il primo episodio Sam Healey rassicura Piper, dicendole in tutta segretezza che non è obbligata ad indulgere nelle gioie del "sesso lesbo", ne emerge la figura di un uomo inetto, rinchiuso nelle sue convinzioni e nel suo modo di vedere il mondo. Il carcere di fatto pullula di donne innamorate fra di loro, e i loro sentimenti sono profondi e reali. La Serie non si risparmia assolutamente, mostrandoci momenti di tenerissima dolcezza alternati a passaggi di passione feroce. Nel carcere troviamo detenute omosessuali, transessuali, bisessuali, eterosessuali, e via discorrendo. È indubbio che ognuna di loro ha ben chiara la necessità di difendere i propri diritti, palesando i propri gusti senza timore alcuno.