Orange Is The New Black è ormai finita, dopo sette stagioni e 91 episodi, le nostre amate detenute di Litchfield ci salutano con un finale agrodolce dopo averci accompagnati per sei anni nelle loro vite tutt'altro che facili.
Siamo di fronte a una serie ricca di emozioni e di realtà. È proprio la realtà e come ci viene presentata che ci colpisce fortemente, la crudezza e la schiettezza utilizzata per raccontare la vita di queste donne ci spiazza, ci coglie alla sprovvista, ci coinvolge e non possiamo far altro che restarne fortemente colpiti.
Questi ultimi 13 episodi ripartono da dove ci avevano lasciato, nell'ala di massima sicurezza, portando alla nostra attenzione tematiche estremamente attuali come l'immigrazione e il movimento #MeToo, la malattia mentale e i disturbi specifici dell'apprendimento. Insomma, è stata una stagione ricca, sempre piena di interessanti spunti di riflessione, momenti commoventi e storie drammatiche che smuovono i cuori.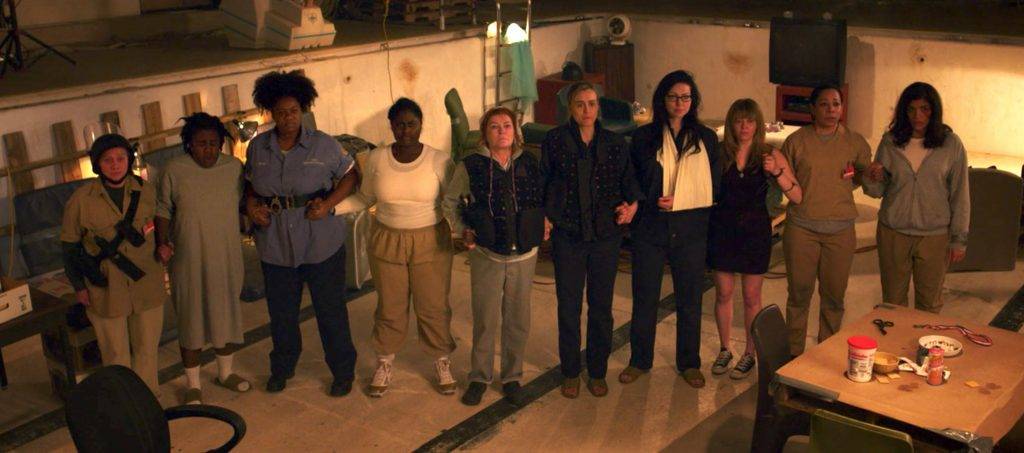 Però, come sappiamo, la perfezione non esiste e anche questa stagione di Orange Is The New Black ha delle pecche. Ci riferiamo soprattutto a degli archi narrativi di alcuni personaggi, non molto brillanti nello sviluppo o abbastanza inutili.
Attenzione da qui in poi sarà pieno zeppo di spoiler, quindi se non avete finito Orange Is The New Black e volete continuare, siete stati avvertiti.
Daya e Aleida e la lotta per la leadership in carcere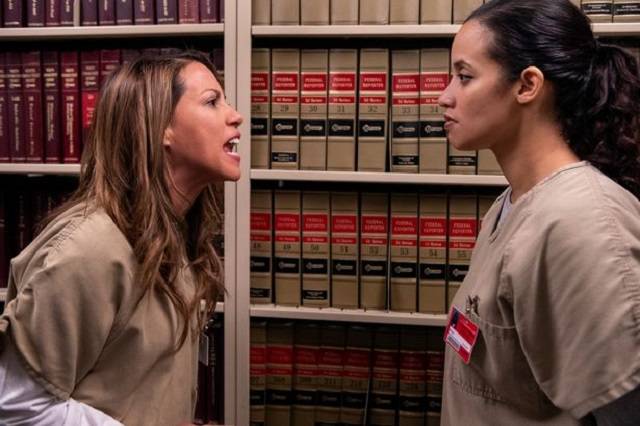 Sicuramente una delle storyline che sono state rovinate maggiormente nelle ultime stagioni è quella di Daya Diaz. Nelle prime stagioni ci viene presentata come una ragazza dolce, vittima del luogo e della condizione familiare in cui è cresciuta, con la passione per il disegno. Poi da quando viene trasferita nell'ala di massima sicurezza e condannata all'ergastolo, incomincia a far uso di droghe diventando il capo della sezione in cui si trova. Uno sviluppo negativo non molto apprezzato dai fan.
Ad aggravare il tutto è stato il ritorno in carcere della madre Aleida e del continuo scontro tra le due. La mamma infatti era riuscita a uscire, stava cercando di rifarsi una vita per crescere in condizioni migliori gli altri suoi figli, anche se per ottenerlo utilizza come mezzo lo spaccio.
Per una stupidaggine viene di nuovo messa in carcere e iniziano così le lotte tra madre e figlia. La prima cerca di allontanare Daya dalla droga e dallo spaccio, la seconda è disposta anche a far fuori Aleida per tenere il controllo. Finiscono così per diventare le leader di due gruppi opposti di spacciatrici in carcere. Anche se ormai il personaggio di Daya aveva preso una strada negativa, è stata una scelta non molto sensata quella di riportare Aleida in carcere e farle intraprendere lo stesso percorso, anche se mossa da buone intenzioni, ovvero "salvare" sua figlia.
È mancata una degna conclusione tra Cindy e Taystee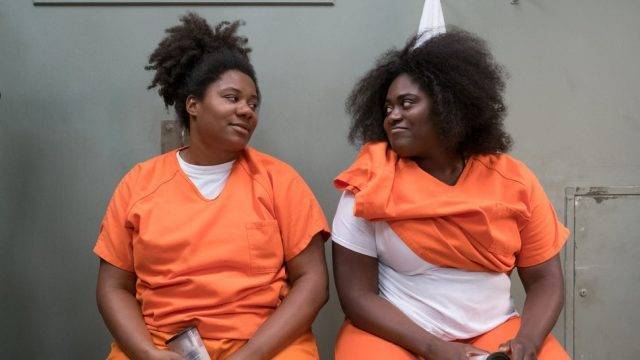 Abbiamo sempre amato il rapporto tra Cindy e Taystee, secondo solo a quello di Taystee e Poussey. Le due ragazze sono amiche da moltissimo tempo e ci sono sempre state l'una per l'altra. Nell'ultima stagione questo rapporto viene compromesso perché Cindy, per salvarsi da un aumento di condanna, mente su come siano andati realmente i fatti avvenuti nella rivolta. Lei e Suzanne sono le uniche testimoni dell'innocenza di Taystee contro le accuse di omicidio di una guardia carceraria.
Purtroppo, per paura, la donna decide di testimoniare il falso, rovinando inevitabilmente il loro rapporto e di conseguenza condannando l'amica all'ergastolo. Quello che non funziona è l'aver lasciato la questione in sospeso: Cindy fuori dal carcere con la sua vita e Taystee dentro per sempre. Un rapporto come il loro trattato senza una degna conclusione o un dialogo finale. Magari sarebbe stata significativa anche una lettera verso l'amica in carcere, un modo per provare a riallacciare i rapporti e fare ammenda. Invece Taystee ha dovuto tirarsi su da sola provando con le sue forze a dare un senso alla sua vita in prigione.
La decisione di Piper e Alex di avere una relazione aperta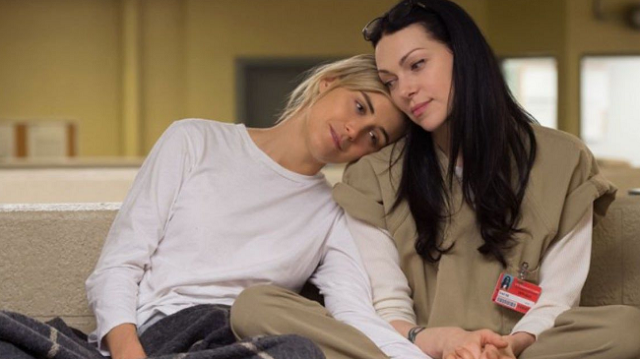 Abbiamo finito la sesta stagione con il matrimonio improvvisato di Piper e Alex e la successiva scarcerazione anticipata di Piper. Le due donne erano fiduciose sul loro futuro e contavano letteralmente i giorni che le separavano dallo stare insieme fuori dalle mura della prigione.
Questa stagione si apre subito con dei problemi di comunicazione tra le due, entrambe soffrono molto la lontananza e ognuna affronta delle difficoltà che non rendono il tutto più digeribile. Si pensa dunque di introdurre l'espediente della relazione aperta.
Ma si vede che si tratta di un arco narrativo rimediato, volto soltanto a continuare a raccontare il rapporto tra le due. Essenzialmente non ci viene raccontato nulla di nuovo, il tutto è messo lì solo per cercare di smuovere un po' le cose nella coppia, per poi mostrare alla fine che il loro amore è così forte da poter resistere e continuare nonostante tutto e tutti.
Sarebbe stato meglio dare maggior spazio ad altri personaggi e concludere altre storyline, dato che si trattava dell'ultima stagione, e lasciare la coppia Alex/Piper in tranquillità, anche perché ogni tanto una gioia se la meritano pure loro.
Una chiusa forse troppo sbrigativa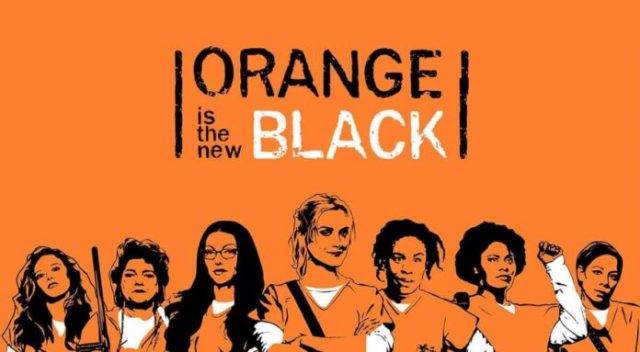 Concludiamo proprio con il finale di serie. Questi ultimi 13 episodi li ho molto amati, ma devo ammettere che alcune parti le avrei tolte o velocizzate per dare spazio a personaggi che fino a quel momento erano stati messi da parte e che avevano bisogno e meritavano anch'essi una conclusione a tutti gli effetti.
Ecco perché, se ci ripensiamo bene, forse questa settima stagione di Orange Is The New Black è stata un pochino frettolosa nel finale: si è dilungata per circa 3/4 della stagione, concludendo poi il tutto un po' velocemente, aggiungendo qua e là qualche apparizione veloce di vecchi personaggi molto amati dal pubblico, per soddisfare un minimo i fan da casa. Sarebbe stato meglio tagliare qualcosa per riuscire a sviluppare al meglio qualcos'altro.
Nonostante tutto, questa serie rimarrà impressa e scolpita nei nostri cuori. Orange Is The New Black Forever!