The Big Bang Theory (il cui ultimo episodio ci ha lasciati piacevolmente stupiti…) è stato un successo planetario, sopratutto grazie al geniale Jim Parsons, che per dieci anni è stato il volto di Sheldon Cooper, eccentrico e brillante fisico con qualche difficoltà nel relazionarsi con le persone che lo circondano… ma come era il dottor Cooper all'età don nove anni? Lo vedremo in Young Sheldon!
CBS ha voluto fare un grande regalo ai suoi fan, decidendo di esplorare l'infanzia di questo personaggio iconico, con un lunghissimo flash back per arrivare alla tenera età di nove anni. Il progetto è stato ufficializzato qualche mese fa e Young Sheldon ha già un volto: sarà interpretato da Iain Armitage.
Ma quale sarà esattamente la trama di Young Sheldon? La sitcom sara ambientata nella cittadina di East Texas, e seguirà passo passo le vicende del piccolo bambino prodigio con un'eccezionale voce narrante: quella di Jim Parsons.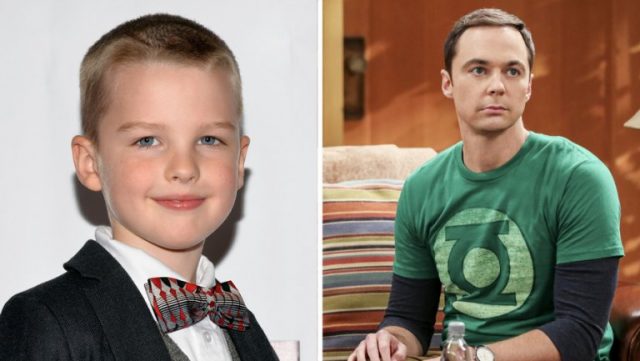 Sheldon ha soltanto nove anni e, grazie alla sua intelligenza fuori dal comune, salterà gli ultimi anni della scuola elementare per approdare direttamente all'ultimo anno delle scuole medie.
Il ruolo centrale sarà occupato dalla famiglia del piccolo Sheldon. La mamma, che nella serie principale è interpretata da Laurie Metcalfe, nello spin-off avrà il volto di Zoe Perry, nonché figlia della Metcalfe nella vita reale. Sheldon si troverà a dover affrontare questo passaggio con l'avversione del fratello maggiore, geloso delle sue qualità, e della sorella gemella. Ma, ovviamente, il nostro piccolo genio riuscirà a dimostrare le sue qualità e tutti coloro che gli stanno attorno.
Ma chi è Iain Armitage? Si tratta di un figlio d'arte, con un papà attore e una mamma produttrice teatrale. Iain a soli nove anni si è fatto conoscere grazie alla miniserie firmata HBO Big Little Lies interpretando Ziggy, il figlio di Jane Champman (Shailene Woodley). A Marzo, CBS ha annunciato lo spin-off di The Big Bang Theory che lo vedrà protagonista.
Produttori esecutivi di Young Sheldon saranno Chuck Lorre, Steve Molaro, Todd Spiewak e Jon Favreau con la collaborazione di Warner Bros Television.
Young Sheldon approderà sugli schermi CBS il 2 novembre,
ma il pilot sarà presentato in anteprima già dal 25 settembre.
Non possiamo che dire, BAZINGA!