Non c'è da stupirsi se la terza stagione di Elite sia volata in testa al binge report di TvTime di questa settimana! Ancora una volta, l'avvincente serie spagnola guadagna il primo posto con un impressionante 12,27% battendo l'ex leader, I Am Not Okay with This che scende fino all'ottava posizione. Continua, invece, la sua scalata On My Block che prende la seconda posizione. La top 3 si conclude con Riverdale.
Nel frattempo, rimangono in classifica i favoriti: le commedie della NBC, Friends (n. 4) e Brooklyn Nine-Nine (n. 6), mentre How I Met Your Mother (n. 10)trova il suo posto nella top 10. Anche i drammi amati, Grey's Anatomy (n. 5) e The 100 (n. 9) non si muovono di un millimetro rispetto alle scorse settimane.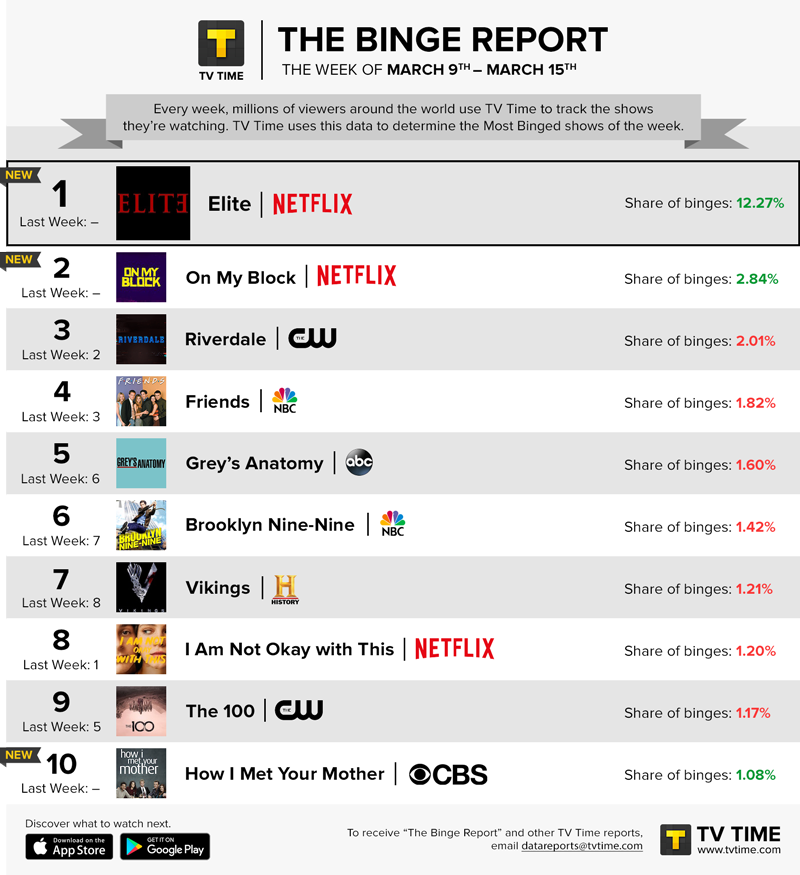 L'attesa mini-serie Hulu, Little Fires Everywhere, oltre all'ultima stagione di Supernatural su The CW, e il ritorno di Greenhouse Academy su Netflix per non dimenticare della terza stagione di Ozark potrebbero cambiare le sorti di questa classifica, ma ancora è troppo presto per dirlo. Lo scopriremo venerdì prossimo!
Piccole curiosità: dopo l'uscita di ogni stagione finora Elite è entrata sempre al primo posto del binge report restando in capo alla classifica per tre settimane sia con la prima che con la seconda stagione. Riuscirà la serie spagnola a battere questo record? Oppure sarà spiazzata via da un'altra serie Netflix? Come possiamo vedere ogni settimana, le serie Netflix si fanno concorrenza da sole alternandosi il primo posto o addirittura tutta la top 3.
Come riportato dal sito, che troverete in basso, la classifica si basa su una determinata metodologia. Per stilare questa lista settimanale del Binge Report è la seguente: possono entrare in classifica soltanto le serie tv contenenti quattro o più episodi che vengono guardati e tracciati nella nostra app TvTime in un determinato giorno.
Fonte: TvTime