Nell'ottava e ultima stagione di Game of Thrones abbiamo assistito alla sorprendente battaglia contro i non-morti chiamata La Battaglia di Winterfell. Pareri discordanti ma che sembrano confluire su un unico giudizio: la puntata interamente incentrata sul combattimento non ha reso giustizia a Game of Thrones 8. Da molti è stata giudicata con una grafica troppo scura, talmente tanto da non riuscire a vedere gli avvenimenti. C'è da dire che per aver aspettato due anni per la stagione finale e otto stagioni il combattimento ha lasciato molto a desiderare.
Anche la strategia di battaglia ha avuto delle falle e molte domande sono sorte in merito: perché non hanno pianificato che i loro stessi soldati morti venissero rianimati dal Re della Notte, come abbiamo visto accadere in passato? Perché non hanno usato i draghi? Perché Bran non ha fatto nulla? Perché Jon ha urlato contro un drago? Tutte domande valide che nessuno nella stanza degli scrittori si è preoccupato di fare. Qui siamo a quasi un anno di distanza, e i fan stanno ancora trovando grandi buchi nella trama dell'episodio. Recentemente, su Reddit, un fan ha posto una domanda piuttosto valida: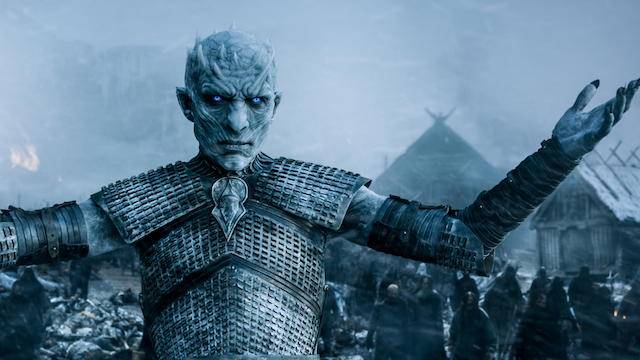 "Su Dragonstone vediamo che c'è un sacco di dragonglass (nella puntata 7×04), ma per qualche motivo, nessuno ha pensato di fare punte di freccia di quel materiale. Nella stagione 3 vediamo Sam uccidere un white walker con un pugnale di dragonglass, quindi sappiamo che il dragonglass è una scelta efficace per ucciderli. Le frecce sarebbero una scelta intelligente perché avrebbero potuto ucciderli (e forseuccidere anche il Re della Notte) senza combattimento corpo a corpo e con un solo colpo. Con le frecce avrebbero potuto facilmente uccidere Viserion. Qualcuno può spiegare perché non l'hanno fatto?"
Un altro utente fa persino notare che Jon ha trovato un mucchio di vecchie frecce di dragonglass all'inizio della stagione, il che significa che era possibile ed efficace usarle come armi. La cosa più vicina a una risposta che i fan hanno avuto modo di ottenere è che quando si scaglia una freccia non la si recupera, ma considerando che Dragonstone era piena di vetro di drago sembra che non avessero davvero bisogno di conservare le munizioni.
Forse dopo un anno è giusto smetterla di interrogarsi sugli errori del passato.
Fonte: Esquire