Elite regna! La serie spagnola detiene la posizione n. 1 per una seconda settimana, acquisendo il 9,50% delle sessioni di binge valutate su TvTime. Ma i favoriti stanno per prendere il sopravvento? Mentre ci dirigiamo verso l'isolamento sociale, la televisione di conforto è in aumento. L'amata sitcom, Friends e il drama Grey's Anatomy salgono di livello arrivando rispettivamente al secondo e terzo posto.
Inoltre, mentre viviamo questi strani momenti, i drammi post-apocalittici vedono un aumento di popolarità. The Walking Dead dell'AMC ritorna nel nostro reportage durante la sua decima stagione al nono posto, mentre The 100 si ferma al n. 10. Nel frattempo, i drammi adolescenziali rimangono forti come Riverdale (n. 4) e On My Block (n. 5) mantengono la top 10, e Greenhouse Academy 4 entra al n. 6.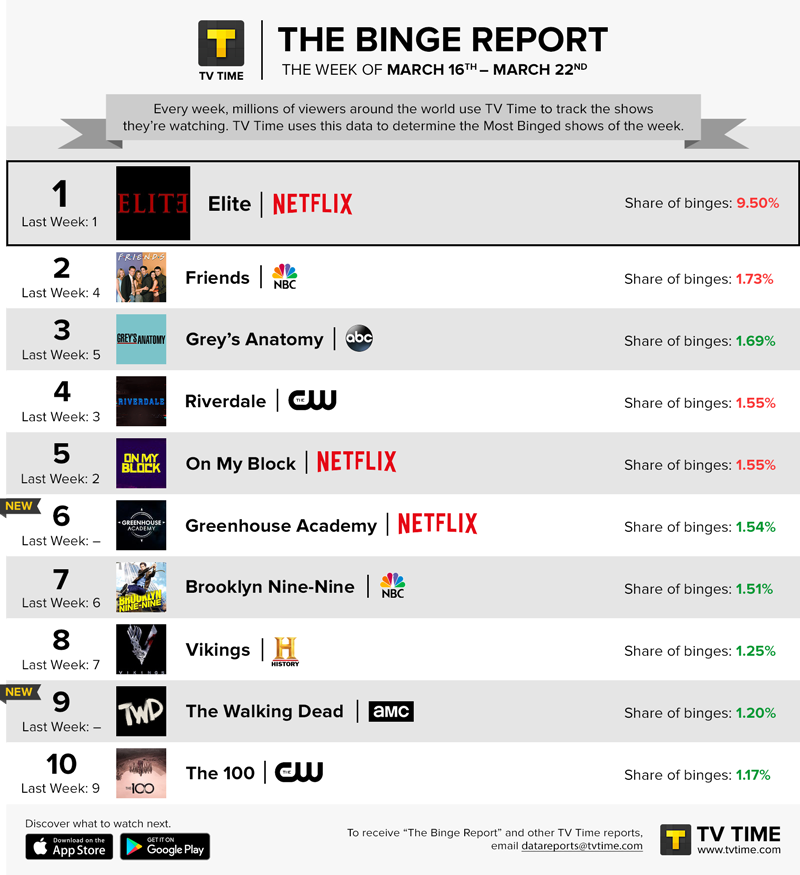 La tanto attesa terza stagione di Ozark è all'orizzonte! Riuscirà a entrare nella top 10? E se ci dovesse riuscire, manterrà la sua posizione? Ricordiamo che tra qualche settimana uscirà anche La Casa de Papel 4: siamo ansiosi di scoprire cosa succederà, il primo trailer era talmente carico di adrenalina! L'arrivo in classifica di The Walking Dead lascia ben sperare: alcuni fan ormai si sono stufati della serie e l'hanno abbandonata, magari questi momenti di reclusione sono serviti. Proprio nei giorni scorsi vi abbiamo annunciato che purtroppo l'ultimo episodio della serie verrà pubblicato postumo come uno speciale.
Piccole curiosità: TvTime stila anche una classifica dei personaggi più influenti delle serie tv. E come riportato sul sito, non solo Elite sta vincendo il Binge Report, ma i personaggi dello show dominano anche questa classifica: Lucrezia, Ander, Carla Roson Caleruega e Guzman Nunier Osuna si trovano ai primi quattro posti.
Come riportato dal sito, che troverete in basso, la classifica si basa su una determinata metodologia. Per stilare questa lista settimanale del Binge Report è la seguente: possono entrare in classifica soltanto le serie tv contenenti quattro o più episodi che vengono guardati e tracciati nella nostra app TvTime in un determinato giorno.
Fonte: TvTime