Ormai è noto che l'episodio pilota della Serie Televisiva The Witcher (ispirata alla saga di libri dell'autore polacco Andrzej Sapkowski) è pronto ad essere filmato. Tuttavia, manca ancora un cast che vada ad indossare i panni dei personaggi scelti – almeno – per questa prima stagione. La showrunner dello Serie, Lauren S. Hissrich, ha diffuso sul proprio Twitter – qualche settimana fa – una lista di personaggi che sono stati scelti, insieme ad alcune loro caratteristiche. Fra questi, i fan della saga, hanno notato il nome di Vesemir, figura paterna non solo per Geralt, il protagonista, ma anche per gli altri witcher.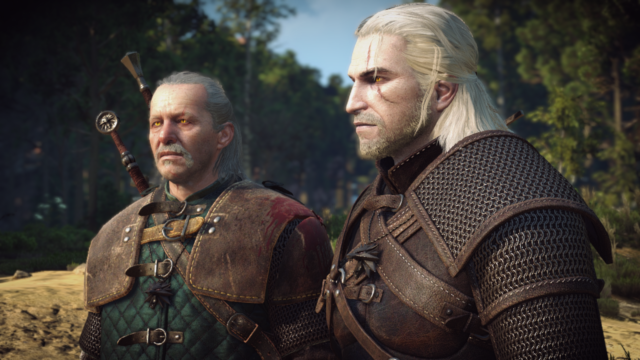 I numerosi utenti hanno dunque iniziato a fantasticare quale attore potesse rivestire questo ruolo; se alcuni di loro hanno lanciato nel mix il nome dell'attore Gabriel Byrne, conosciuto per la Serie Televisiva Vikings, altri hanno invece ipotizzato che Mark Hamill sarebbe perfetto. D'altro canto, per gli appassionati di The Witcher non è insolito teorizzare quale attore o attrice sarebbe perfetta per uno dei loro personaggi preferiti.
Il tutto è iniziato sul fan cast di Geralt: per questo personaggio, i fan, hanno ipotizzato l'attore Mads Mikkelsen. Una scelta accolta positivamente dalla gran parte del fandom della saga.
Ad ogni modo, questa simpatica proposta è stata subito inoltrata da parte di un fan ad Hamill stesso, taggandolo in una simpatica foto di Vesemir, il cui volto è stato modificato, aggiungendo quello dell'attore.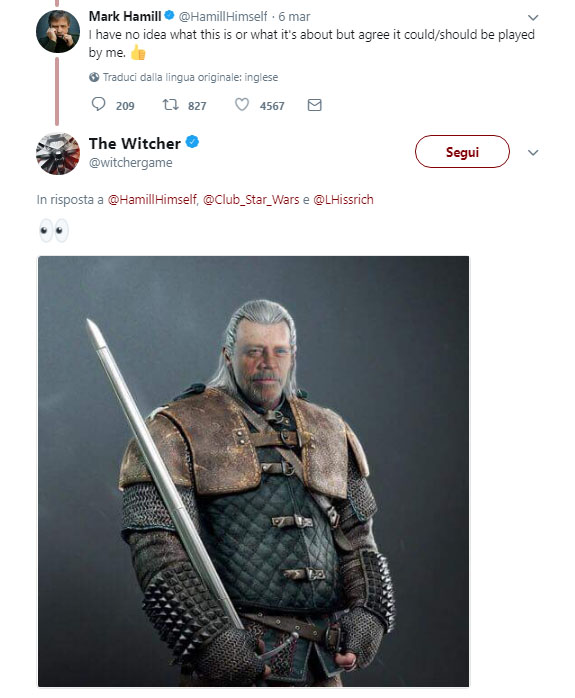 Hamill, in tutta risposta, ha scritto che – malgrado non fosse a conoscenza dell'argomento di discussione -, lui sarebbe disposto ad interpretare Vesemir. Un ruolo che calzerebbe quasi alla perfezione per l'attore; d'altro canto, nell'ultimo film della saga di Star Wars, The Last Jedi, il personaggio da lui interpretato, Luke Skywalker, era proprio un mentore per la giovane Rey.
Che cosa ne pensate di questo fan cast da parte dell'utenza? Siete d'accordo o avete un altro nome da aggiungere alla lista di attori?