Novità interessanti sul fronte della nona stagione di The Walking Dead per gli appassionati dello Show dal genere post apocalittico. Le numerose voci riguardo il ritorno di un personaggio amato dai fan sono state confermate in questi giorni: l'attore interprete di Shane Walsh, Jon Bernthal, era stato avvistato insieme con Andrew Lincoln e Norman Reedus per le strade di Atlanta (luogo delle riprese della famosa Serie Tv).
Come i fan ricorderanno, Shane Walsh è apparso nelle prime due stagioni dello show. Inizialmente migliore amico del protagonista, Rick Grimes, il personaggio di Bernthal è diventato successivamente l'antagonista. Dopo un confronto fra i due personaggi, Shane Walsh è deceduto, tornando come allucinazione nella terza stagione, in seguito alla morte di Lori (moglie di Rick Grimes).
Con il personaggio di Andrew Lincoln destinato a uscire di scena nella nona stagione, un incontro fra i due potrebbe davvero verificarsi.
Come?
Le ipotesi sono diverse ma portano tutte verso un'unica conclusione: Shane Walsh ritornerà come flashback o come forma di allucinazione, come accaduto già in passato.
Gli avvistamenti dell'attore sul cast di The Walking Dead sono emblematici, e una foto da lui stesso postata su Instagram potrebbero esserne la conferma definitiva: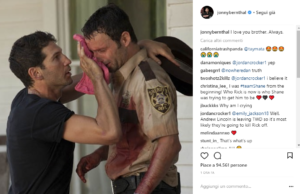 Non sappiamo ancora come Rick Grimes darà il suo addio alla Serie televisiva. La teoria più ovvia sarebbe la morte, ma il nuovo showrunner di The Walking Dead, Andrea Kang, potrebbe decidere di dare a Rick una conclusione più speranzosa.
La nona stagione sarà, molto probabilmente, l'ultima anche per un altro attore della Serie televisiva. Parliamo di Lauren Cohan, interprete di Maggie Green, la quale era stata protagonista di diverse congetture riguardo un suo addio.
Con l'avvicinarsi, dunque, del congedo di Andrew Lincoln, del cast principale rimarranno soltanto in due: Norman Reedus e Melissa McBride (Carol).
Che questo possa significare una fine sempre più vicina e certa della Serie televisiva?
Che cosa ne pensate?