# #
L'ultimo episodio di The Walking Dead non ha risparmiato nessuno. Non pensando alla recente sofferenza dei fan per l'uscita di scena di Rick Grimes, è stato fatto fuori un altro pilastro della serie.  Il pubblico non ha potuto nemmeno salutare degnamente questo personaggio molto amato. Di chi parliamo? Di Maggie Greene, interpretata da una splendida Lauren Cohan.
# #
L'episodio di domenica scorsa ha rivelato che Maggie ha lasciato Hilltop nelle mani di Jesus e, Hershel in spalla, ha raggiunto la misteriosa Georgie per gestire un'altra comunità.
Potrebbe sembrare una scomparsa improvvisa ma ormai si capiva da un po' che a Maggie le cose, così come stavano, non andavano più bene. Gli showrunner hanno approfittato della situazione per accontentare la Cohen che aveva bisogno di tempo libero per dedicarsi ad altri progetti lavorativi (come la serie Whisky Cavalier che debutterà nel 2019). In realtà, da qualche tempo si vociferava anche del malcontento dell'attrice che, giustamente, pretendeva lo stesso compenso dei colleghi Andrew Lincoln e Norman Reedus.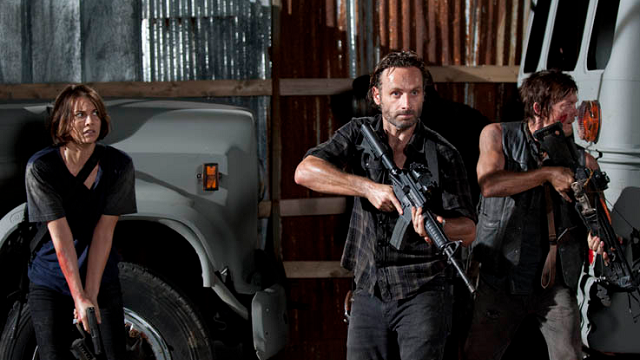 # #
Maggie Greene, anzi Maggie Rhee, però non è morta. La porta è sempre aperta per un inaspettato ritorno, ma quando potrebbe accadere?
La Cohan aveva detto che sarebbe potuta tornare nella serie in tempo per la chiusura della stagione 9, ma è stato confermato che Maggie non riapparirà poi così presto.
Speriamo di raccontare la storia di Maggie nella stagione 10. Ho sentito Lauren per alcune questioni, e se tutto va bene programmeremo un incontro, ma il gruppo di Georgie è sicuramente là fuori e ho già qualcosa in mente. Potranno anche fare parte dell'universo (di The Walking Dead) in generale. Questo sta a Scott, vedremo come andrà a finire.
Queste sono le parole piene di speranza della showrunner Angela Kang, che però non vuole illudere i fan:
Ne stiamo sicuramente parlando, ma vedremo.
Di cosa staranno mai parlando? Sicuramente di questioni poco poetiche come il vile denaro! Sperando che possano dare una degna conclusione alla storia di Maggie, intanto godiamoci questa stagione di The Walking Dead che, finalmente, sta tornando quella di una volta (nonostante gli addii del cast principale).