# #
ATTENZIONE: seguiranno spoiler sulla nona stagione di The Walking Dead!
Con la nona stagione, abbiamo assistito alla fine di un'era per una delle serie di punta della AMC: The Walking Dead.
Malgrado la sua uscita di scena, lo storico leader del gruppo Rick Grimes (interpretato da Andrew Lincoln) è tutt'altro che "finito" e, al contrario, avrà la centralità che merita. Fuori dalla serie.
Egli tornerà infatti ad essere protagonista nell'universo di The Walking Dead in una serie di film pensati per raccontare il prosieguo della sua storyline, al momento indirizzata verso la scoperta del gruppo di Jadis.
# #
La domanda più comune esposta dai fan nell'ultimo periodo è stata: "Dov'è che vedremo i film di Rick?".
A tale domanda, sembra aver dato una risposta quasi definitiva Johnny O'Dell di The Walking Dead Fan Mailbag in un'intervista:
Ci sono molti dettagli che devono ancora essere limati per i film di Rick Grimes, ma per il momento il piano è quello di mandarli in onda sull'emittente AMC.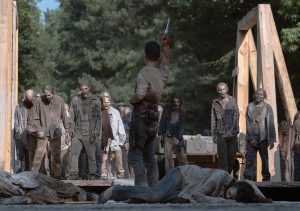 # #
Stando alle dichiarazioni, manca ancora parecchio tempo all'uscita dei film. Ma se una delle preoccupazioni dei fan poteva essere l'impegno di spostarsi al cinema per vedere cosa accadrà a Rick (come in molti avevano inizialmente ipotizzato), potranno ora continuare ad attendere comodamente dal divano di casa.
La chiusura della nona stagione di The Walking Dead, con Rick moribondo a bordo dell'elicottero di Jadis, fa pensare che le possibilità di ritrovare membri del cast della serie all'interno di uno o più dei film (eccetto Rick, ovviamente) sono scarsissime.
L'unico personaggio ad accomunare film e serie sarà, con molta probabilità, la stessa Jadis.
Uno dei personaggi sicuramente meno amati dai fan fino agli ultimissimi minuti della nona stagione, ma che sarà utile a offrire al pubblico un volto familiare al fianco di Rick.