L'episodio andato questa notte in onda in America di The Walking Dead è stato l'ultimo in cui ha preso parte l'attore Andrew Lincoln, interprete di Rick Grimes.
Un addio particolarmente sentito da parte degli appassionati della serie televisiva, i quali sono sempre stati scettici riguardo questa decisione.
La puntata di stanotte, per chi l'ha vista, è stata definita "carica di emozione", soprattutto per il ritorno di alcuni personaggi storici della serie televisiva.
Questo articolo, per chi non avesse visto la puntata, potrebbe contenere spoiler.
Nel corso dell'episodio, il personaggio di Lincoln ha interagito con tre personaggi del suo passato: Shane (Jon Bernthal), Hershel (Scott Wilson) e Sasha (Sonequa Martin-Green). Molti si sono chiesti il motivo dell'assenza di un altro personaggio fondamentale nella vista di Rick Grimes: ovvero Carl, suo figlio.
La showrunner dello show, Angela Kang, ha risposto al quesito in una intervista:
Ci siamo immersi nell'idea del "fenomeno del terzo uomo". Quando le persone sono sul punto di morte, a volte, immaginano di vedere qualcuno che conoscevano o che non sanno che li hanno aiutati a sopravvivere e a farli andare avanti. Avevamo questi tre personaggi particolari, che in qualche modo stanno riempiendo un bisogno emotivo per lui. L'intero viaggio di Rick è stato alla ricerca della sua famiglia, e ho sentito, creativamente sentito, che se avesse visto Lori o Carl, si sarebbe sentito "Ok, ho adempito la mia missione. Li ho trovati. Sono a casa. Posso sdraiarmi e morire ora".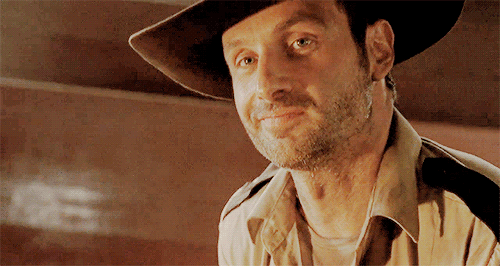 Ma lui aveva bisogno di andare avanti per la famiglia che è ancora lì, e quindi di sentire quel tipo di irrequietezza del tipo "Non li ho ancora trovati. Dove sono loro?". Riportando Rick a rendersi conto che la sua famiglia è stata lì da sempre. Che le persone per le quali sta combattendo per ora sono ancora la sua famiglia: questo è ciò che lo fa andare avanti. 
Il discorso di Kang non lascia spazio ad alcun dubbio. Inoltre, è da ricordare che proprio l'attore Chandler Riggs non ha lasciato The Walking Dead nel migliore dei termini. Che sia stato anche questo uno dei motivi per la sua assenza nell'episodio?
E voi avete visto la puntata? Qual è la vostra opinione?