Guardando i nuovi episodi della decima stagione di The Walking Dead è inevitabile notare come ormai la maggior parte del cast storico della serie non ci sia più. Dopo che se ne è andato il protagonista Rick (che rivedremo però in un film dedicato alla serie), hanno lasciato lo show tratto dai fumetti di Kirkman anche gli attori che interpretavano Maggie e Carl. E a dirci addio in questa nuova stagione è stata anche l'attrice Danai Gurira che per tanti anni ha magistralmente interpretato il personaggio di Michonne.
Ma nell'ultima gloriosa puntata di The Walking Dead, andata in onda qualche giorno fa, c'è stato un bellissimo ritorno al passato che ha fatto emozionare i fan della serie.
Ovviamente se non avete guardato la 10×13 di The Walking Dead, non procedete oltre con la lettura perché potreste trovare molti spoiler!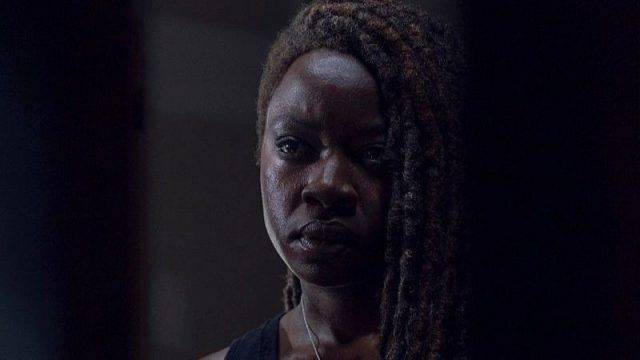 Nell'episodio intitolato What We Become siamo ritornati indietro attraverso dei ben costruiti flashback alle prime stagioni dello show e abbiamo rivisto i protagonisti che ormai hanno abbandonato la serie. Michonne, infatti, l'assoluta protagonista di questa puntata, ha raggiunto insieme a Virgil un'isola in cerca di munizioni. Ma qui è stata imprigionata e drogata dal suo perfido accompagnatore che ha perso la ragione dopo aver condannato la sua famiglia alla non morte. Quando Michonne ha mangiato il pasto, ha cominciato ad avere delle tremende visioni e ha visto Siddiq che la accusava della sua morte. Poi si è ritrovata a vivere un passato alternativo in cui ha visto cosa le sarebbe accaduto se non avesse incontrato Rick e non avesse salvato Andrea.
Come sarebbe cambiata la sua vita? Sicuramente si sarebbe unita al gruppo dei Salvatori e sarebbe diventata il braccio destro di Negan. Abbiamo quindi rivisto l'incontro del gruppo di Rick con i Salvatori all'inizio della settima stagione, ma questa volta a impugnare Lucille e a minacciare i protagonisti era Michonne. L'attrice ha spiegato come hanno fatto a ricreare la sconvolgente scena della settima stagione. La cosa deve aver dato non pochi problemi, dato che molti degli attori che comparivano in quella sequenza hanno ormai detto addio a The Walking Dead. Danai Gurira ha spiegato:
Praticamente abbiamo ricreato la fila di persone. Ovviamente Morgan (Negan) era lì, e abbiamo ricreato gli altri con delle controfigure lavorando in questo modo, anche per quanto riguarda l'alter ego di Michonne.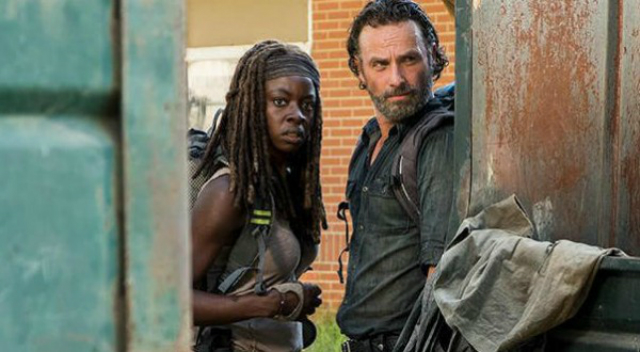 Ma secondo quanto ha detto c'era un'altra scena ancora più dura e dark che è stata girata e che non è andata in onda.
Proprio come nell'episodio della settima stagione che mise i brividi agli spettatori, Negan torturava e minacciava Carl, così questa volta doveva essere Michonne a prendersela con il figlio di Rick. Secondo quanto ha lasciato intendere l'attrice questa scena doveva essere davvero di grande impatto ed è un vero peccato che alla fine l'abbiano tagliata. Ha detto, infatti, in un'intervista:
C'era una parte che alla fine non abbiamo usato in cui io ero di fronte a Carl. Davvero terribile, ma alla fine non è stata inclusa. Non so come vengano prese certe scelte, ma c'era una controfigura che impersonava Carl e il tutto era davvero dark. Ma lo sarebbe stato anche per lei. Sappiamo quanto Michonne amasse Carl, ma sarebbe stato interessante vedere cosa sarebbe successo se le cose non fossero andate in quel modo.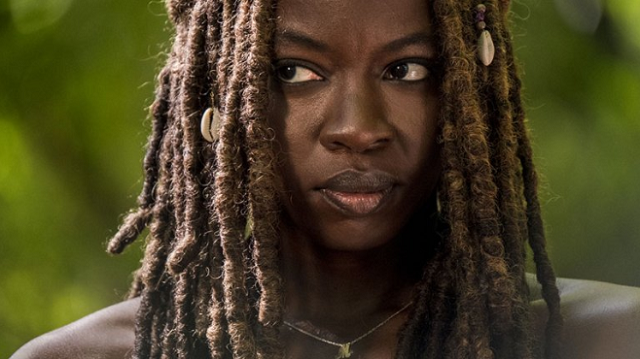 Questo è stato l'ultimo episodio in cui abbiamo visto la determinata Michonne, poiché come ha detto Scott M. Gimple con questo episodio abbiamo capito chi è e chi è diventata e, anche se ha molte storie davanti a sé, questo completa il suo viaggio in The Walking Dead. Ma sicuramente la rivedremo nel film dedicato a Rick e secondo il supervisore dei contenuti di tutto il franchise c'è anche la possibilità di vederla in uno spin-off dedicato unicamente al suo personaggio.
E dopo aver visto tutto il potenziale di Michonne nell'ultimo episodio di The Walking Dead, devo dire che sarei felice se questo progetto si concretizzasse.
In attesa di saperne di più non possiamo far altro che attendere il finale di questa stagione che è stato posticipato per cause di forza maggiore (leggi qui per saperne di più).