# #
Siamo arrivati alla quarta puntata dell'ottava stagione di The Vampire Diaries. E più episodi guardiamo, più domande ci facciamo sul finale. Ma soprattutto Nina Dobrev tornerà o non tornerà? Dubbio molto più profondo della questione dell'essere o non essere di Amleto. Probabilmente rimarrà irrisolto ancora per molto tempo. Ma andiamo avanti. La 8X04 "An eternity of misery", andata in onda l'undici Novembre, ha lasciato perplessi molti fan, che analizzando a fondo la puntata hanno trovato alcuni indizi sul possibile ritorno di un personaggio amatissimo della serie.
# #
Non continuate la lettura se ancora non avete visto la puntata! Rischio spoiler!
Il quarto episodio ha rivelato il lato nascosto di Sybil, il processo che l'ha resa una sirena, e abbiamo conosciuto un'altra sirena, Seline. Se pensate che Sybil fosse la "final big bad", il male in persona a cui i produttori si riferivano parlando dell'ultimo villain di The Vampire Diaries, vi sbagliate. Il cattivo in questione potrebbe essere un altro, ovvero Arcadius. Sarà lui il diavolo in persona? Mistero da risolvere anche questo.
# #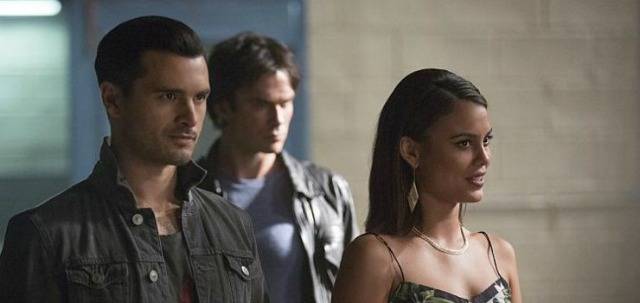 Arriviamo al punto. L'ultimo episodio andato in onda si è portato via con se Georgie, uccisa per mano di Seline. Il punto saliente della puntata è stato il passaggio nell'aldilà della ragazza. Infatti la scena ha mostrato l'anima di Georgie che viene risucchiata in cielo. Non vi sembra familiare? Ebbene ecco il punto! La stessa sorte era toccata all'anima di Katherine Pierce (o Katerina Petrova) nella quinta stagione. Un indizio da non sottovalutare! Infatti i fan hanno ipotizzato che l'anima della bella doppelganger di Elena sia finita nell'Inferno di cui si discute tanto in questa stagione e di cui Damon ha avuto un assaggio. In questo regno pare finiscano, non solo le vittime delle sirene, ma anche tutti gli esseri sovrannaturali che non sono proprio stati dei role model durante la loro vita terrena. Katherine a quanto pare potrebbe essere finita qui, nel "posto oscuro" a cui faceva riferimento la produttrice Caroline Dries nel 2014.
Avremo qualche speranza di vedere la bella e dannata vampira? Se la risposta fosse positiva avremo, per forza di cose, anche il ritorno sul set di The Vampire Diaries di Nina Dobrev.
I corteggiamenti da parte della produzione di The Vampire Diaries all'attrice bulgara non hanno ancora avuto una svolta. Il prossimo episodio farà luce sulla questione Katherine?