Il cast della serie tv prodotta da Netflix The Umbrella Academy si espanderà per la seconda stagione.
Lo farà con tre nuove aggiunte che si uniranno agli attori, che ritorneranno sui nostri teleschermi.
The Umbrella Academy si basa sull'omonimo romanzo grafico di Gerard Way, ex cantante dei My Chemical Romance. La trama riguarda una storia alternativa in cui 43 donne rimangono immediatamente e inspiegabilmente incinte e partoriscono in un solo giorno nel 1989. Sette dei bambini che ne risultano sono adottati dall'industriale miliardario Sir Reginald Hargreeves, che coltiva i loro misteriosi poteri per combattere il male nel mondo.
La prima stagione è incentrata sulla morte di Hargreeves, che ha riunito i suoi figli adottivi dopo anni di allontanamento, giusto in tempo per combattere un'apocalisse in arrivo.
Lo show è stato accolto con critiche positive e accoglienza da parte degli spettatori, portando Netflix a ottenere rapidamente un seconda stagione.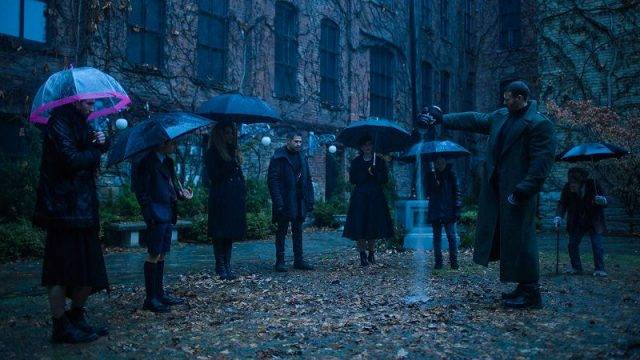 Ritu Arya, Marin Ireland e Yusuf Gatewood sono stati scelti come nuovi membri del cast; è stato reso noto che i loro personaggi non provengono dal fumetto. Arya, nota per il lavoro nella serie Humans di AMC, interpreterà Lila, un camaleonte che a sua volta può essere brillante o pericolosamente pazzo. Ireland, protagonista dell'attesissimo Y: The Last Man su FX, interpreterà Sissy. È una mamma senza paura, senza fronzoli, nonostante il suo matrimonio mal deciso in giovane età.
Infine, Gatewood di Good Omens di Amazon Prime, assumerà il ruolo di Raymond, un leader nato con sicurezza e gravità.
È un marito devoto con la capacità innata di disarmarti con uno sguardo.
I dettagli della trama della seconda stagione su The Umbrella Academy sono scarsi. Way ha pubblicato due follow-up del romanzo grafico originale, con altri in programma, ma non si sa se uno di loro si legherà in questa stagione. La cosa probabile è che lo show riprenderà non lontano da dove era stato interrotto la scorsa stagione.
La seconda serie dello show affronterà senza dubbio le implicazioni di quel fallimento, così come gli ulteriori tentativi dei fratelli di contrastare la fine del mondo. Nonostante un simile salto all'indietro si stia verificando nelle pagine del secondo graphic novel, la lotta in corso con l'apocalisse sarà un nuovo terreno per la serie tv. Il modo in cui i nuovi membri del cast e i loro personaggi riusciranno a capire tutto questo è un'ipotesi di chiunque.
Basti dire che le loro aggiunte sono benvenute, completando una già ottima formazione con più talento.