Il colosso dello streaming Netflix ha rilasciato in queste ultime ore il trailer della sua prossima serie tv: The Umbrella Academy. Lo show si baserà sulla serie di graphic novel realizzate dal frontman della band My Chemical Romance, Gerard Way.
La trama vede come protagonista una famiglia di sette supereroi anticonvenzionali, ambientata in una storia alternativa degli Stati Uniti d'America. Adottati da giovani, come figli, da Sir Reginald Hargreeves, per essere addestrati come futuri protettori del mondo, i protagonisti si riuniranno poi in età adulta a causa di una tragedia.
Malgrado tutti condividano lo stesso obiettivo, le loro capacità individuali e i caratteri difficili renderanno la situazione ancora più complicata.
Ecco il trailer:
All'interno del video vengono, finalmente, presentati sei dei sette figli adottivi di Sir Reginald Hargreeves (interpretato da Colm Feore). Inoltre, vengono mostrate alcune delle capacità dei vari protagonisti.
Una delle particolarità di questi personaggi di The Umbrella Academy è che mostrano, senza girarci intorno, tutti i loro sentimenti, soprattutto le frustrazioni che provano: è certamente un tipo di supereroi ai quali non siamo abituati nel vedere sul piccolo schermo.
Già nel corso del 2010 si era parlato di un adattamento cinematografico per The Umbrella Academy: la scelta, però, di una serie televisiva (con un cast di celebri attori) ha attirato sicuramente l'attenzione di molti serial addicted e amanti di fumetti.
Insieme al trailer rilasciato dall'emittente streaming, è apparso per la prima volta il poster ufficiale: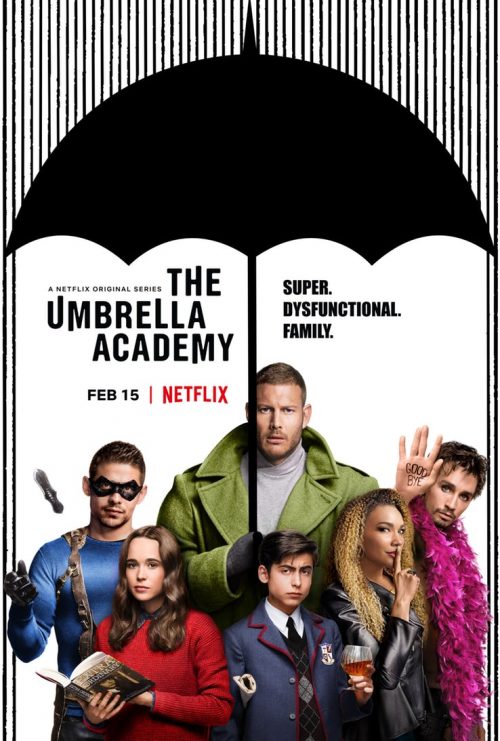 All'interno del cast vedremo: Ellen Page, Robert Sheehan, Mary J. Blige, Tom Hopper, Emmy Raver-Lampman e Aidan Gallagher.
Steve Blackman (conosciuto per la Serie Tv Fargo) figurerà come showrunner e produttore; il cantante e creatore della serie, Gerard Way, coprodurrà lo show.
The Umbrella Academy debutterà sul catalogo di Netflix il 15 febbraio.