Dopo una prima stagione dal discreto successo, The Umbrella Academy si è riconfermata alla grande con una seconda parte a dir poco – e quasi letteralmente – "esplosiva" (qui trovate la nostra recensione).
La serie basata sui fumetti di Gerard Way (frontman della band rock My Chemical Romance) e Gabriel Bà ha immediatamente conquistato il pubblico grazie a un'accurata caratterizzazione di personaggi singolari.
Tra questi, uno dei più amati è stato sicuramente lo stravagante, eccentrico e irriverente Klaus Hargreeves, interpretato dal talentuoso Robert Sheehan (divenuto famoso grazie all'ormai iconico ruolo di Nathan Young in Misfits).
È legata proprio a lui, infatti, l'ultima indiscrezione su un possibile spinoff di The Umbrella Academy.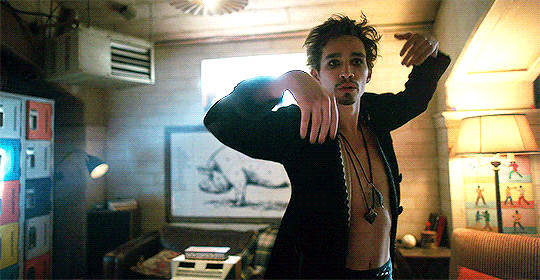 Recentemente, in un'intervista con Digital Spy, lo showrunner Steve Blackman ha parlato del futuro e di possibili spin-off di The Umbrella Academy:
Credo che uno spin-off su Klaus e Ben oppure uno su Klaus e Diego sarebbero meravigliosi. Si potrebbero fare delle mini-serie su di loro composte da quattro o sei episodi, e sarebbe perfetto. Anche Robert potrebbe avere uno spin-off tutto suo su Klaus.
Di solito, si cerca sempre di non strafare, di non calcare la mano su qualcosa. Ma se c'è fame di quella cosa… Penso che gli attori accetterebbero e tutti noi accetteremmo. Questo perché adoriamo lavorare insieme.
L'attore Robert Sheehan ha subito appoggiato l'idea:
Ho amato tutto di questa esperienza. Interpretare il personaggio di Klaus neanche per un attimo mi ha dato l'impressione di essere a lavoro.
È stato davvero divertente, ed è stato come attingere a una buona dose di energia sovrannaturale. È un'immensa fonte di creatività. E poterlo fare ancora? Ovviamente sì!
La seconda stagione di The Umbrella Academy è disponibile nel catalogo Netflix dal 31 luglio.
LEGGI ANCHE – The Umbrella Academy, l'attrice Emmy Raver-Lampman parla del futuro del suo personaggio: «Sarebbe uno spreco non fare la terza stagione»