Attenzione! Il trailer della quarta stagione di The Originals potrebbe nuocere gravemente alla vostra salute. Vi avvisiamo che non siamo responsabili di eventuali effetti collaterali provocati dalla visione del promo.
Tremate gente, tremate! La famiglia più antica e temuta di tutta New Orleans sta per tornare. I Mikaelson sono pronti per il loro grande ritorno il 17 Marzo su The CW con la quarta stagione di The Originals. Dopo quasi un anno di attesa (cinque invece se consideriamo la timeline della serie) l'emittente televisiva americana ha finalmente sfornato il primo promo della quarta stagione che racchiude una grossa sorpresa.
Sono ormai passati cinque lunghi anni dal processo di Klaus e dalla conseguente caduta e (provvisoria) scomparsa dei Mikaelson. L'instancabile piccola lupa Hayley (Phoebe Tonkin) è ancora alla ricerca della cura per liberare la famiglia Mikaelson dalla prigionia; mentre Elijah (Daniel Gillies), Rebekah (Claire Holt), Freya (Riley Voelkel) e Kol (Nathaniel Buzolic) riposano beatamente nelle loro bare al sicuro da Marcel, in attesa che qualcuno li salvi. Marcel (Charles Michael Davis) ha ripreso il comando di New Orleans, città di cui si proclama re indiscusso. E come nuovo re, vuole assolutamente tenere al sicuro i suoi sudditi dagli Originali.
Klaus tenuto prigioniero da Marcel, comincia a perdere la pazienza e la lucidità. Il senso di impotenza inizia a corroderlo e ad indurlo a chiedere aiuto a qualcuno che è… morto.
E ad accorrere in suo aiuto (ecco quale è la sorpresa che vi indicavo prima) arriva una nostra vecchia conoscenza: Cami.
Uscita di scena nella 3×19 "No More Heartbreaks" per mano di Lucien, la povera Camille (Leah Pipes) ritorna, probabilmente sottoforma di spirito (o di ricordo, questo è ancora da capire), per cercare di far rinsavire Klaus. Chi segue la serie sa che Cami è l'unica al mondo in grado di far ragionare Klaus. Chissà magari questa volta diventerà il suo spirito guida e riuscirà a farlo cambiare, oppure gli indicherà il modo di evadere dalla prigione?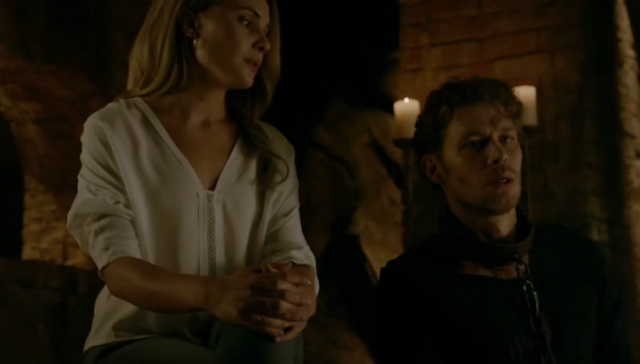 Chi lo sa.. Per eventuali chiarimenti vi consigliamo di attendere il 17 marzo.